The anti-gun-violence demonstration that displayed 7,000 pairs of empty shoes outside the U.S. Capitol building on Tuesday—one pair for each of the children killed by gunfire since the 2012 Sandy Hook Elementary School massacre—was a reminder of the carnage the United States has become accustomed to. A recent study by the American Academy of Pediatrics offered some explanations for why these tragedies are so common.
Though thousands have died, "millions" more children—including those suffering from depression or other mental illnesses—currently live in homes with guns easily accessible to them, according to a report published in the academy's (AAP) March catalog.
"Millions of U.S. children live in homes in which firearms are left loaded or unlocked or both," the report stated. Most children who use firearms to commit suicide or fall victim to unintentional firearm deaths use weapons found in their home, it continued.
"Obviously, this is why we have unintentional shootings involving children," Shannon Watts, founder and president of Moms Demand Action for Gun Sense in America, told Newsweek on Thursday.
Firearms were used in 40 percent of all suicides among 10- to 17-year-olds—the second leading cause of death for that age range—according to the study.
"Whereas the safest home for a child is one without firearms, risk can be reduced substantially, although not eliminated, by storing all household firearms locked, unloaded, and separate from ammunition," the AAP report stated, reiterating a suggestion it first made in 1992.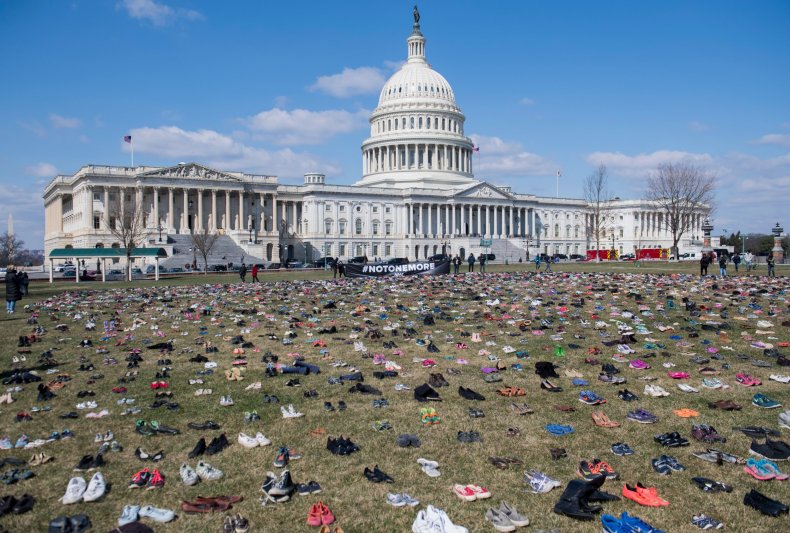 Still, only about one in three, or 34.9 percent, of gun-owning parents said he or she stored all household firearms both locked and unloaded. The report based its findings on a 2015 online survey of 3,949 nationwide respondents.
While people who suffer from mental health conditions like depression are more likely to self-harm, gun-owning parents of kids with such conditions were not "significantly more" careful with their firearms than parents whose kids did not have the conditions, the report said. The survey found that 11.6 percent of gun-owning parents whose kids had significant self-harm risk factors stored guns loaded and unlocked, compared with 20.3 percent of parents whose children did not have those risk factors.
Related: Here's why the NRA is so powerful and why gun control advocates have reason for hope
"Our findings suggest that millions of U.S. children are placed at substantially higher risk of fatal firearm injury, especially suicide, than would be the case were parents to follow guidelines first put forward by the AAP more than a quarter century ago," the group concluded.
That study followed the organization's June 2017 report citing data from 2012 to 2014 from the Centers for Disease Control and Prevention, which found that nearly 1,300 children are killed by firearms every year. Another 5,790 children (ages 0-17) are wounded by gunfire.
One in five of the non-fatally wounded children—21 percent, or 1,244 children—is the victim of an unintentional shooting, according to the study. In unintentional shooting deaths, the majority of children 12 or younger were killed while playing with guns. That was the case for 49 percent of 13- to 17-year-olds.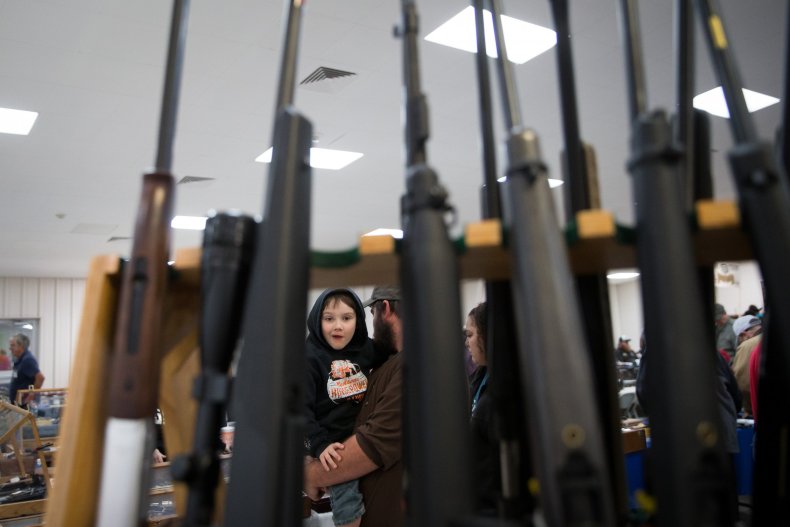 Media reports of such shootings often characterize them as "accidental," but Watts said that's incorrect. "We don't actually call them accidental, we call them unintentional. It's not an accident if an adult leaves a gun easily accessible," she said.
Tuesday's dramatic display on the Capitol lawn used the Sandy Hook shooting as a marker. Indeed, gun-violence-prevention advocates often cite it as a watershed moment in the movement for stricter gun legislation.
In January 2013, one month after Adam Lanza, 20, used his mother's firearms to slaughter 20 first-graders and six adults at the elementary school in Newtown, Connecticut, President Barack Obama issued a plan for curbing gun violence. Titled "Now Is the Time," the plan included a suggestion to collect data on gun-related deaths, like "type of firearm used, whether the firearm was stored loaded or locked, and details on youth gun access."
Obama also included a national campaign to "promote common-sense gun safety measures like the use of gun safes and trigger locks, separate storage of guns and ammunition," and he called on Congress to take action.
Since Sandy Hook, Congress has not passed any legislation for stricter gun regulations.
According to Giffords—a gun control group co-founded by co-founded by former Democratic Representative Gabrielle Giffords after she was shot in the head during in 2011—only one state legally requires firearms be kept locked: Massachusetts. The Bay State also has the lowest firearms-related death rate, according to 2016 CDC statistics, the latest data available.