NRATV Host Says Civil Liability for Gun Makers is "Tyranny"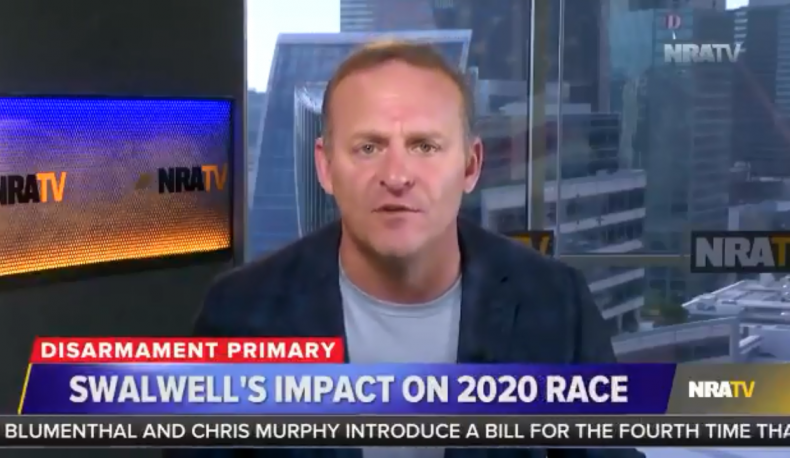 NRATV host Grant Stinchfield on Wednesday called a proposal from 2020 presidential candidate Eric Swalwell to reintroduce civil liability to gun makers an "outrageous" idea.
"It is an outrageous proposal, it is an anti-freedom proposal and it is persecution," Stinchfield said. "And in fact, I could also throw it onto the list of tyranny."
The Bush-era Protection of Lawful Commerce in Arms Act (PLCAA) shields gun manufacturers from civil liability in cases where their weapons are used to commit crimes. The law's relatively narrow exceptions have provided extraordinary protection to the industry, which remains one of the only economic sectors to receive such expansive civil protections from the federal government.
Swalwell's proposal follows a bill introduced last week by Congressman Adam Schiff and Senator Richard Blumenthal that would repeal these protections. Schiff has been reintroducing the measure since 2013, the year after the Sandy Hook Elementary School massacre in Massachusetts.
Despite the rare status gun makers enjoy when it comes to civil immunity, Stinchfield claimed that, should the industry be treated as nearly every other sector, it would be tantamount to persecution.
"When you use your government to persecute a group of people—whether it's gun manufacturers, whether it's you or me—that is tyrannical behavior," he said. "And the only reason [Swalwell] does that is because he doesn't believe in what they are producing or manufacturing. He doesn't believe in what we are saying or supporting, the Second Amendment."
Swalwell is also a congressman from California who is running primarily on a gun violence reform platform. He rolled out an eight-point plan on Monday to establish an "ambitious, comprehensive national framework" tackling gun violence.
A current lawsuit against gun maker Remington is testing the limits of the PLCAA. The Connecticut Supreme Court ruled in March that, despite a trial judge's findings, family members of Sandy Hook victims could proceed with one claim from their broader civil suit against Remington, which manufactured the rifle that was used to carry out the 2012 shooting.
While most of their claims were thrown out, the state's high court allowed the trial to proceed on the allegation that Remington marketed the weapon in a reckless way, which would violate Connecticut's Unfair Trade Practices Act. Remington vowed to appeal the decision to the U.S. Supreme Court.
NRATV is produced by PR firm Ackerman McQueen, which has been immersed in a long-brewing scandal over the past few months. The firm is engaged in multiple lawsuits against its decades-long client, the NRA, which itself has accused Ackerman of acting to depose the gun-rights group's president, Wayne LaPierre. The NRA attempted to extricate itself from its contract with Ackerman, which, in turn, has tried to keep the NRA in line with contractual commitments that are worth a lot of money to Ackerman in the case of a premature separation.
On Thursday, The New York Times reported that the second-most important official at the NRA is being sidelined amid a widening inquiry into what the group alleges was a coup attempt instigated by Ackerman. The organization's former president Oliver North was ousted over these allegations in April.