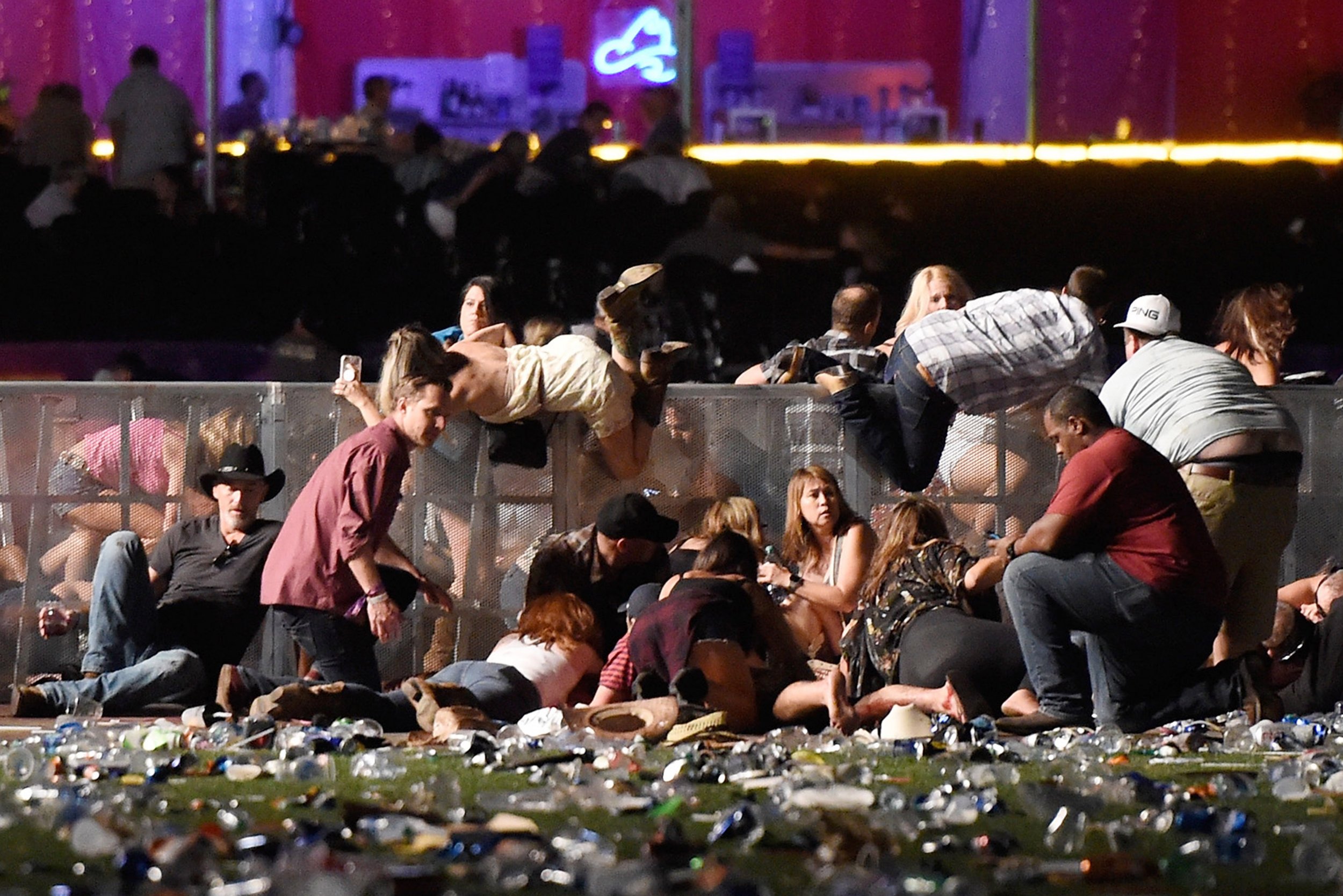 Democratic Sen. Chris Murphy directed some powerful words toward his fellow members of Congress Monday morning: "Get off your ass."
Murphy, Connecticut's junior senator who was elected a year after his state was affected by the Sandy Hook Elementary shooting that claimed the lives of 20 children and six teachers in 2012, reacted to the mass shooting at Las Vegas's Mandalay Bay Resort and Casino late Sunday and Congress's failure to address major concerns over gun rights and gun control.
The senator expressed remorse for the victims and their families, and also called for Congress to take significant action following the worst mass shooting in the country's history. At least 50 people were killed, and more than 200 injured, as a gunman opened fire at a country music festival from the hotel's 32nd floor.
Murphy said his congressional brethren were "afraid" of the powerful gun lobby and that their calls for thoughts and prayers were "hollow."
"My heart goes out to the victims, their families, the first responders, and the entire Las Vegas community," Murphy's statement began. "Nowhere but America do horrific large-scale mass shootings happen with this degree of regularity. Last night's massacre may go down as the deadliest in hour nation's history, but already this year there have been more mass shootings than days in the year.
"This must stop. It is positively infuriating my colleagues in Congress are so afraid of the gun industry that they pretend there aren't public policy responses to this epidemic. There are, and the thoughts and prayers of politicians are cruelly hollow if they are paired with continued legislative indifference," Murphy continued.
"It's time for Congress to get off its ass and do something," he concluded.
Murphy also took to Twitter to state: "Not again."
The sentiment was mirrored by Rep. Don Beyer (D-Va.), who said it is "unfathomable and unacceptable" that Americans had to worry about gunfire every day.
"We have a moral duty to honor their lives with action," Beyer said in a statement. "We must not, and we will not, become desensitized to gun violence."
Murphy is correct about the gun lobby's power in Washington. During the last election cycle, gun rights groups contributed more than $6.2 million, $5.9 million of which went to Republican candidates, according to Open Secrets.
This year, President Donald Trump's first in office, the GOP-controlled Congress has pushed for measures that would actually loosen restrictions. Earlier this month, the Sportsmen's Heritage and Recreational Enhancement Act advanced out of the House's Nature Resources Committee via a party-line vote, according to Politico. The bill could change federal regulations that control the sale of gun silencers, or suppressors.
That measure was pushed back in June, following the shooting of House Majority Whip Steve Scalise, who returned last week after suffering life-threatening injuries, but reportedly could pass the House this week.
Attempts to renew the assault weapon law that was passed in 1994 and expired in 2004 have failed, despite the Sandy Hook, San Bernardino and Pulse nightclub mass shootings.