Bipartisan Group of Senators Say Talks With White House on Gun Control Have Stalled, 'Nearly Had a Deal' With Trump
Three U.S. senators, including a Republican, co-wrote an op-ed on Tuesday calling on President Donald Trump to resume talks on gun control, claiming they "nearly had a deal" with the president on a bipartisan proposal to expand background checks.
"Whether it be the headline-grabbing mass shootings or the lower profile day-by-day gun homicides and suicides, mass shootings and violent gun crimes are tragic American problems," Senators Chris Murphy (D-Conn.), Pat Toomey (R-Pa.) and Joe Manchin (D-W.Va.) wrote. "And while no law can stop all acts of violence, Congress' total silence in the face of this emergency is unacceptable."
Invoking a recent spate of mass shootings in California, New Jersey and Oklahoma, the op-ed notes that moderate gun reform is one of the few issues its authors of varying political affiliations can agree. Indeed, universal background checks have the support of upwards of 90 percent of the American public, many polls find. It is one of the few proposals that often garners the support of gun owners and NRA members too.
In August, after a pair of mass shootings in El Paso, Texas, and Dayton, Ohio, a credible effort was mobilized to pass some sort of meaningful gun legislation. In perhaps the first time in years, if not a decade, movement on a modest, bipartisan proposal did not seem implausible.
Senator Lindsey Graham, the powerful Republican chairman of the Judiciary Committee, even introduced a bill with his Democratic colleague that would incentivize red flag legislation at the state level.
But momentum on the broader reform effort ultimately petered out, and there were insinuations that Republicans sought to blame the nascent impeachment inquiry in the House of Representatives for stalled action on gun control.
In addition, reporting suggested that a well-placed phone call from National Rifle Association CEO Wayne LaPierre to the president may have helped hold the line against further concessions, even to a bipartisan congressional audience.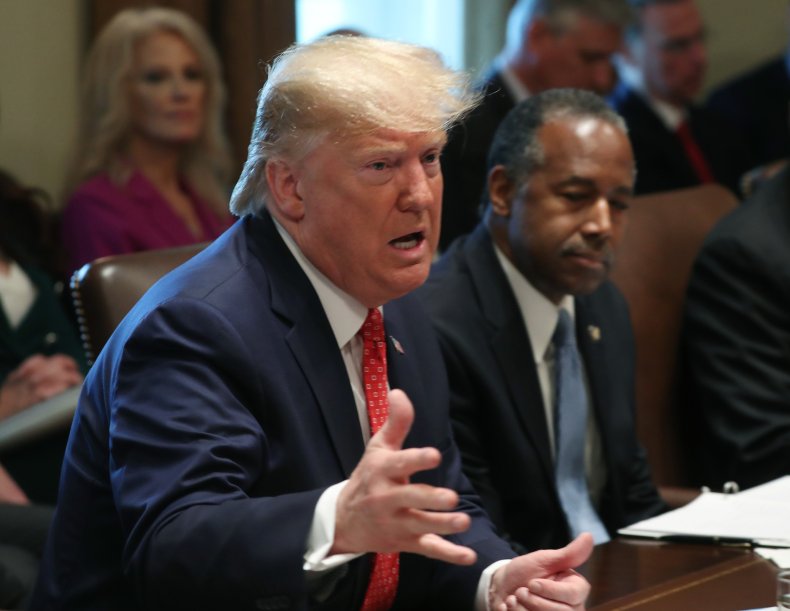 Yet, Tuesday's op-ed serves as a sign that there is at least some lingering resolve on Capitol Hill to advance gun laws at the federal level.
"For the time being, negotiations with the White House on background checks have come to a halt," the op-ed announced. "But we think it's important to note how far this debate moved over the summer and fall, and how close we were to a bipartisan agreement. We are ready at a moment's notice to restart these deliberations, because we remain confident that with the president's support, a measure to expand background checks to include all commercial gun sales could become law."
Confining background checks to retail sales allows more than one in ten transactions to occur without verifying that the purchaser is allowed to own a firearm. The Odessa, Texas, gunman, who killed seven people in late August, purchased his semi-automatic rifle through a private sale without undergoing a background check. He was reportedly prohibited from owning firearms, which a background check would likely have flagged.
"This measure, once implemented, would undoubtedly make our nation safer, and show Americans that even during this heated political moment, Republicans and Democrats can still come together to pass landmark legislation that will save lives," the senators wrote.
The White House did not respond to a request for comment.