Gun Control Group Takes Aim at Mitch McConnell in Emotional Ad: 'This Isn't Normal'
The national gun control group Everytown For Gun Safety has called on Mitch McConnell and other prominent Republicans to stand up to the gun lobby in a new series of emotional advertisements.
The ad begins with a montage of news footage from the most deadly mass shootings over the past several years, including Sandy Hook in 2012, the Orlando nightclub shooting in 2016 and the Las Vegas music festival attack in 2017. The montage ends with the most recent tragedies in El Paso, Texas and Dayton, Ohio earlier this month that killed 31 people.
"It seems like everyday there's another shooting. This isn't normal. It's time our elected officials do something about it," the ad says. "Tell Mitch McConnell to stand up to the gun lobby and pass bipartisan background check and red flag laws to keep guns away from people who pose a danger to our communities."
Everytown announced earlier this month that it planned to spend $1 million on digital and television ads in eight states to demand Republicans in Congress pass gun control legislation. Other senators targeted in the ads include Marco Rubio, Rick Scott, Cory Gardner, John Cornyn, Ted Cruz, Mitt Romney, Johnny Isakson, David Perdue, Richard Burr, Thom Tillis, Rob Portman and Lamar Alexander.
"The American people want action on gun violence, and we're saying so in a voice loud enough for every senator to hear," John Feinblatt, president of Everytown, said in a statement. "We're unleashing the full power of our grassroots movement and leading our most aggressive August spending effort ever, to ensure the Senate gets the message and passes background checks and a strong federal 'red flag' law."
Despite pressure from Democrats, McConnell has not called the Senate back to Washington D.C. for an emergency legislative session to address the back-to-back mass shootings in California, Texas and Ohio earlier this month.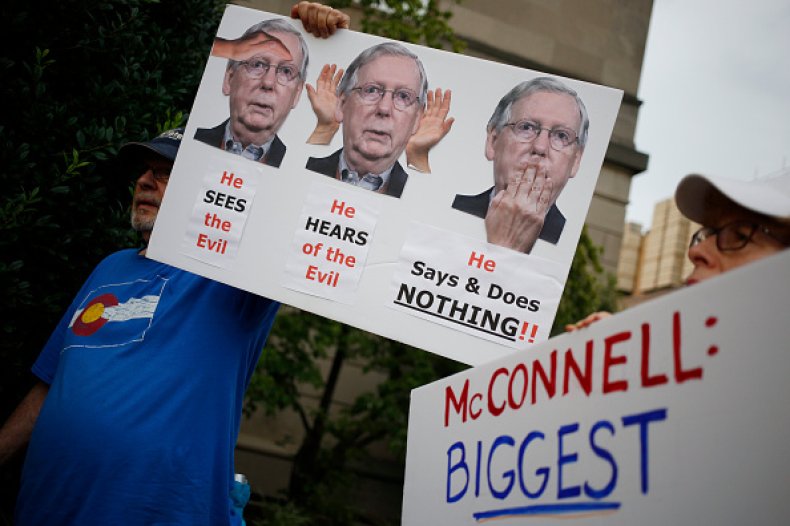 The Senate majority leader has also not allowed a vote on gun control legislation that was passed by the Democratic-controlled House earlier this year. The bill would require universal background checks for almost all firearm purchases.
In the wake of this month's shootings, McConnell said that Senate Republicans were "prepared to do our part" but didn't elaborate on what exactly their "part" would be.
President Donald Trump has been sending mixed signals on whether he would support strong gun control legislation. Immediately after the shootings, Trump said he wanted to expand background checks and other policies to keep firearms away from dangerous people. But then he suddenly switched positions, saying it was more of a mental health issue and that the U.S. already had sufficient background checks in place.
"We have very strong background checks right now," Trump told reporters in the Oval Office last week. "But we have missing areas, and areas that don't complete the whole circle. And we're looking at different things. And I have to tell you that it is a mental problem. And I've said it a hundred times it's not the gun that pulls the trigger, it's the people."