Gun Control Group Touts Police Opposition to Permitless Carry With Mobile Billboard
A new mobile billboard in Tennessee criticizes Governor Bill Lee for his support of a proposed bill that would allow guns to be carried without a permit, while touting opposition to the measure from law enforcement groups.
The ad, which was released by the Everytown for Gun Safety advocacy group, features a picture of Lee as well as two police officers.
"Our lawmakers claim to support law enforcement, but law enforcement doesn't support this. Oppose permitless carry," the billboard says.
Despite Lee's support for the legislation, which the billboard and statement from Everytown for Gun Safety point out, a number of organizations have publicly opposed permitless carry, including the Tennessee Bureau of Investigation, the Tennessee Sheriffs' Association and the Tennessee Association of Chiefs of Police.
The measure, which state Republicans have dubbed the "constitutional carry" bill, seeks to allow residents 21 and older to carry a handgun without a background check, safety training or permit. The bill would allow members of the military between the ages of 18 and 20 to carry a gun without a permit. The bill would also increase punishments associated with certain gun crimes.
"Permitless carry legislation also allows extremists and white supremacists to evade background check requirements and safeguards to responsible gun ownership," Everytown for Gun Safety said in a press release.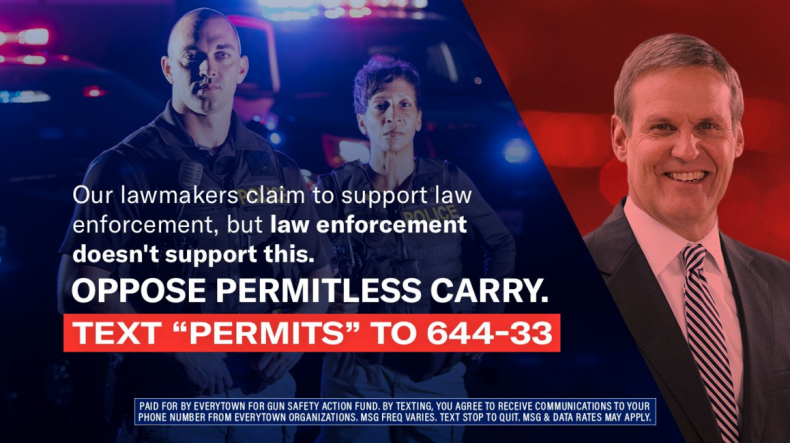 The release of the billboard comes as the bill moves through Tennessee's House and Senate for a vote.
In February, Lee spoke about his plans to introduce the bill, saying that "now, more than ever, Tennesseans want a strong commitment to the Second Amendment and their right to protect themselves."
He added, "And as such, I will again be reintroducing constitutional carry legislation."
Newsweek was directed to Lee's comments in February after reaching out for comment.
Like the governor, supporters of the legislation have claimed that the current gun registration process is a violation of residents' rights.
"Under our current permitting process, it is certainly a violation of your Second Amendment, Fourth Amendment rights and others," House Majority Leader William Lamberth said earlier this month, according to The Tennessean.
The statement from Everytown for Gun Safety also includes a comment from Carol Frazier, a volunteer with the Tennessee chapter of Moms Demand Action, which Everytown for Gun Safety operates.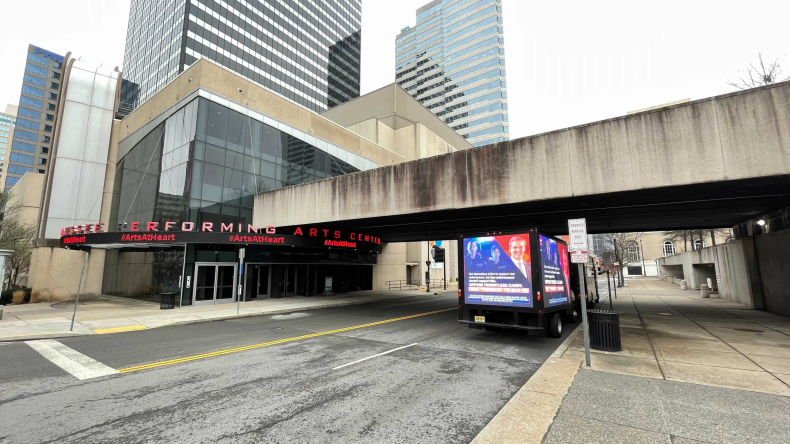 "You can't claim to support law enforcement while also supporting permitless carry, which every major law enforcement agency in Tennessee vehemently opposes," Frazier said in the press release. "With these ads, we're reminding people that supporting law enforcement means protecting our permitting system, not gutting it."
If the legislation is passed in Tennessee, the state would join 18 others that have a constitutional carry law.