Gun control advocates are planning to send voter registration forms as birthday gifts to 18-year-olds so they can elect a Congress who want stricter laws come the November elections.
The campaign is hoping to carry the momentum generated in recent months by young people in the wake of the Florida school shooting on February 14.
"I think young people are going to make a huge difference in this election, and the new energy we're seeing is going to tip the scales in a number of races," Isabelle James, political director for Giffords, an organization which supports stricter gun control, told Reuters.
The Our Lives, Our Votes campaign is targeting teens in 10 states where they believe they could vote out pro-gun lawmakers in the Senate and House of Representatives, including Arizona, California, Florida, Virginia and Wisconsin.
The organizers are hoping the campaign will result in the registration of at least 50,000 new voters before the elections in November. As well as Giffords, the movement is also the work of fellow gun control groups Everytown for Gun Safety and NextGen America.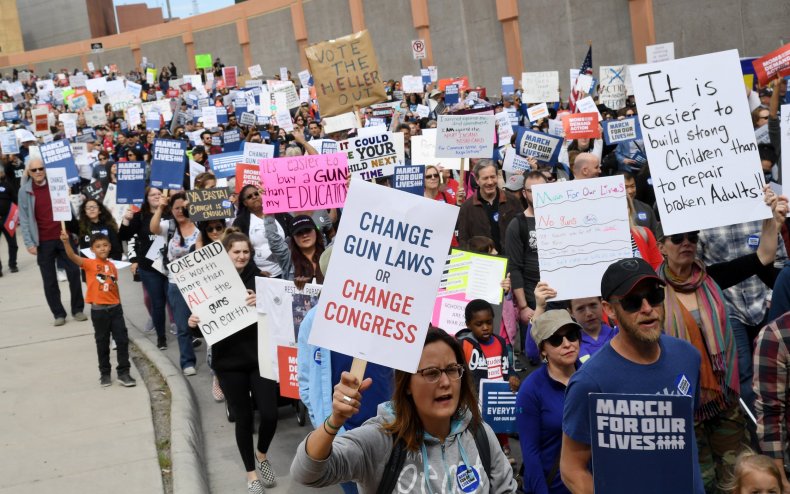 The organizers said they were inspired by young people's drive during the March for Our Lives movement, which saw hundreds of thousands of students across the U.S. take part in huge rallies demanding stricter gun legislation in the wake of the mass shooting at Marjory Stoneman Douglas in Parkland, Florida, which killed 17 people.
"America's children took to the streets and led marches with a unified message that rang out across the country: We need a Congress that will protect us," former Democratic Representative Gabrielle Giffords, co-founder of Giffords, told Reuters.
Although James said the teen voting campaign is mainly pushing for Democratic majority in Congress because the country needs "leadership that's willing to work with us and move forward," she added the group have supported 20 Republican lawmakers who have pushed for stricter gun laws.
Thousands of young people signed up to vote for the first time during the March for Our Lives rallies last month, but historically young people and teenagers remain those least likely to vote.
According to the U.S. Census Bureau, only 46.1 percent of 18- to 29-year-olds voted in the 2016 general election, the lowest demographic of any age group.
Speaking at a rally in Parkland, Sari Kaufman, a Marjory Stoneman Douglas student who has emerged as one of the key figures in the youth anti-gun movement, urged a crowd of thousands to vote out any lawmakers not pushing for new legislation.
"With this movement, we will ensure record-breaking turnout not just in the next presidential election, not in the next midterm election, but in all elections," said Kaufman. "We're here today to give you the tools to make a change."