House Committee Passes Bill Barring Hate Crimes Convicts from Owning Firearms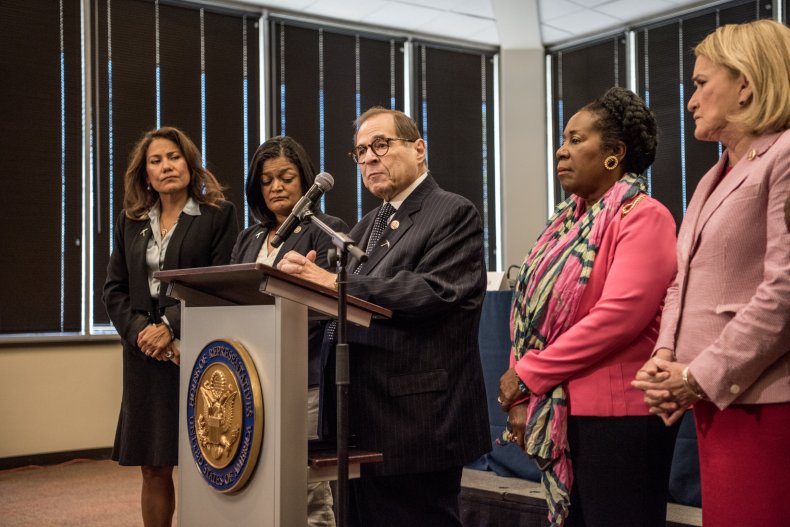 The House Judiciary Committee passed new legislation overnight which would prohibit individuals convicted of misdemeanor hate crimes from owning firearms. The Disarm Hate Act is one among a flurry of new congressional proposals that have gained traction in the wake of several high-profile mass shootings in recent weeks.
The bill now heads to the floor of the House of Representatives for a vote before the full chamber.
"The link between gun violence and bigotry is clear. Convicted hate criminals are a danger to our society. They should not be allowed to legally own guns," Representative David Cicilline, who sponsored the bill, said in a press release. "I'm pleased that we are sending this bill to the House floor. Democrats are taking action to save lives. Until Republicans stop blocking these bills, the blood of nearly 40,000 Americans each year will continue to stain their hands."
The committee also signed off on a pair of other gun control items, tackling areas of concern for activists who have pushed for tighter regulation of firearm possession. One bill would outlaw high capacity magazines, and another would encourage states to pass "red flag" laws, which allow courts to temporarily confiscate guns from suspected violent actors.
But the application of this bill, should it pass the House, pass the Senate and be signed into law by President Donald Trump—an uncertain prospect in itself—may not reach perpetrators of hate in various parts of the country.
According to the Justice Department, four states lack any sort of specific hate crimes statute. Others have hate crime statutes that leave out certain groups. For example, 15 states including Michigan, Pennsylvania and North Carolina have hate crime statutes that do not apply to LGBTQ victims.
Where hate crimes statutes do exist, the bill would still depend on prior convictions to prevent future crimes. The August mass shooting in El Paso, Texas, is being investigated as a hate crime, but the suspect in the case, Patrick Crusius, is not believed to have had any prior hate crimes convictions which would have triggered Cicilline's bill.
The bill specifically targets those previously convicted of misdemeanor hate crimes, as federal law already prohibits the vast majority of convicted felons from owning guns.
The FBI collects data on hate crimes nationwide, and, according to its most recent report, the agency received notice of 7,106 bias incidents in 2017. These numbers were around 17 percent higher than in 2016, which itself marked a five-year high for reports of hate crimes. This data only includes incidents collected from law enforcement agencies which participate in the FBI's hate crimes reporting network.
The Bureau of Justice Statistics released an analysis in 2017 which found that 4.5 percent of hate crimes involve the use of a firearm. Shedding light on the insufficiency of the FBI's data, the report also concluded that 54 percent of hate crimes are not reported to the police.
Despite the potential holes in the application of Cicilline's bill, it would be the first piece of federal legislation barring an entire class of person from owning a firearm in over 20 years, according to The Trace.
Responding to the bill's passage out of committee, Representative Doug Collins, the group's top Republican member, lamented potential civil liberty concerns and, more broadly, the existence of hate crimes statutes in the first place.
"Rather than address the underlying crimes—rather than pursuing softer hearts and intellectual integrity—Democrats are today using identity politics to further divide America. They're exploiting our differences for political gain," he said in an opening statement. "Let me be clear: A crime is not somehow worse because of the immutable or other characteristics of the victim. Justice must be swift, and it must also be blind. Murder is murder. Assault is assault."
He alleged that future administrations might seek to exploit the "vaguely-defined" language in the bill to pursue political grievances in order to lead an assault on "a fundamental constitutional right."