Gun Control Laws 2018: Midterm Elections Measures and How How Vote Could Impact Legislation
While it may not be garnering the attention of immigration or health care, gun control has been playing a significant role in the 2018 midterms. Since the 2016 election, three of the nine deadliest mass shootings in United States history have occurred, including the deadliest ever, in Las Vegas last year. With that has come an increased push for stricter gun laws and, for the first time under current finance laws, the National Rifle Association looks likely to have been outspent by gun control groups.
Still, there is only one state with a ballot measure directly related to the issue of guns. In Washington state, Initiative 1639, "Safe Schools, Safe Communities," would raise the age to purchase semi-automatic rifles from 18 to 21 as well as expanding background checks and requiring a firearm safety course.
The initiative was subject to multiple lawsuits by gun-rights advocates to have it removed from the ballot but while a judge initially sided with its opponents, the Washington Supreme Court overturned that ruling to ensure it would be put up for a vote.
The lack of a direct presence on ballots doesn't mean gun control won't be a big part of Election Day across the rest of the country. Everytown for Gun Safety, which was founded by billionaire former New York City Mayor Michael Bloomberg in the aftermath of the Sandy Hook Elementary School shooting in 2012, has spent millions of dollars in this election cycle and endorsed 196 candidates.
Democrats have become noticeably more willing to embrace gun control on the campaign trail, particularly after a shooting at a high school in Parkland, Florida, earlier this year that led to a wave of protests and backlash against the NRA.
"So many candidates for Congress, particularly women, are running on this issue—not just making it part of their platform and not just supporting it, but actually running on it," Shannon Watts, founder of Moms Demand Action for Gun Sense in America, an arm of Everytown for Gun Safety, told The New York Times on Sunday.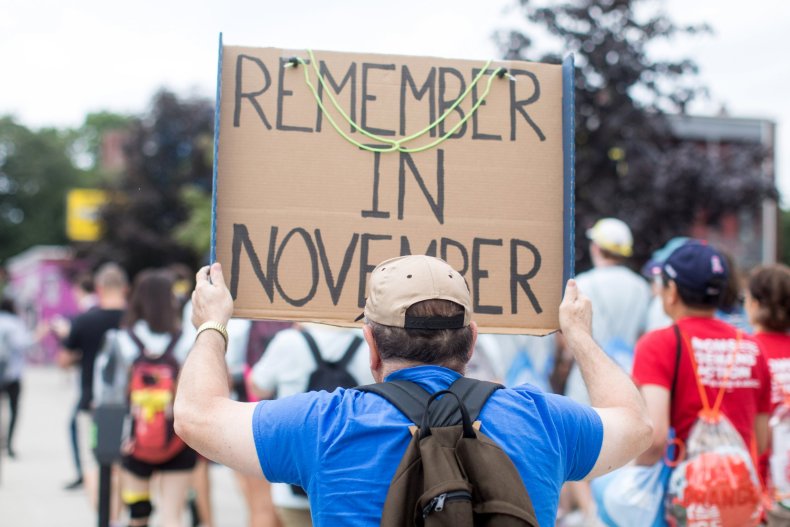 The data appear to support those positions. A majority, 61 percent, of Americans are in favor of stricter laws on purchasing guns, according to a Gallup poll from last month. A poll published last week conducted by Hart Research Associates for Everytown indicated that 41 percent of voters are less likely to support a candidate who has received donations from the NRA.
Perhaps crucially, suburban women in the poll said by a 26-point margin that they would prefer the Democratic Party to handle gun control. Suburban women could play a decisive role in the battle for control of the House of Representatives. A number of key battleground districts are set to be decided in the suburbs as Democrats seek to overturn Republicans' 23-seat majority.
Despite this apparent shifting of public opinion, President Donald Trump has repeatedly tried to rally his base by stoking fears of Democrats wanting to abolish the Second Amendment and take away Americans' guns.
"Stacey and her friends will get rid of it," Trump said Sunday of Democratic candidate for governor of Georgia, Stacey Abrams, despite the fact that she has called for no such overturning of the Second Amendment.
With total Republican control in Washington, there has been little to no prospect of even moderate gun control measures being passed. But if Democrats can seize back the reins of the House, and perhaps even the Senate, then Trump, who was heavily backed by the NRA in 2016, could face increasing pressure to take action in the remainder of his first term.