The Gun Control Lobby Is Stepping Up Efforts to Woo Republicans
In the aftermath of the Uvalde, Texas, shooting that left 19 children dead, gun control is back on the agenda.
For lobbyists, it never went away. Groups on either side—those campaigning for either gun control or gun rights—have radically upped their spending in the last few electoral cycles. For 2019-20, total gun lobbying was $56 million, up from just $10 million in 2017-18.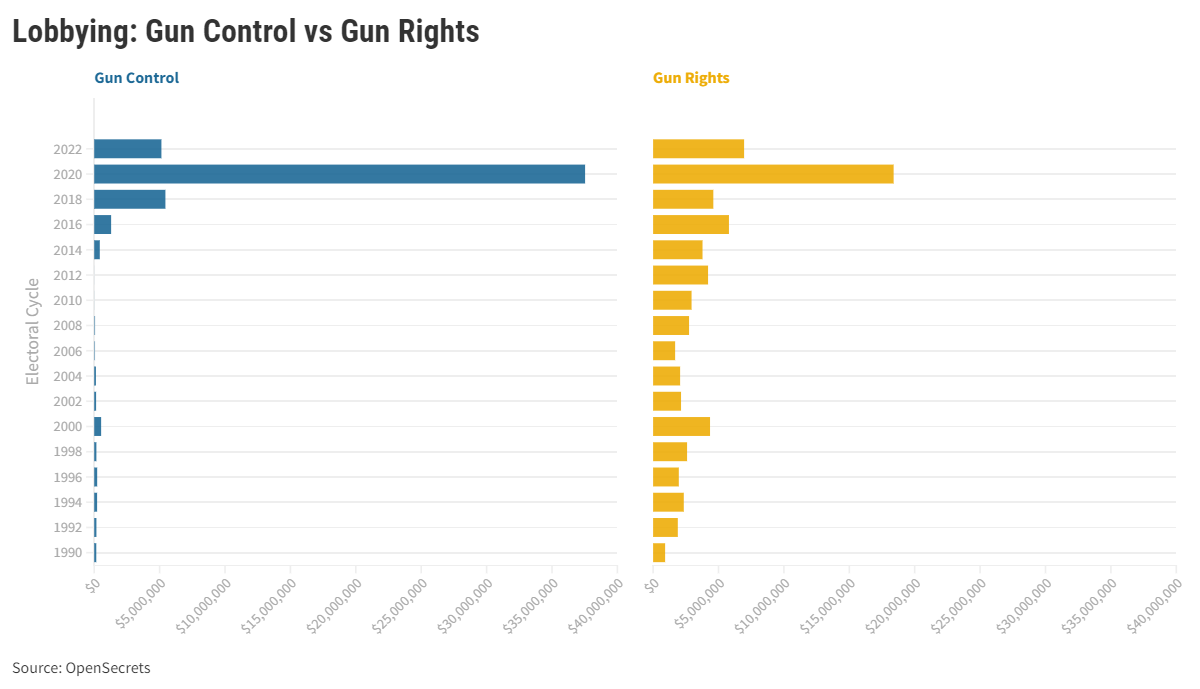 But hidden in the large numbers is spending on what might be termed "the other side": campaign donations for either gun control to Republicans, or donations for gun rights to Democrats.
According to data from OpenSecrets, a nonprofit organization based in Washington, D.C., that tracks data on campaign finance and lobbying, the vast bulk of the money given to either cause, rights or control, goes to its natural political home. For example, in the 2020 election cycle, 99 percent of gun control money was given to Democrats, and equally 99 percent of gun rights donations were given to Republicans.
This is money that effectively shores up the established position for both parties, that of protecting gun rights for the Republican Party, and that of some form of gun control for the Democrats.
Instead, looking purely at money given to the opposite party, the gun control lobby was dwarfed in donations for many years, but in the last electoral cycle it has outspent the gun rights lobby, and looks set to do so again in the current electoral period.
For the 2020 campaigning period, gun control lobbyists donated $178,000 to Republicans, ahead of gun rights donating of $126,000 to Democrats. In the current electoral cycle, gun control dollars to Republicans are more than double those of gun rights to Democrats: $25,000 to $12,000.
The figures published by OpenSecrets that specifically assign donations to Democrats or Republicans are based solely on contributions to candidates and parties. Independent expenditures and electioneering communications aren't reflected in the breakdown by party. Data for the current election cycle were released by the Federal Election Commission on April 18, 2022.
The effect can be seen in the response to the Uvalde tragedy. In 2020, the lobby group Everytown for Gun Safety donated $2,500 to Brian Fitzpatrick, a Republican congressman for Pennsylvania.
Fitzpatrick's statement on the Uvalde shooting was far more balanced than other Republican members of congress. He told the Philadelphia Inquirer "My prayers are with the families of those who died, and I hope that we can work together as a country to find a solution that protects our children and citizens from the evils of unnecessary violence. I have previously co-sponsored bipartisan pieces of legislation to directly address the violence we are seeing in our country."
In contrast, his fellow Republican Congressman for Pennsylvania's 11th congressional district, Lloyd Smucker, hasn't commented on the Uvalde shooting. He took $5,950 from the National Rifle Association (NRA) in 2016.
Following the fatal shooting, President Biden made an emotional plea on gun control, saying: "As a nation, we have to ask, 'When in God's name are we going to stand up to the gun lobby? When in God's name are we going to do what has to be done? Why are we willing to live with this carnage?'"
The NRA plans to go ahead with its annual meeting in Houston, Texas, this week, with speakers including former President Donald Trump and Texas Senator Ted Cruz.