After Florida Shooting, Support For Stricter Gun Control Laws Reaches New High In Poll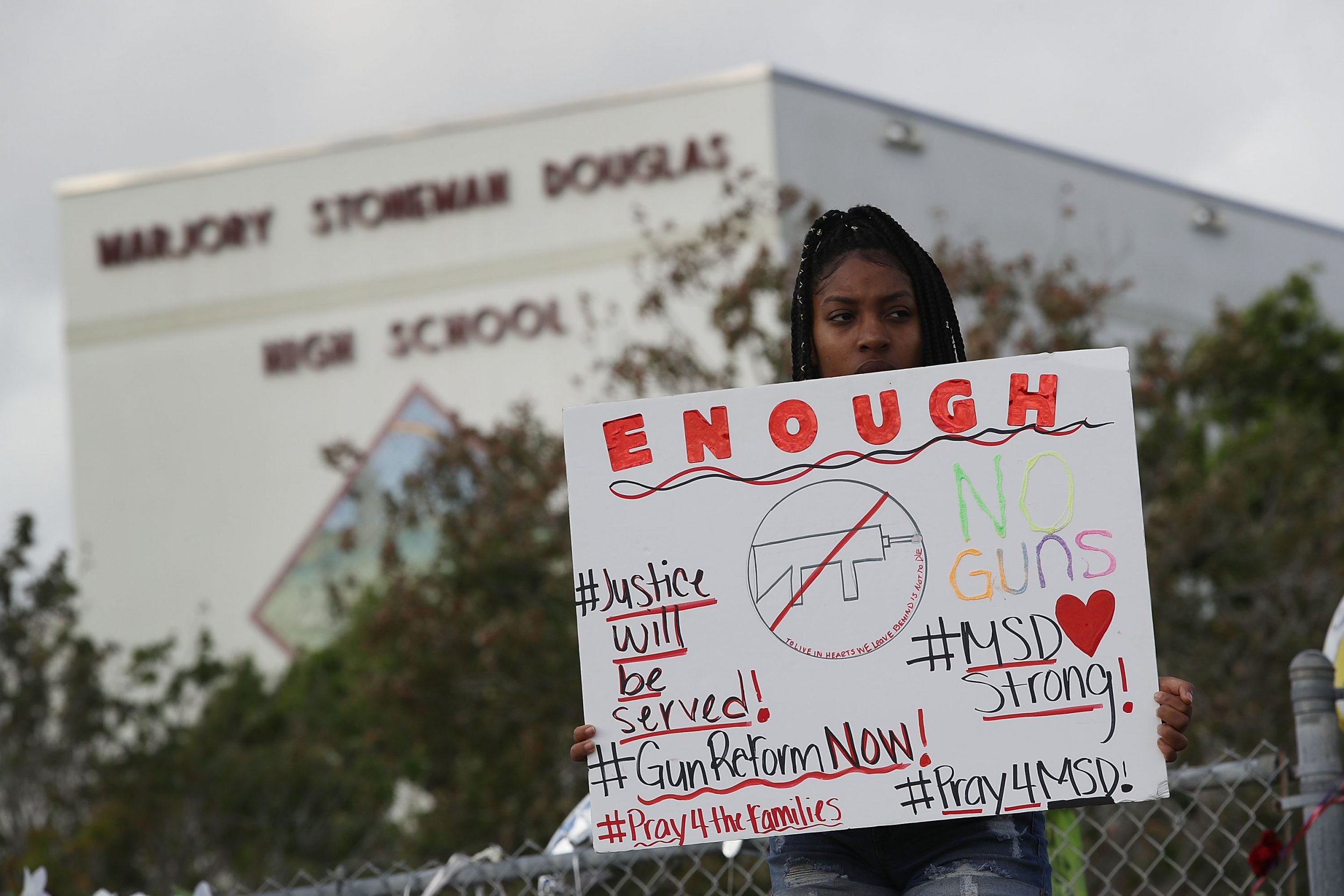 Two-thirds of American voters support stronger gun laws, a new high for a national poll, as the country reels from last week's deadly mass shooting at a Florida high school that reignited the national debate on gun control legislation.
The Quinnipiac University National Poll showed that 66 percent of voters are in favor of stricter gun laws, compared with 31 percent against them. This was the highest number ever recorded in the independent poll, although still short of the highs recorded by Gallup in the early 1990s. Fifty percent of gun owners now support tighter restrictions, the Quinnipiac poll also found.
The results showed widespread support for background checks, mandatory waiting periods for purchasing firearm and a national ban on the sale of assault weapons. Ninety-seven percent of all respondents wanted universal background checks, while 67 percent backed a ban on assault weapons and 83 percent indicated support for the waiting period.
In the poll's history, support for gun control measures peaked across the board. Quinnipiac first began polling on gun control following 2013's mass shooting at Sandy Hook Elementary School in Newtown, Connecticut, which resulted in the deaths of 20 children and six adults.
"If you think Americans are largely unmoved by the mass shootings, you should think again," said Tim Malloy, assistant director of the poll, in a statement. "Support for stricter gun laws is up 19 points in little more than two years. In the last two months, some of the biggest surges in support for tightening gun laws come from the demographic groups you may not expect, independent voters, men, and whites with no college degree."
The results indicated that two key demographic groups that supported President Donald Trump are on board with new gun control measures.
Indeed, white voters with no college degree overwhelmingly backed new gun laws, to the tune of 62 percent, with 35 percent disagreeing. Fifty-eight percent of white men also showed support.
White voters overall helped Trump gain the White House in 2016, and the president has often stuck by his base throughout his first year in office. He's also been a major proponent of the Second Amendment and gun rights, as well as the National Rifle Association.
However, the White House signaled its support on Monday for improving the nation's background check system.
"While discussions are ongoing and revisions are being considered, the president is supportive of efforts to improve the federal background check system," White House Press Secretary Sarah Huckabee Sanders said.
The gun control debate reignited after 17 people were gunned down last Wednesday at Marjory Stoneman Douglas High School in Parkland, Florida. According to authorities, the suspect in the case, 19-year-old Nikolas Cruz, legally purchased the AR-15-style weapon used in the shooting.
Florida legislators have responded with potential new laws aimed at increasing the age a person can purchase a gun, and students around the country have staged protests calling for lawmakers find ways to prevent mass shootings.