Philadelphia Man Gets Shot 15 times and Survives, Walks to the Hospital to Get Help: 'That's Pretty Miraculous'
A man in Philadelphia who was shot more than a dozen times managed to survive and get himself to a hospital nearly two and a half miles away.
Police responded to calls about a shooting in the 1700 block of Tilghman Street in Kensington in the north of the city in the early hours of Friday morning.
When officers arrived at the scene, they found 23 spent shell casings, according to 6ABC. Soon afterwards, they were informed by the city's Temple University Hospital about a 27-year-old victim who had walked into the emergency room with a number of gunshot wounds.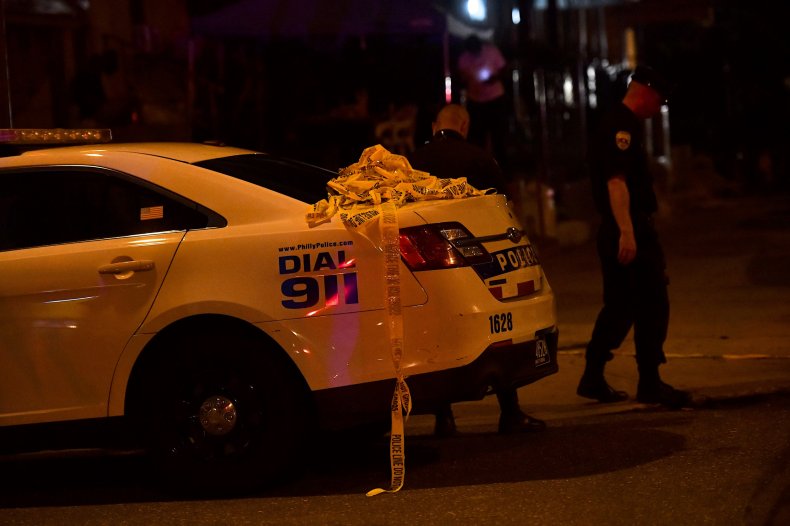 Police said that the man had come from the scene of the shootings. The hospital is around around 2.4 miles from the crime scene, according to Google Maps. He is receiving surgery and it is thought that he will survive.
Philadelphia Police Chief Inspector Scott Small told the network: "These were large caliber shell casings.
"For him to be hit that many times throughout his body, even though he is critical and is expected to survive, and he walked into the hospital. That's pretty miraculous," he added.
"He walked into the emergency room. Right now he is undergoing surgery. He is in critical condition but although he was shot multiple times, he is expected to survive," he added, according to CBS Philly.
Investigators are looking at footage from nearby surveillance cameras and as yet have no suspects or motive for the shootings and have appealed to the public for more information.
In a statement to Newsweek, Philadelphia police detailed the wounds of the victim which included five on the right side, two on his left hip, three on the upper chest, right shoulder, one on his right side neck, and three on his left forearm.
"The victim is in critical but stable condition. The scene was held, no weapons recovered and no arrest was made."
"This investigation is active and ongoing with the East Detective Division," the statement added.
In the same part of the city, a two-year-old girl died in a shooting last Sunday, when a gunman fired into her home in Kensington.
The child died at the scene after being struck in the back of the head. Her 24-year-old mother is in stable condition and a 33-year-old man is critically injured, USA Today reported.
Only a day before, an 11-month-old boy who was riding in a car with his father's girlfriend was shot four times while riding in a car in the Hunting Park section of Philadelphia.
Police say that the child suffered gunshot wounds to the head, chest, and buttocks and is in a critical condition. If he does survive, is likely to be a quadriplegic. A suspect was taken into custody, CBS Philly reported.
Kim Cash, a neighbor of the baby's stepmother: "I hope that baby pulls through. I really do. I really do. Eleven months old. My heart is breaking right now. I don't know what to do," according to NBC10.
USA Today reported that Philadelphia has recorded 227 homicide victims so far this year, according to the police department—three percent more than 2018.
This story has been updated with a statement from Philadelphia Police.