Research has revealed a rise in fatal shootings in the U.S. since 2014, with young people disproportionately killed.
Bindu Kalesan, assistant professor of medicine at Boston University School of Medicine, and colleagues used the Injury Statistics Query and Reporting System database to look at firearm deaths and a measure known as years of potential life lost, between 1999 and 2016.
Overall, they found deaths caused by guns rose from 10.3 people per 100,000 of the U.S. population in 1999 to 11.8 in 2016. The 10.3 rate remained constant from 1999 until 2014, then, from 2014 to 2016, there was an annual 7.2 percent increase in gun-related deaths.
The biggest spike in deaths was seen after 2014 for people aged between 15 and 44 years old. This followed a slight decline in killings among this age group in the years prior. The climb was explained by a rise in the deaths of men, as well as black and Hispanic populations, and in homicides.
The researchers also noticed the percentage of years of potential life lost saw a small increase in the years until 2014, but then spiked five-times the previous number in 2014. The combination of a stable mortality rate and a rising percentage of years of potential life lost suggests that while the magnitude of firearms deaths stayed the same, the deaths were increasingly among younger people across time, according to the authors of the study published in PLOS One.
By state, the highest annual mortality rate was seen in Alaska in 2015, at 23.3 people per 100,000. Gun deaths only dropped in the states of New York and Arizona over the course of the study.
"The burden of death due to firearm violence is a significant public health problem in the United States," the authors wrote.
Co-author Bindu Kalesan, assistant professor of medicine at Boston University School of Medicine, told Newsweek: "Years of life lost was surprising. It seems that a small increase in years lost started way back in 1999. It just gained momentum and then jumped again in 2014."
"This pattern suggests that burden of gun deaths were slowly shifting to younger people. Time and time again, we researchers have been showing that black communities are being decimated by gun violence. Now increasingly so. However, we are still reporting these disparities and not correctly addressing the problem," Kalesan added.
Kalesan said that gun deaths are likely under-reported. It is also possible the steep increase in 2014 could just be a blip.
Asked about what the study could mean for gun policy, Kalesan argued: "Gun violence is a multi-dimensional problem and we cannot solve all of it by laws to restrict guns alone. We have to facilitate a social change to remove misinformation. Guns are likely to kill people you love rather than protect you and your family."
Kalesan continued: "As a country we have seen too much money going into advocacy for policy. How are we going to regulate illegal guns? We may need policies to improve high-risk communities rather than policing it more or shooting our way through it or incarcerating people. Providing opportunities for a way out of poverty and affordable housing may be the answer. We are talking about victims who died here, not criminals."
On the other hand, Kalesan went on, for every three people shot dead, seven survive.
"Policies to provide continuous and free health care is needed," he argued.
Kalesan highlighted that surviving gun violence is "expensive."
"Given increasing gun deaths where we have improved trauma care, it is likely that we have a very large population of gun violence survivors. We need better research and a shift to policies that improve societies and individuals suffering from gun violence is required," the researcher said.
Kalesan asked: "The question is also how we generate revenue for this. Taxes for gun owners, manufacturers, is a must. A national gun registry should be re-established. There should be a transparency and responsibility around guns and gun ownership."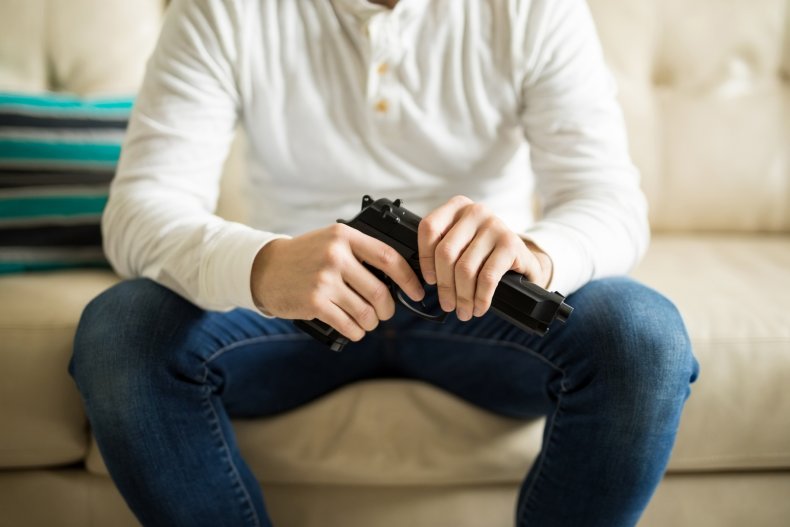 Uncommon Knowledge
Newsweek is committed to challenging conventional wisdom and finding connections in the search for common ground.
Newsweek is committed to challenging conventional wisdom and finding connections in the search for common ground.
About the writer
Kashmira Gander is Deputy Science Editor at Newsweek. Her interests include health, gender, LGBTQIA+ issues, human rights, subcultures, music, and lifestyle. Her work has also been published in the The Independent, The Independent on Sunday, The i Newspaper, the London Evening Standard and International Business Times UK.