House Republicans Reintroduce Bill Eliminating All Gun-Free School Zones Across U.S.
House Republicans are looking to permanently eliminate gun-free school campuses across the country by reintroducing a bill to repeal the Gun-Free School Zones Act.
Kentucky GOP congressman Thomas Massie reintroduced a 2007 bill originally from former Texas representative and libertarian icon Ron Paul Tuesday, which would completely repeal the 1990 Gun-Free School Zones Act. The "Safe Students Act," H.R. 3200, has seven Republican co-sponsors and seeks to eliminate what Massie's office described as a "one-size fits all federal ban on guns" in areas immediately around schools.
Massie has tried and failed to repeal the Gun-Free School Zones Act in the previous two congressional sessions.
"Gun-free zones are ineffective and make our schools less safe," Massie said through a press release from his office Tuesday. "98 percent of mass public shootings since 1950 have occurred in places where citizens are banned from having guns. Banks, churches, sports stadiums, and many of my colleagues in Congress are protected with firearms. Yet children inside the classroom are too frequently left vulnerable," he continued.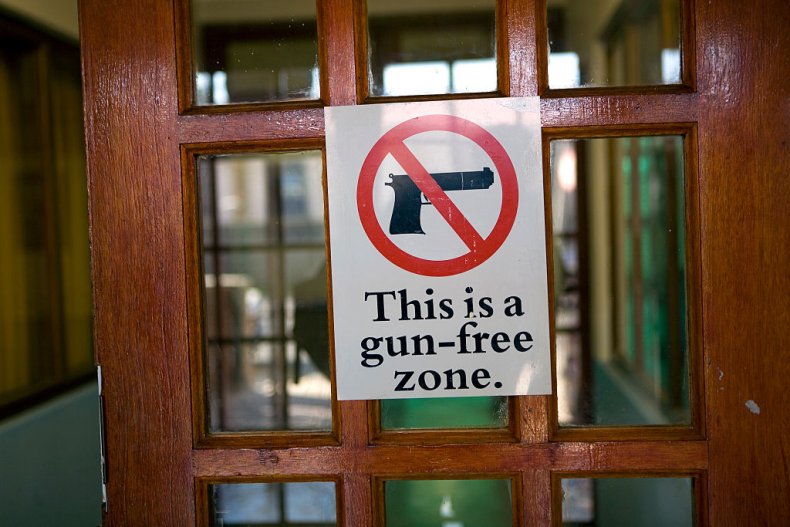 The "98 percent" statistic cited by Massie was pulled from a November 2018 Chicago Tribune op-ed by the conservative author of The War on Guns, John R. Lott Jr., who is also the head of the Crime Prevention Research Center.
The U.S. Supreme Court found the original Gun-Free School Zones Act unconstitutional in the 1995 case, United States v. Lopez. The legislation was amended and today makes it "unlawful for any individual knowingly to possess a firearm at a place that the individual knows, or has reasonable cause to believe, is a school zone."
On Monday, Massie referenced a Crime Prevention Research Center report that listed several cases in which concealed handgun permit holders helped stop mass public shootings or other attacks. In dozens of cases, armed citizens were able to restrain the perpetrators or otherwise prevent loss of life. "The day of the Virginia Beach shooting one of the considered taking a gun to work over concerns about a colleague, but didn't because of #gunfreezone," read the tweet from organization president John R. Lott Jr.
Massie launched the Congressional Second Amendment Caucus in 2016, soon after the election of President Donald Trump. He argued that Washington had become ripe for changes after the upset election of the Republican candidate.
"The recent election results present us with a new opportunity to advance pro-gun legislation and reverse the erosion of the Second Amendment that's occurred over the last few decades. I look forward to working with the new President and this determined group of conservatives to promote a pro-gun agenda," Massie stated in a December 2016 press release.
The other cosponsors of the H.R. 3200 "Safe Students Act" are all Republicans: Justin Amash of Michigan, Jody Hice of Georgia, Jeff Duncan of South Carolina, Matt Gaetz of Florida, James Comer of Kentucky and Reps. Louie Gohmert and Brian Babin of Texas.
"The only thing gun-free zones do is disarm law-abiding citizens and take away their ability to protect themselves and others," Rep. Jeff Duncan said in a statement Tuesday. "We shouldn't leave our most vulnerable – our children – in an unsafe environment like gun-free zones where acts of violence cannot be stopped."
House Republicans Reintroduce Bill Eliminating All Gun-Free School Zones Across U.S. | Politics