Gun Laws Fail to Stop Violent Men From Killing Their Partners, New Analysis of Murder-suicides Warns
Current gun laws fail to stop men from killing women who are their partners, and half of attackers subsequently take their own lives, a new study has suggested.
The analysis, published in the Journal of Urban Health, comes amid a divisive gun control debate. It has been reignited by the Parkland massacre, where a shooter killed 17 people. Last month, hundreds of thousands of protesters gathered in U.S. cities and across the world to demand stricter gun controls.
The findings are based on data logged to the North Carolina Violent Death Reporting System between 2004 and 2013. During this period, 6,440 homicides were reported in the state. Three quarters of victims were women, while 99 percent of the killers were men. A firearm was used in 70% of killings.
Of the total cases, 813 were carried out by either a current or former intimate partner, such as a boyfriend or husband. Half of the perpetrators then killed themselves. If a gun was used, men were also more likely to kill others—such as the victim's children, current partner or parents—immediately after. The number of subsequent deaths rose if the man was not married to the woman.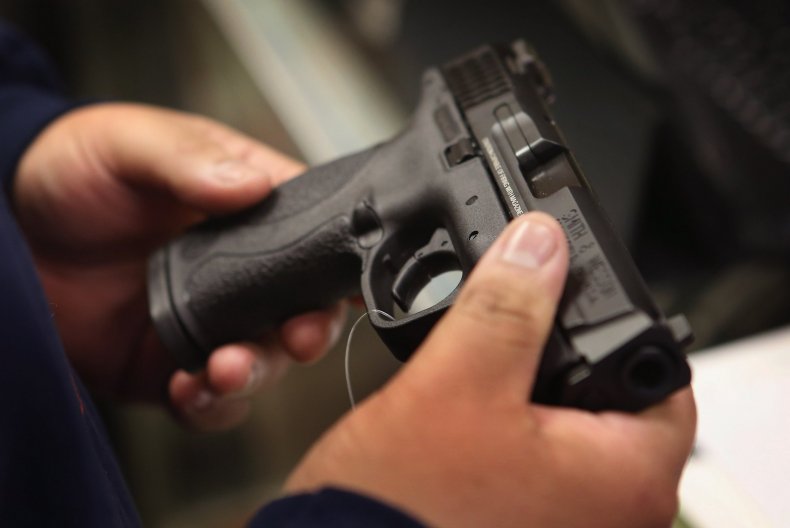 Lead author Sierra Smucker of Duke University Sanford School of Public Policy argued the study shows further restrictions on firearms are necessary.
"It is well known that gun access increases the chance that a violent domestic relationship will end in death," she said. "The current findings demonstrate that intimate partner homicides through the use of guns are often coupled with additional killings."
"It is important to pre-empt gun access by suicidal batterers, rather than depending on the deterrent effect of the threat of severe penalties or punishment," said Smucker. "Someone who plans to commit suicide is logically beyond the reach of the legal threat."
Dr. Joe Street, senior lecturer in history at Northumbria University and co-author of The Second Amendment and Gun Control: Freedom, Fear, and the American Constitution, told Newsweek that further research is needed to assess the national figures and offer a wider picture of intimate homicide, as the study is limited to North Carolina.
"It seems to me that this is a potentially very significant study. The notion that the men studied take no notice of penalties for gun-related homicides etc. is very important and strengthens the argument for tighter gun controls in numerous ways," he said.
"That so many of the incidents conclude with suicide is similarly significant, as it suggests that poor mental health plays a significant role in pushing men towards these actions. Tighter health checks on those attempting to purchase guns is clearly one way to tackle this issue—although it does not quite deal with the issue of those people who already own guns."
Dr. Street argued that while the press and public are drawn to news of mass gun homicides, "the study reveals that the domestic sphere is much more vulnerable."
"Quite rightly, the authors point to the need to broaden the definition of domestic violence, particularly in terms of non-wed couples," he said.