Gun Licensing Only Effective Way of Screening to Reduce Gun Homicides and Suicides: New Study
A new study on gun violence prevention released Thursday has found that the pathways to keeping guns out of the hands of prohibited buyers are narrower than is currently understood.
An analysis of gun homicides and suicides by the Johns Hopkins Center for Gun Policy and Research concluded that so-called "purchaser licensing" is the only effective method of screening prospective gun owners.
According to the study, Missouri's repeal in 2007 of its handgun licensing requirements was associated with a 17 to 27 percent increase in firearm homicides through 2017 and a 16 percent increase in firearm suicides through 2012.
Just nine states and the District of Columbia use some form of purchaser licensing to regulate gun purchases.
There are currently three different methods generally employed by states to scrutinize prospective gun owners during or before a point of sale. Federal law, at a minimum, requires that licensed gun dealers, regardless of state of residence, conduct background checks for every purchase. This leaves open the possibility, however, for sales to proceed without a background check if they occur through an unlicensed seller.
Other states have enacted what are commonly known as universal background check requirements, essentially expanding on the federal background check rules for licensed dealers to mandate that all sellers query the FBI's criminal database. Bolstering background check requirements alone, according to the report, "[does] not decrease lethal gun violence."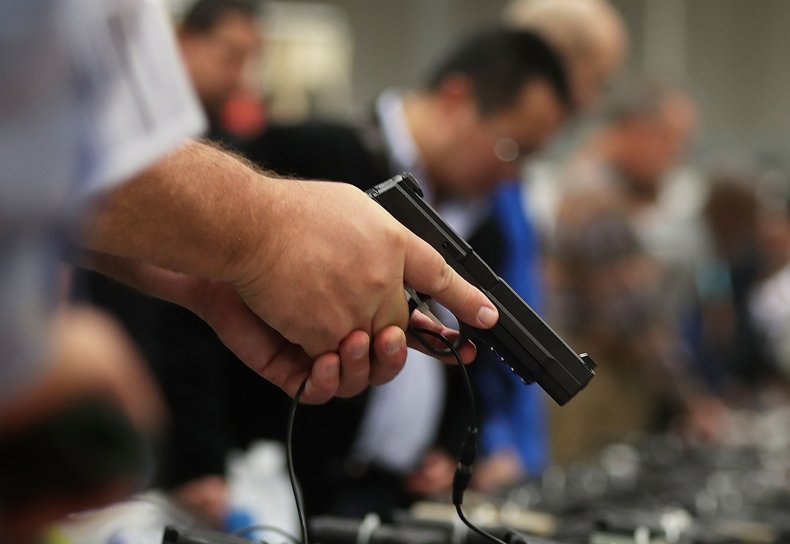 The third commonly used regulation, and the most cumbersome for gun enthusiasts, is the requirement that buyers first obtain a gun owners permit from the state. The requirements under these permits are more stringent than the factors that would prevent someone from purchasing a weapon due to a flagged entry in the FBI's background check system.
Licenses vary from state to state but can require that would-be gun owners submit fingerprints to the police or present evidence of some kind of gun safety training. The permitting also adds an administrative layer that prevents someone from immediately going out and purchasing a weapon without any forethought. These sort of informal and formal waiting periods have been shown to be effective in reducing gun suicides.
The authors of the John Hopkins study write that "the process to apply for and obtain a license can delay the impulsive acquisition of a firearm."
"Requiring that applicants be fingerprinted and apply to law enforcement for a license requires intention and planning over a matter of days, providing time for the potential impulse buyer to change his or her mind," the report explains. "This built-in waiting period allows for transitory feelings to pass and reduces the chance of purchasers using the gun to harm themselves or others."
Purchaser licensing, according to the study, is also more effective because it facilitates direct interaction between gun buyers and law enforcement, discouraging criminal entities from buying guns through the legal pipeline.
After Connecticut implemented its purchaser licensing requirements in 1995, research associated a 40 percent drop in gun homicides with the law's additional hurdles. In the first ten years that the law took effect, a 15 percent drop in firearm suicides was also attributed to the state's licensing requirements.
"Handgun purchaser licensing laws function to reduce gun violence by better screening out individuals who are prohibited from lawfully owning a gun," the report concludes. "Given the body of evidence on the effectiveness of licensing laws and the increasing levels of support among the population, including gun owners, policy makers should consider handgun purchaser licensing as a complement to [universal background check] laws."
Democratic lawmakers in the House and Senate are planning on introducing federal licensing legislation, which has previously received immense pushback from gun rights groups like the National Rifle Association who see the establishment of any database of gun owners as a precursor to gun confiscation.
Regardless, support for basic gun violence prevention measures is high among the American public. As the report notes, 85 percent of adults endorse universal background check requirements at the federal level, with gun owners backing this reform in equal measure with non-gun owners.