The National Rifle Association and gun manufacturers railed against Hillary Clinton in 2016, but perhaps they should have been more concerned about Donald Trump.
Gun sales dropped in 2017 as fears that the government would "come for your guns" waned. The decline has been dubbed the "Trump slump" and led to Remington Outdoor Co. filing for Chapter 11 bankruptcy on Sunday, a day after hundreds of thousands of people worldwide took to the streets protesting gun violence.
Trump, who has touted himself a "true friend and champion" of the NRA, has repeatedly promised that the Second Amendment was safe with him in office. Richard Feldman, a former NRA lobbyist, told Newsweek that such trust has resulted in a classic supply-and-demand predicament for gun manufacturers: Without fear of a supply crunch, the demand drops.
"When the heat is off the gun issue, there's no more fear-buying going on," he said. "There's no immediate threat to your future ability to buy the kind of guns that might be on someone's ban list."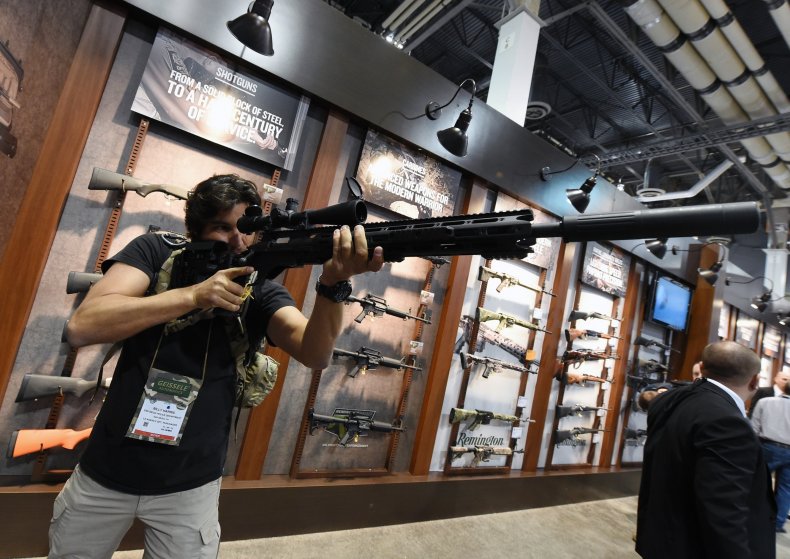 The gun industry bet big on Trump in 2016. Days before the election, NRA CEO Wayne LaPierre issued an "urgent" call to action, telling the group's members to oppose Clinton.
"If, God forbid, Hillary Clinton is elected, she will launch an all-out war on the Second Amendment. She will come for your guns," LaPierre warned. "She will attack your right to carry. She will attack your most basic right to defend your family with a firearm in your home.
"There is no red line President Hillary Clinton will not cross when it comes to attacking your rights and forcibly taking your guns," he said.
Ironically, the gun industry has fared well under Democratic leadership, or when faced with the threat of it.
Concerns that the government could pass stricter gun legislation under Democratic President Barack Obama led to record purchasing. Sales of Remington's Bushmaster AR-15-style rifle, which was used in the December 2012 Sandy Hook Elementary School shooting in Newtown, Connecticut, surged after the tragedy. The manufacturer's sales surged 36 percent to $1.3 billion in 2013, financial research group Moody's Investors Service reported.
Then, in 2016, the NRA and gun manufacturers dumped millions into Trump and the Republican Party, viewing Clinton as an albatross.
But the Democratic challenger was a boon to the industry. Gun sales spiked again ahead of the election while polls showed Clinton as the favorite to win.
"Sales have been very, very slow ever since Trump was elected, but right up until Election Day, it was a buying frenzy," Feldman said.
The FBI tallied 27,538,673 background checks in 2016, an increase of more than 4 million checks from 2015. Background checks approximately correlate to gun sales, though it's not an exact science: One buyer could purchase several guns at once and trigger only one background check, or customers can use background check loopholes like buying from a private or unlicensed dealer.
There were more than 2 million fewer background checks in 2017, according to the FBI data.
In February, however, background checks rose again—likely as a result of the Parkland, Florida, tragedy. The galvanizing around gun control in the wake of the Marjory Stoneman Douglas High School shooting appears to have spooked the gun community, Feldman said.
"The fight that's happening now looked like it was going to happen a year ago January," he said. "Certainly, the discussion [about gun control] is all that's required for the buying frenzy to be triggered."