Gun Marketing Is Being Held Accountable. Don't Ignore Sponsoring Kidfluencers | Opinion
The parents of Amerie Jo Garza, a 10-year old killed in the Uvalde shooting, have started the process of suing Daniel Defense, the gunmaker behind the assault rifle used in the massacre. Garza's parents notified Daniel Defense that they are taking legal steps to investigate its marketing practices, and they have retained the lawyers who successfully sued the maker of the rifle used in the 2012 Newtown, Connecticut, shooting. Those lawyers filed a letter on Garza's parents behalf seeking documents and records from Daniel Defense earlier this month.
They aren't the only ones; Emilia "Amy" Marin, a speech language clerk who worked at Amerie's school filed a petition to force a deposition with Daniel Defense, asking the company to produce its marketing materials. This filing came two days after Ilene Steur, who survived the Brooklyn subway attack, sued Glock for its marketing.
Marketing-related lawsuits represent a new front in holding gunmakers responsible for shootings. The Protection of Lawful Commerce in Arms Act (2005) prohibits suing gun manufacturers, but this blanket immunity was eroded in February when the parents of the Sandy Hook victims won a landmark $73 million dollar settlement against Remington. They won by arguing that the company targeted at-risk youth with marketing—things like product placement in violent video games, which violated Connecticut consumer law.
And as gunmakers face increased scrutiny around the deadly impact of marketing to children, it's crucial that one method not be left out of seeking accountability: sponsoring kidfluencers.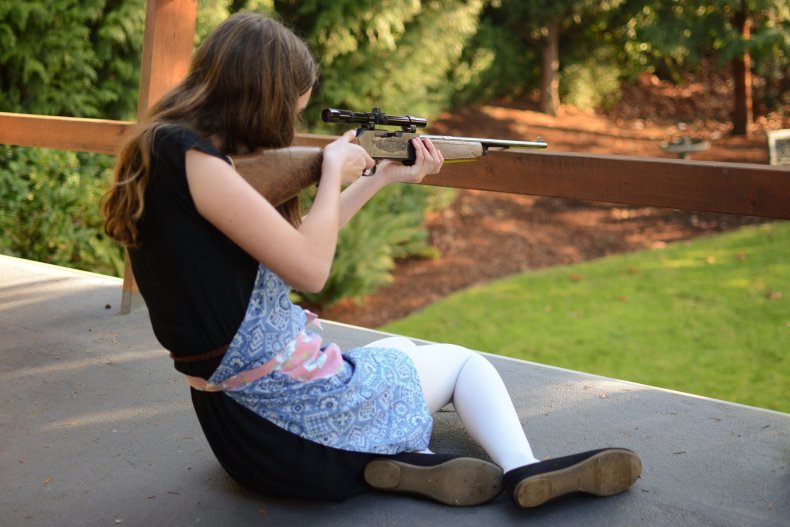 You may not know this, but gunmakers, like many other companies, are sponsoring kids to sell guns to other kids, sending guns as gifts to "youth shooters" who shoot them in YouTube or Instagram videos, or wear brand logos on their sleeves, as their parents might have sported a local plumber on their Little League jerseys.
In one such YouTube video, nine-year-old Autumn Fry grins as she unboxes a bright purple AR-15, a gift from Bear Creek Arsenal. Autumn's gun channel boasts 188,000 subscribers, who can scroll dozens of videos with a rosy-cheeked Autumn reviewing rifles, pistols, and cannons, beneath colorful lettering that shouts "SUPER CUTE" and "LEVER ACTION FUN!" Autumn's 47,900 Instagram followers watch her fire off "really cool" automatic weapons at gun shows, and she often tags the companies who send her gifts.
The Survival Sisters, a family of four girls with the goal of "changing the narrative for youth," recently won the "Most Motivational Female Guntuber" award for videos encouraging other young people to take up arms in self-defense. They were nominated for The Gundies "Most Likely to Survive the Zombie Apocalypse" award based, in part, on a video of 13-year-old Naomi emptying a Daniel Defense AR-15 magazine at an event where kids could "demo" the company's range of automatic weapons.
Research shows that using kids to target kids with advertising is highly effective. When children identify with an influencer who looks and sounds like them, they pay closer attention to sponsored content, which doesn't feel like advertising. Meanwhile, a May report revealed how influencer videos, not overtly positioned as ads, are bypassing filters on YouTube Kids, serving gun content to children as young as five.
And while sponsored gun content is banned on Instagram and Facebook, "gifts" aren't, and neither is sponsoring a youth shooter so your logo appears on their sleeve. The Guardian Youth Shooter Program published a video seeking applications for sponsored youth shooters on May 24—the same day as the Uvalde shooting.
In some ways, this isn't new. Gunmakers have marketed to kids for over a century. In 1917, the Winchester Repeating Arms Company developed a "boy plan" to reach one million boys with the slogan, "Every real boy wants a Winchester." Later campaigns told boys a rifle would give him "the proper start" in life. Ads linked guns and father-son bonds, with smiling photos of dads and lads making memories, rifles in hand.
Today this messaging has expanded to mothers and daughters. For Mother's Day 2021, the NRA posted a photo of Autumn Fry and her mom with the caption "Mama didn't a raise a victim."
This year, Vortex Optics posted a mother and daughter with a rifle and the copy, "To all the moms beside us in every adventure, Happy Mother's Day," much like the Winchester ads of dads and lads. And YouTube is replete with mom 'n' pop influencers spotlighting kids as young as three receiving their "first rifle" under the Christmas tree, often paired with emotional music and captions about family traditions.
In defense of youth shooting, gun advocates cite the importance of learning gun safety early to prevent accidents; the NRA's Eddie Eagle GunSafe Program offers cartoon videos and songs on gun safety. And gunmakers emphasize their commitment to education when selling guns to and for youth.
But guns are still the leading cause of death for children in the United States. In 2022, there were at least 126 unintentional shootings by children. It's estimated that one in every 18 high school students brings a gun to school.
Regulating gun marketing is a crucial step in fighting for our children's safety. A proposed California law would hold gun manufacturers liable for marketing to children. A similar law passed in New York last year. And this is part of what the Garza family hopes to accomplish in their lawsuit against Daniel Defense.
As a marketing professional and a mother, I know how easily influenced kids are by their peers. On either side of the aisle, I think we can agree that kids shouldn't be selling guns to kids and lessons on gun safety are best left to adults.
It's time to take our thoughts and prayers and turn them into action.
Rachael Kay Albers is a writer, brand strategist, and marketing muckraker. She has been featured as a brand and marketing expert in Inc., Forbes, The Huffington Post, and The Week and on popular marketing podcasts including The Creativity School, What Works, and The Copywriter Club. She hosts the brand culture podcast Marketing Muckraking.
The views in this article are the writer's own.