Gun Sales Are Surging Among First-Time Owners Amid the Pandemic — Here's Why
Gun sales, driven by panic and fear over the coronavirus pandemic and George Floyd protests, have been on the rise since March. However, unlike previous surges in firearm sales, the buyers this time are not gun enthusiasts but first-time owners.
"In gun scares in the past, when we're worried the government's going to try and confiscate our guns, you see a group of people, most are either gun enthusiasts or people who already own guns, want to get more," said Georgia Gun Store owner Mike Weeks. "This time it's very different. We see almost nobody like that buying a gun."
Weeks owns a gun store in Gainesville, Georgia that serves a the greater Atlanta area and said that since March, the bulk of his customers have been new gun owners.
"On a normal day a year ago, 75 percent of our customers would carry firearm licenses and we would not have to do a background check. Now, that percentage is more like five or ten percent of the sales we do," he told Newsweek.
In Georgia, where gun laws are less stringent than other states like New York or California, first-time gun owners without a license only require a background check through the Federal Bureau of Investigation before making a purchase.
Because the government doesn't track firearm sales, these requests to the FBI are the best way of analyzing trends in the gun industry. Weeks said that the background checks, which typically takes about 10 minutes to complete, are now taking several days because the influx of requests has made the system slower.
Overall gun purchase background checks have increased 69 percent since last year and checks for handgun purchases are up over 80 percent from 2019.
"The best data that we have to have a glimpse at gun sales is through the FBI's background check system," David Chipman told Newsweek.
Chipman is a former special agent with the Bureau of Alcohol, Tobacco, Firearms and Explosives who is now with Giffords, a gun violence prevention group.
When the number of confirmed cases of coronavirus began to rise in March, there was also a spike in gun sales.
"About the time you saw everybody raiding the toilet paper aisle, the same thing was happening in our industry," Weeks said.
As states began enforcing lockdown orders and businesses across the country were being forced to shutter in an effort to curb the spread of the virus, people began to have concerns over their access to guns.
"Localities were debating if gun stores were critical businesses to be kept open or not. As a result of that, we had the biggest spike in gun sales we estimate in history in the United States, over the period of five days," Chipman said. "Clearly that was panic buying by people who were concerned that they might need a gun or that they didn't have a gun but they had to buy one now or they didn't have the chance."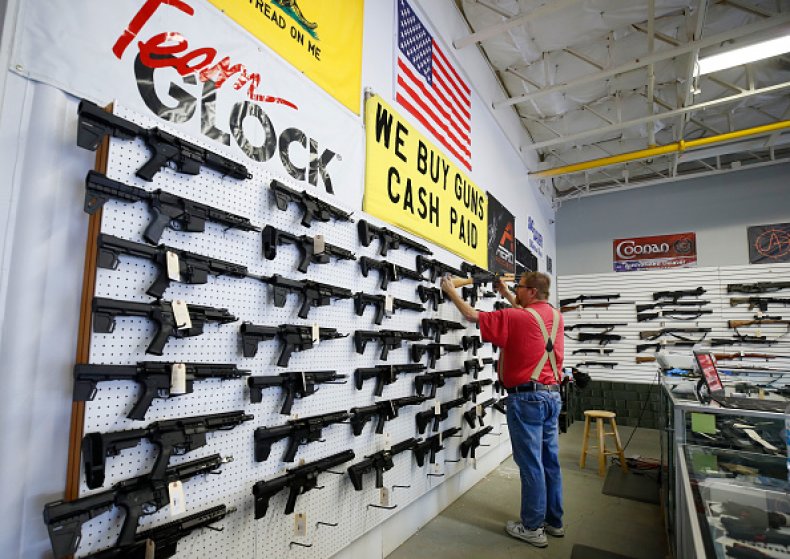 In April and May, gun sales began to level off from coronavirus panic, according to data on FBI background checks. But another factor contributed to a second push in the increase of gun sales: civil unrest as a result of George Floyd's death.
Throughout the month of June, there were significant gun sales that put 2020 on track to be the biggest year for firearm sales. Even though the total of sales in March outweigh those purchased in June, June was "one of the biggest months in the history of gun sales in America," Chipman said.
There were over 6 million background checks for handgun purchases in June of this year, compared with roughly 3.4 million checks in 2019.
Chipman said despite being a gun owner himself, he is concerned with the surge of first-time buyers. He says without proper training or coaching, new owners will mean a greater number of gun accidents.
"Those are the people that are most likely to have accidents. Those are the people that are spending $500 on a gun and not $20 on a mask, which would actually protect them from the biggest dangers they're facing today," he said.
"You can't read the news and not be concerned or scared or wondering if I'm doing the right thing to protect myself and my family. My concern is that they're making a choice to buy a gun," the former ATF agent added. "It's a different choice than if you buy too much beef jerky or too much toilet paper. You now have this weapon in your home."
Weeks said prior to the panic buying that has come out of the global health crisis, he had tried deterring customers from purchasing firearms before completing any training.
"A year ago, I would have dissuaded them from buying a firearm before they got any sort of training or coaching. I would have really tried to talk my way out of selling them a gun," Weeks said. "Now though, I can see the determination that people are ready to get something to help defend themselves. I spend some time in trying to talk them into getting training and practice after buying the gun, but I no longer stop them from buying the gun."
As the number of first-time buyers increases, Chipman questions if new owners are truly addressing the fears and the risks they really face. He said if they are buying guns, they should be taking the necessary steps to receive training that would allow them to properly use their newly purchased firearms.