Gun Store Owner Replaces Ad Targeting 'Socialist' Squad, Refuses to Apologize
A North Carolina gun store owner said he's not "apologizing to anyone" but has replaced a billboard targeting four congresswomen known as the "squad" due to widespread complaints in the wake of the weekend's mass shootings.
The controversial billboard in western North Carolina labeled Democratic congresswomen Rashida Tlaib, Alexandria Ocasio-Cortez, Ayanna Pressley and Ilhan Omar as the apocalyptic Biblical "4 Horsemen" and drew nationwide criticism as several of the House members personally blasted it for "inciting violence" in late July. However, Cherokee Guns owner Doc Wacholz told the Associated Press Monday the sign is being replaced with a billboard touting the First Amendment after receiving "threats" to himself and the gun store staff.
An employee with Allison Outdoor Advertising, who owns the billboard, told CNN that Cherokee Guns replaced the sign Monday in cooperation with the company's requests following the El Paso, Texas and Dayton, Ohio mass shootings.
But Wacholz was unapologetic, telling local station WTVC-TV "I don't care if it was four white women or four white guys that had their view -- they'd be on the billboard." He lamented "their message of turning this country into a socialist country."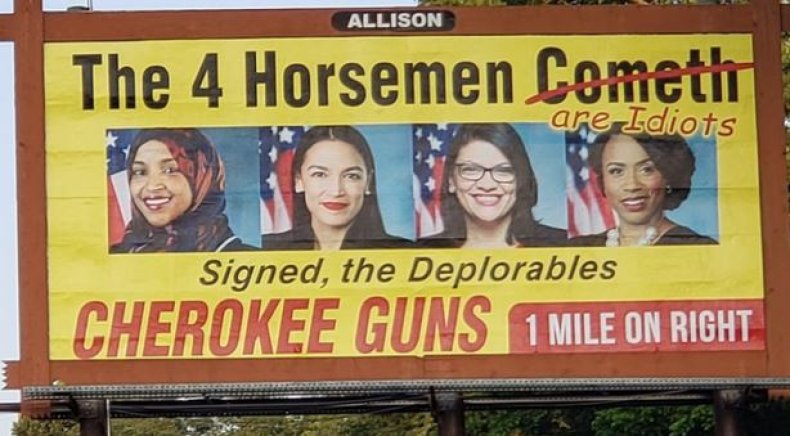 The Cherokee Guns highway gun store advertisement mocking the four congresswomen as "idiots" in Murphy, North Carolina was previously signed by "the Deplorables." Local news station WDEF-TV published several photos Monday showing the new billboard reads, "First Amendment. Enough said."
Wacholz told the Associated Press Monday he was moved to replace the sign by a series of anonymous threats against himself and the store and not by the deadly weekend mass shootings. He said he doesn't regret initially posting the sign, "nor do I apologize to anyone."
"We had more support than hate and continue to receive lots of positive feedback on the board nationwide," he said.
The congresswomen who responded to initial late July reports of the billboard remarked on Twitter:
"How the hell is this not inciting violence?" Tlaib asked of the billboard last week, which also prompted a Twitter rebuke from congresswoman Pressley last week. "#Racist rhetoric from the occupant of the @WhiteHouse has made hate our new normal. We are still vulnerable. @RepMarkMeadows – Cherokee Guns is in your district & you and I serve on a committee together. Here's your chance to finally do the right thing."
Another unrelated North Carolina gun store owner, remarked to WLOS-TV Monday that "people are scared, they want to know how to protect themselves," especially after mass shootings which frequently occur across the country.