National Gun Violence Awareness Weekend 2019: Where Are the Biggest Events?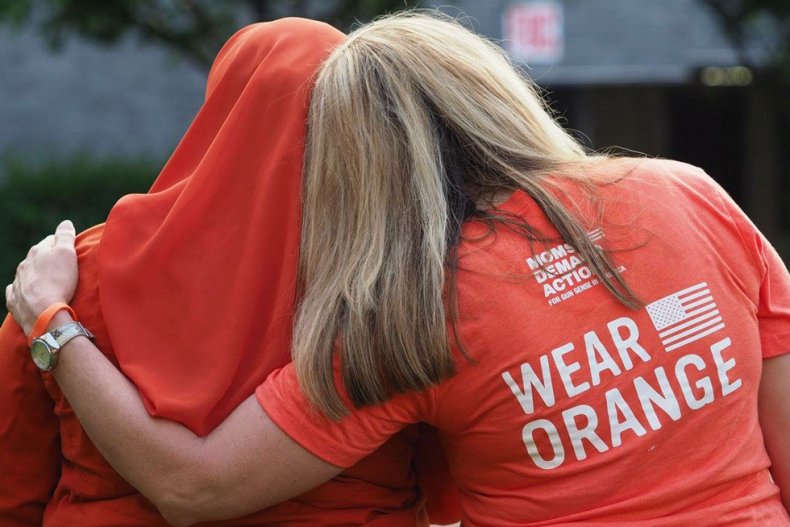 Hundreds of cities around the country this weekend will host nearly 750 events to commemorate the fifth-annual National Gun Violence Awareness Day, which is Friday, June 7.
Supporters of the campaign to reduce gun violence are encouraged to wear orange, the movement's signature color.
What is National Gun Violence Awareness Day?
The inaugural National Gun Violence Prevent Day occurred in 2015. More than 200 organizations across all 50 states plan awareness events that feature celebrities and elected officials. The day was organized in part to memorialize the 2013 death of 15-year-old Hadiya Pendleton, a Chicago teen who was shot and killed one week after appearing in President Obama's second inaugural parade. The #WearOrange hashtag grew in prominence on social media as well, cementing the color as a symbol for the gun violence prevention movement.
Now, every first Friday in June, activists hold events and marches nationwide dedicated to raising awareness about the solutions for and causes of gun violence. Organizations like Moms Demand Action and Everytown for Gun Safety have taken a lead role in organizing these events.
Who is Participating in the Wear Orange Campaign This Year?
A host of celebrities, nonprofits, corporate brands and elected officials are taking part in the Wear Orange campaign in 2019. Comedians Samantha Bee and Conan O'Brien were cited as participants in the campaign's early events. Brands such as Levi Strauss, Dick's Sporting Goods, Vogue and Penguin Random House have pledged their support as well. Actors Julianne Moore, Laura Dern, Keegan-Michael Key and the mayors of Boston, Houston and Birmingham have all been involved in various activities surrounding National Gun Violence Awareness Day.
Where Are the Largest Events This Weekend?
Brooklyn, New York
New York's most prominent march is on Saturday will begin at Cadman Plaza in Brooklyn and cross the famed Brooklyn Bridge to end up at Foley Square in Lower Manhattan. The event, dubbed the Brooklyn Bridge Solidarity Walk, will kick off at noon but attendees will start to gather around 11 a.m. local time. Local organizations such as Harlem Mothers S.A.V.E. and SOS Brooklyn are co-sponsoring the event.
Los Angeles, California
The Los Angeles Wear Orange event will take place on Saturday at the city's second-annual Community Information Fair on Homelessness, which is hosted by the Downtown Women's Center and the Los Angeles Homeless Services Authority. The LA chapter of Moms Demand Action will be tabling a booth at the fair beginning at noon until 4 p.m. local time.
Washington, D.C.
On Friday starting at 8 p.m., the Washington National Cathedral will light up orange and the Bourden Bell will toll 109 times at 9 p.m. in memory of the 109 Americans killed daily due to gun violence. Then on Saturday at 4 p.m. the Moms Demand Action D.C. chapter will be hosting a kid-friendly picnic at Hains Point to honor the survivors and victims of gun violence. There will be food, games, music and community organizing activities. On Sunday, the Alliance of Concerned Men will host three tree-planting tributes in Central Northeast D.C. beginning at 4 p.m. local time.
Chicago, Illinois
The Windy City will host a couple events this weekend. At the Printers Row Lit Fest on Saturday, the largest free, outdoor literary showcase in the Midwest, the local Moms Demand Action chapter will be hosting a table beginning at 10 a.m. local time. Also on Saturday, Wear Orange supporters and their families are invited to La Follette Park in the Chicago neighborhood of Austin. Beginning at noon, there will be family-friendly activities such as crafts, music and more.
Houston, Texas
The Houston Moms Demand Action chapter will be hosting a family-friendly event in Finnegan Park on Saturday beginning at 10 a.m. local time. There will be activities, food trucks, an art showcase and educational programs to promote gun violence awareness.
Jacksonville, Florida
Moms Demand Action in Florida is teaming up with the New Florida Majority to host a Wear Orange community day of action at the Greater Mt. Salem Missionary Baptist Church. On Saturday at 9:30 a.m. local time, attendees will kick off the day by "paying it forward with a community clean up" and promote gun safety by wearing orange. According to the group's Facebook page, the first 40 volunteers to show up will each receive a ticket for the Jumbo Shrimp baseball game the following day.