As the fireworks burst to mark the new year, so did the guns. On New Year's Day there were 45 non-suicide gun violence deaths across America, according to data compiled by the Gun Violence Archive research group. Including suicides by gun, there were 177 deaths.
The data is collected in realtime from 6,500 sources and updated as new information in incidents is established. It includes homicides, murders, and unintentional and defensive killings. There were an estimated 132 suicides by gun on New Year's Day and 103 injuries.
Three mass shootings took place on New Year's Day and the dead amidst the gun violence included three children aged between 12 and 17. Only one incident involved a death at the hands of a law enforcement officer.
The snap gun violence data is likely to change as new information about the incidents emerge. The death toll may rise should new victims be discovered or those wounded die from their injuries.
Within 20 minutes of the new year starting, three people were dead and one other injured in a Missouri mass shooting. The St. Louis Post-Dispatch reported the incident taking place in St. Louis' Benton Park neighborhood. There were two other separate shooting deaths in the city later that morning.
High Point Police Department in North Carolina said in a news release they responded to a property at 2:41 a.m. on New Year's Day where a husband and wife—Hong Van Ma, 49, and Jenny Thao Ta, 40—were both found dead from gunshot wounds to the head. "Police believe that Ma killed his wife, then killed himself," the department said.
It was not the only apparent murder-suicide on New Year's Day. CBS Pittsburgh reported that a husband and wife were found dead from gunshot wounds at their North Union Township home in the afternoon. It was not clear who fired the gun and no names were released.
Seven people were injured but none killed in a mass shooting at the Kulture Hookah Bar in Huntington, West Virginia, WSAZ reported. There were 50 people in the bar at the time and WSAZ reported that police do not believe the shooting was random. They named no suspects.
According to Cleveland.com, 13 people were shot in the Ohio city between late New Year's Eve and early New Year's Day, including a 31-year-old woman allegedly killed by celebratory gunfire.
Four people were reportedly shot and injured at about 1 a.m. at Cleveland's Club Medusa, which was holding a New Year's Eve party.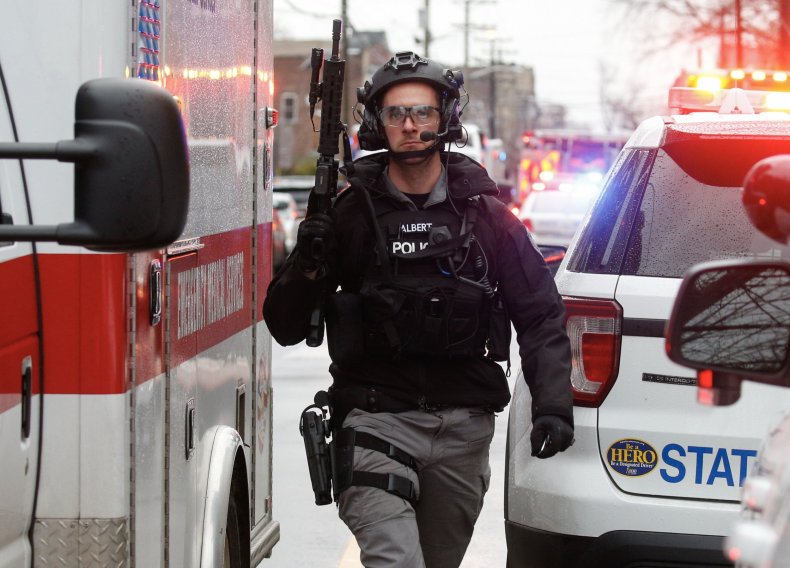 If you have thoughts of suicide, confidential help is available for free at the National Suicide Prevention Lifeline. Call 1-800-273-8255. The line is available 24 hours every day.