We Can Stop Gun Violence With Roaming Prayer Groups: Kentucky Governor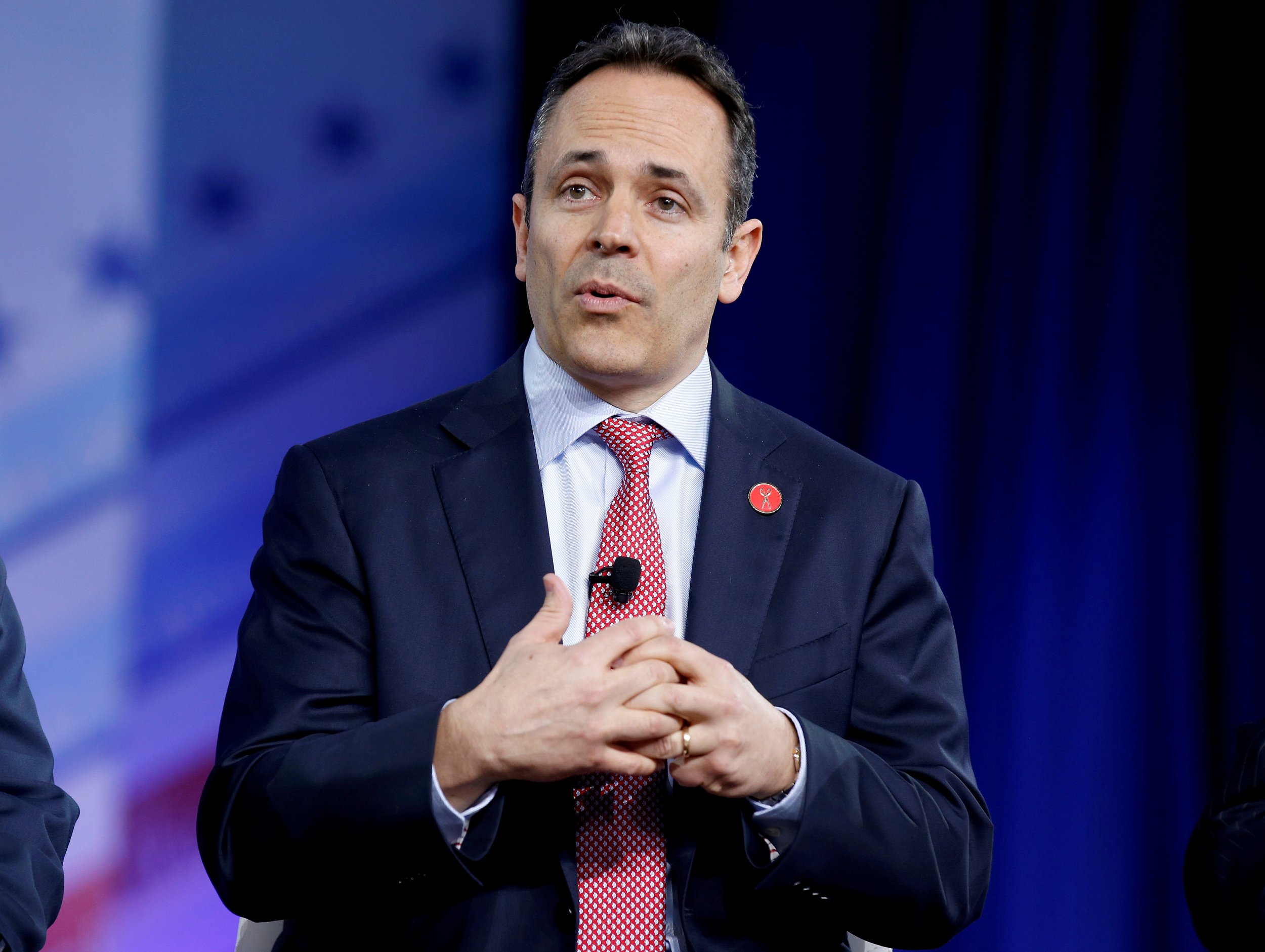 Updated | It was in Louisville, Kentucky, that Republican Governor Matt Bevin had the unusual idea of using God to help combat gun violence. On Thursday, Bevin, a concealed-carry gun owner who opposes firearms control, told a public meeting that prayer groups could help end the violence plaguing the city.
On May 26 he had hinted at his plan, telling people during a Facebook Live video: "[It] won't cost any money but will take time and commitment." Calling on faith leaders to attend a meeting on June 1, Bevin promised to detail his thoughts on how to end the bloodshed in Louisville.
At the meeting, Bevin urged people to set up walking prayer groups that would cover 10 blocks of various troubled areas, the Courier-Journal reported. He suggested that the groups also pray with the community two or three times a week for the next year. The governor added that his office would not necessarily coordinate this effort.
"I truly believe we're going to see a difference in our city," Bevin said. "I personally believe in the power of prayer. I've seen it."
The Democratic Mayor of Louisville, Greg Fischer, who did not attend the meeting, tweeted a link to his website with other options for how to stop violence in the city. Among the suggestions: volunteering at community centers, safely disposing of prescription drugs and sharing information about the common signs of drug abuse.
Church leaders were also skeptical of Bevin's plans. Ahead of the meeting, some ministers held a conference to criticize his approach, suggesting that resources be diverted to combat the problem. "If you are serious about fixing violence in west Louisville, then you must have the courage to address its root causes of injustice and racism," the Rev. Clay Calloway added.
Calloway later left the meeting, saying he needed a "barf bag." He added that Bevin "has a responsibility to produce public policy, regulation and provide resources. We don't need a sermon or him quoting Scripture; we know the Bible and we're already praying."
Though some pastors said they supported Bevin's idea, it is unclear whether they and the people of Kentucky will be inspired enough to set up undirected, roaming prayer groups for the next year.
As the city's officials try to work out how to curb the violence, the problem continues to rise. In the first five months of 2017, Louisville Metro Police investigated 50 homicides, putting the city on track to exceed its 2016 toll. That year, police investigated 118 homicides—making it the bloodiest year since 1960.
The headlines of this article originally incorrectly stated that Matt Bevin was the Governor of Louisville. Matt Bevin is the Governor of Kentucky.