Pastor Says Teaching Students Ten Commandments Could Help Stop Gun Violence
In the wake of nationwide marches calling for gun control, a Texas pastor told Fox News Sunday that a belief in God and teaching kids the Ten Commandments could help stop gun violence.
Dallas Pastor Robert Jeffress told Fox News' Fox And Friends Sunday that he supported the multiple incarnations of March for Our Lives on Saturday, but that it would take much more than legislation to stop gun violence.
"The root problem is we need to change people's behavior and that can only happen with a change of heart and we believe only the gospel of Christ can do that," said Jeffress.
Jeffress heads Texas megachurch First Baptist Church of Dallas and was on the show to promote his faith-based "March for Eternal Life," which happened Sunday.
Jefress argued that "a crusade by secularists" in the U.S. has been a "failure" and suggested that the country should return to its more religious past.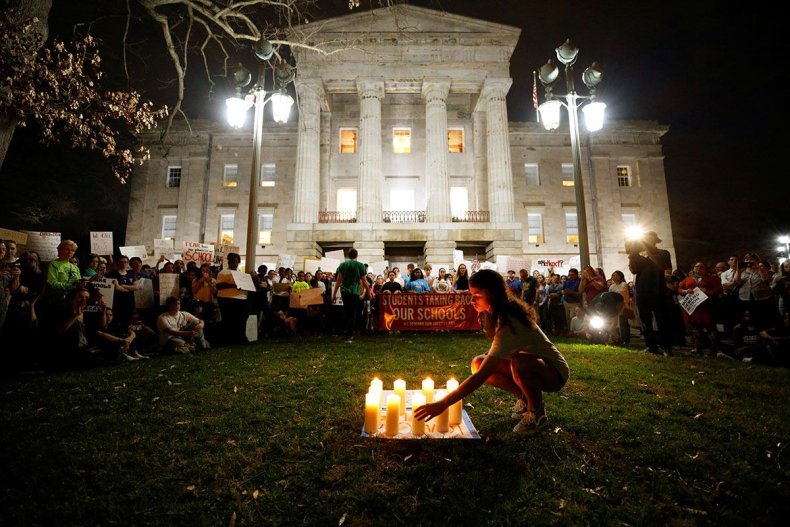 "Teaching people, starting with our children, that there is a god to whom they're accountable, is not the only thing we need to do to end gun violence, but it's the first thing we need to do," said Jeffress, who is a Fox News contributor. "I remind our viewers that for the first 150 years of our nation's history, our schoolchildren prayed, they read Scripture in school, they even memorized the Ten Commandments, including the commandment 'Thou shall not kill.'"
The thousands of students and supporters who took to the streets Saturday were led by survivors of the school shooting in Parkland, Florida last month. A gunman killed 17 people at Marjory Stoneman Douglas Highs School in one of the deadliest school shootings in U.S. history.
Since the shooting at Columbine High School in 1999 more than 187,000 students have been at school when a shooting has happened on campus, according to The Washington Post.