Gun Violence, Mass Shootings No Longer Top Issue Swaying Gen Z Voters Going Into the Election, Study Shows
After topping the political to do list for the last two years, gun violence and mass shootings is no longer the top issue swaying Gen Z voters.
Gen Z voters going into November's general election now say that the top issue the next administration should address first is COVID-19, followed by racial injustice and inequality, according to a new survey from Barnes & Noble College Insights.
Other top issues for these young voters include police reform, health of the environment and health care reform.
Gen Z, those born after 1996, will account for one in 10 eligible voters in the 2020 presidential election and they have proven to be some of the most politically active in the nation.
In the past four years, young people came to the forefront on a number of political issues as they started their own youth-led organizations and demonstrated in the masses to call on elected officials to address issues like climate change and gun violence.
After the mass shooting at Marjory Stoneman Douglas High School in 2018, also known as the Parkland shooting, millions of young people flooded the streets of Washington, D.C., in the March for Our Lives. Since then, many students have advocated for gun reform.
As the coronavirus pandemic shuttered schools, this March became the first March in nearly 20 years where there was not a school shooting in the U.S.
However, gun violence did not make this year's list of issues Gen Z voters want the next president to address. Other previous top issues that didn't make the list include the ability to go to or pay for college, immigration, division within the nation and abortion rights.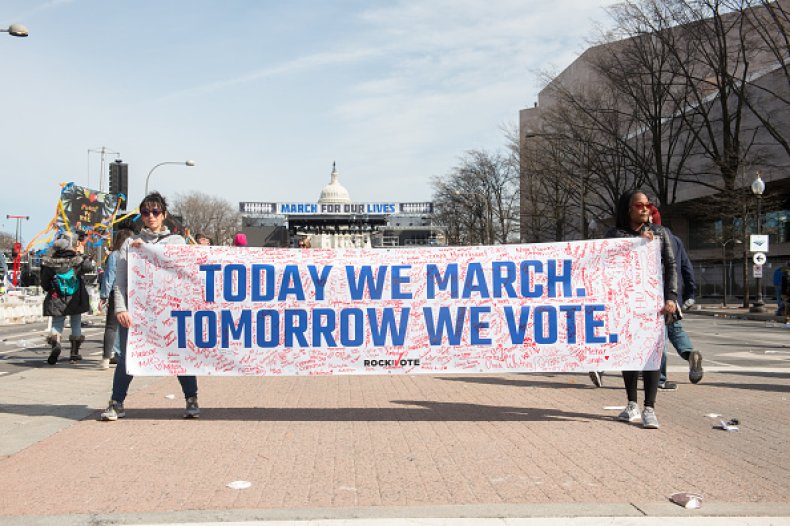 The impact of recent events, including the ongoing health crisis and Black Lives Matter protests, has swayed Gen Z not only to vote on those issues but to become more politically active.
The poll, conducted over the summer, found that 45 percent of Gen Z voters said recent events have inspired them to become more politically active. Of the 2,800 Gen Z college students surveyed, 32 percent said they feel nervous about voting in person due to COVID-19 and 30 percent the virus will impact how they plan to vote.
But organizers like Emma Rowland, who is on the policy and advocacy team for March For Our Lives, doesn't see these statistics as a change away from gun reform but instead as new methods to tackle the same issue.
"For Gen Z, a focus on other pressing societal issues isn't a shift away from gun violence. Gen Z understands that gun violence comes in many forms and is a very intersectional issue. Police violence is gun violence and access to healthcare is a key tool in addressing the root causes of gun violence. Gun violence has seen a sharp increase this year due to societal issues like racism and police brutality," Rowland told Newsweek.
Social media has also emerged as a critical player in the political lives of Gen Z voters.
Although most Gen Z college students look to multiple sources for political information, social media platforms are their top go-to source. Another 62 percent also said they stay informed through major news networks but are skeptical of media organizations. The New York Times, The Wall Street Journal and The Washington Post were the top three trusted sources but only considered so by half of those surveyed.
The majority of participants also said they agree with social media platforms' practice of flagging political content with disclaimers around fact-checking. Twitter and Facebook have both flagged and removed a number of posts from President Donald Trump this year due to misinformation related to COVID-19.
Update 10/16/20 1:21 p.m. This story was updated with comments from Rowland.