A Chance to Trade Guns for Bail in Baltimore?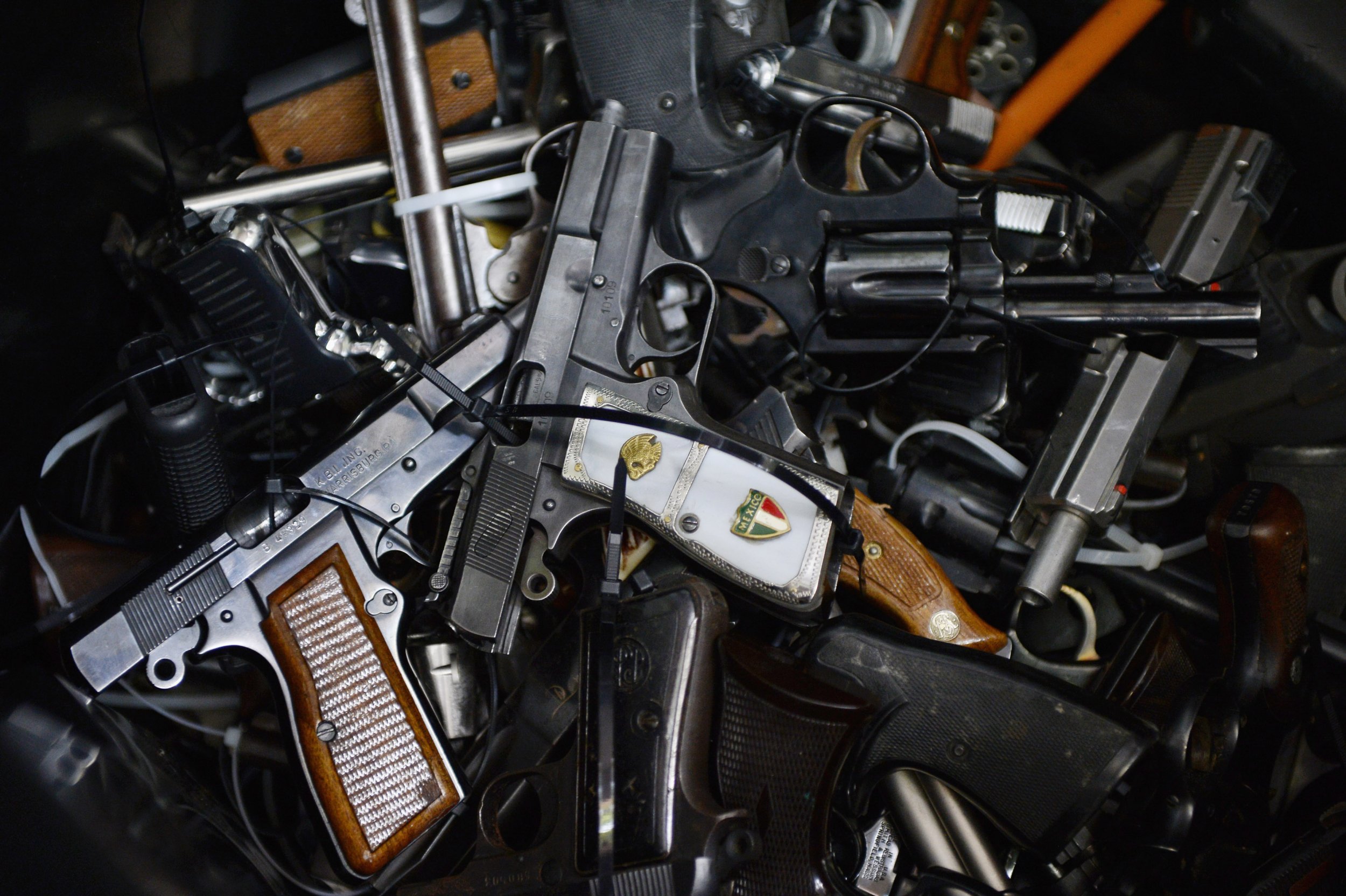 The Baltimore City Council is considering a resolution in support of a nontraditional gun buyback program that would allow residents to exchange firearms for bail.
Councilman Brandon Scott on Monday proposed a resolution in support of GunBail, an app that allows people to anonymously turn in any kind of working firearm in exchange for the release of an inmate. Trevor Brooks, a convicted murderer, founded GunBail to incentivize nonviolent offenders to willingly surrender their illegal guns in exchange for bail release. "GunBail is a way to diminish the opportunity to kill, to give us enough time to repair our communities," he said in a video on his website, adding that his ultimate mission is to remove at least 3 million guns from from illicit hands within the next three to five years to reduce the number of U.S. gun-violence incidents.
Related: Louisiana House rejects constitutional carry legislation
The app hasn't fully launched yet; it's currently in the beta form and not yet accepting firearms. But it already faces several challenges, including gaining backing from the Baltimore Police Department.
Traditional buybacks offer cash or gift cards for guns. For decades, cities across the country have implemented buyback programs. The Boston Police Department, for example, launched Your Piece for Peace. Through the program, participants who turned in working firearms to any city police district station received a $200 Visa gift card. That year, the program enabled police officers to remove more than 400 firearms off the streets of Boston. After an uptick in violence, police revived the buybacks in 2015.
Despite the popularity of buybacks, some studies have shown the programs can prove ineffective, and officials only take a small number of guns that sometimes aren't the weapons used in crimes.
But Ray Lewis, former Baltimore Ravens linebacker, already supports Brooks's program. In March, he traveled with Brooks to speak with lawmakers in Annapolis, Maryland, hoping to convince the Baltimore city delegation to find a way to get legislation passed in support of GunBail. "Until we figure out a way to remove the underlying problem, which is ready access to a gun, then the killings aren't going to stop," Brooks said.
With the app, participants would take a picture of the firearm, specify the inmate and his/her location and pay a $99 shipping fee. GunBail then would mail a box and gun lock for safe removal of the weapon. Once law enforcement officials receive the firearm, the particular inmate could post bail as soon as 48 hours, depending on the agency. The program would only apply to nonviolent offenders.
The Baltimore Sun reported this week that Brooks raised more than $40,000 for GunBail in a recent crowd-funding campaign.
GunBail wouldn't have any control over an inmate's charges. If an arrestee has multiple bails, multiple guns could potentially be turned in to cover all standing bails.
Baltimore's resolution notes the "overwhelming" problem of gun violence in the city and requests stakeholders to appear before the City Council to discuss "any viable way to get guns off our streets."
"Allowing them to be turned in in lieu of bail could be a great way to achieve multiple goals," the resolution states.