Gunshots can be heard in a video that captured a shooting in a shopping mall in Boise, Idaho. Authorities said the shooting at the Boise Towne Square Mall on Monday left two people dead and injured five, including the suspect and a police officer.
Officers responded to the mall on N. Milwaukee after a report of shots fired at about 1.50 p.m., Boise Police Chief Ryan Lee said at a news conference.
When the officers arrived, they spotted someone who matched the suspect's description and exchanged gunfire. "There was an exchange of gunfire that ensued shortly thereafter, resulting in the officer's injury, as well as the suspect being taken into custody," Lee said.
Several shots could be heard ringing out in a video captured by 17-year-old Xavier Lugo, who told the Idaho Statesman that he was at the mall with two friends when they heard several loud bangs.
"Shots fired at the mall… do not come," he captioned the video he shared on Snapchat, which was later circulated widely on Twitter.
Lugo said when he and his friends heard several more bangs, they knew they needed to find cover. They rushed into a store with other bystanders, closed the gate and barricaded themselves inside a backroom and called the police, Lugo told the Statesman. About 20 minutes later, they took a look outside and saw others making their way towards the exit and they all made a run for it, he said.
"I had never seen so many cops in one area ever in Idaho," he said of the scene outside the mall. Lugo could not immediately be reached for further comment.
Witnesses said they heard as many as a dozen gunshots inside the mall, KTVB reported.
"I was getting ready to check out and we hear four or five shots," Cheryl Frey, who was shopping at the mall at the time, told the station.
"We hit the ground immediately. And then the cashier, she hit the ground with us, and then she started crawling away. And then we heard another four or five shots and [the cashier] said 'Come with me,' and she hid us in one of their closets that had a code on it."
In a news release on Monday evening, police said that the suspect was in critical condition, while the officer who was injured had been treated and released. Police said investigators believe there was only one shooter, and that there is no ongoing danger to the public. Authorities didn't release any other information about the victims or the suspect.
"We really cannot at this time speak to any motivation behind it, or anything else that may impact the investigation," Lee said. "I cannot stress enough how traumatic this event is for the community at large, as well as for those that were witnesses, or are the families of those involved or involved themselves."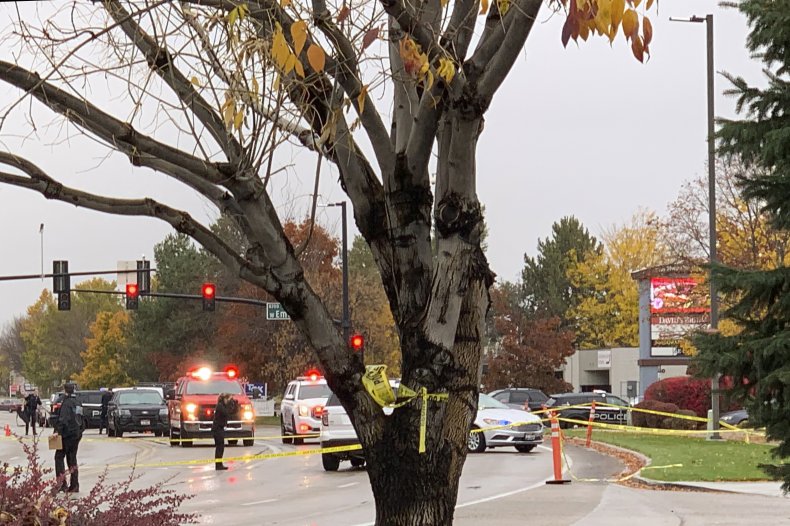 At the news conference, Boise Mayor Lauren McLean thanked law enforcement officers, first responders and others who worked to keep people safe.
"Countless people found themselves in a situation they never would have or should have expected," McLean said.
She praised shopkeepers and other people in the mall for for reacting "so quickly to take care of folks that were there. You showed in a tough and chaotic moment how much you care and what you're willing to do to support and care for strangers."
Idaho Governor Brad Little said on Twitter that those involved in the shooting were in his prayers. "The State of Idaho stands prepared to assist the Boise Police Department as they investigate the shooting," Little added.
The mall shooting remains under investigation by Boise Police with assistance from state, local, and federal partners, police said. The exchange of gunfire between the suspect and the officer will be investigated separately by the Critical Incident Task Force led by the Meridian Police Department, the department added.
The Boise Police Department has been contacted for additional comment.
Update 10/26/21, 9 a.m. ET: This article has been updated with comments from Xavier Lugo.