Gunman Opens Fire on a Tram in the Dutch City of Utrecht, Several Injured
A gunman has opened fire on public transport in Utrecht, the Netherlands, about 25 miles south of Amsterdam, killing at least three and injuring nine people, according to reports.
Police say the gunman is still at large with the Netherlands' National Coordinator for Security and Counterterrorism, Pieter-Jaap Aalbersberg saying that terrorism cannot be ruled out.
Police are hunting for a 37-year-old Turkish man who has been named as Gokmen Tanis and the public has been warned that he is dangerous.
Aalbersberg told a press conference: "A lot is still unclear at this point and local authorities are working hard to establish all the facts," the BBC reported,.
The incident began at 10:45 a.m. local time Monday when the shooter opened fire on a tram on 24 Oktoberplain, a square near the center of Utrecht.
The square has been cordoned off by authorities, and emergency services are at the scene.
A witness told Dutch public broadcaster NOS he saw an injured woman who was covered with blood. "I brought her into my car and helped her. When the police arrived, she was unconscious," the BBC reported.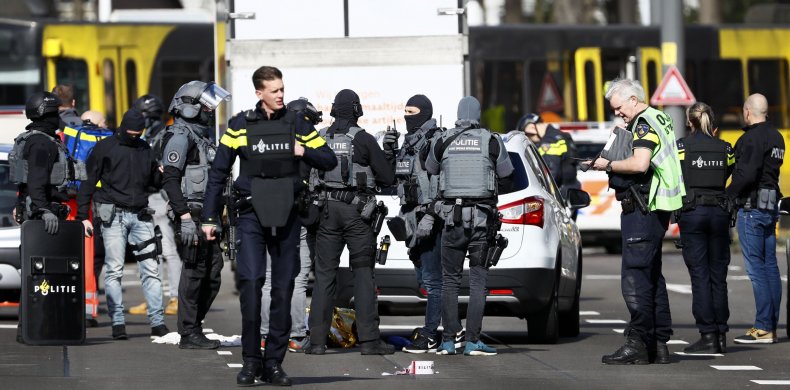 People have been asked to steer clear of the roads so emergency workers can get through. Three helicopters have been deployed to "monitor" the situation.
No suspect has been arrested, according to Joost Lanshage, spokesman for the police in central Holland, CNN reported. The country's prime minister Mark Rutte told CNN's affiliate RTL that he was "very concerned" about the incident.
"Our country today has been jolted by an attack in Utrecht," Rutte said in a statement, according to Al Jazeera.
"An act of terror is an attack on our open and tolerant society. If this is a terror attack, then there is only one answer: our rule and democracy are stronger than fanaticism and violence. We will not accept intolerance," he added.
This story has been updated.