Gunman Fatally Shoots Colleague in Philadelphia Hospital
A gunman fatally shot a 43-year-old colleague inside a Philadelphia hospital early Monday, police said, and was taken into custody after shooting two officers.
Police received a call about a shooter on the 9th floor of Thomas Jefferson University Hospital in Center City shortly after midnight, Philadelphia Police Commissioner Danielle Outlaw told reporters.
It wasn't clear if the 55-year-old suspect was working at the hospital at the time, but he entered the building wearing scrubs, Outlaw said.
Outlaw didn't identify the suspect or the victim, a certified nursing assistant who was pronounced dead shortly after he was shot.
The suspect fled the hospital in a U-Haul, sparking a manhunt.
At around 1.30 a.m., Outlaw said 16th District officers were flagged down by a passerby in the Parkside section of the city.
"The report was that there was a male in scrubs, with a weapon or a long gun, who was firing, potentially firing, rounds in the air or just had a gun," Outlaw said.
The suspect opened fire on responding officers, Outlaw said. Four returned fire, and two were shot.
A 30-year-old officer was hit in the right elbow and will require surgery, she said. He is listed in a critical but stable condition at Penn Presbyterian Medical Center. A 32-year-old officer was shot in the nose and is in a stable condition.
Both officers, who each have six years on the force, are expected to survive, she said.
The suspect was taken to Penn Presbyterian Medical Center in a critical condition after being struck in the upper body and neck, Outlaw said, but he is also expected to survive.
He was wearing body armour and carrying multiple guns, Outlaw added.
Outlaw said it appears the shooting was targeted, but cautioned that it was still very early in the investigation.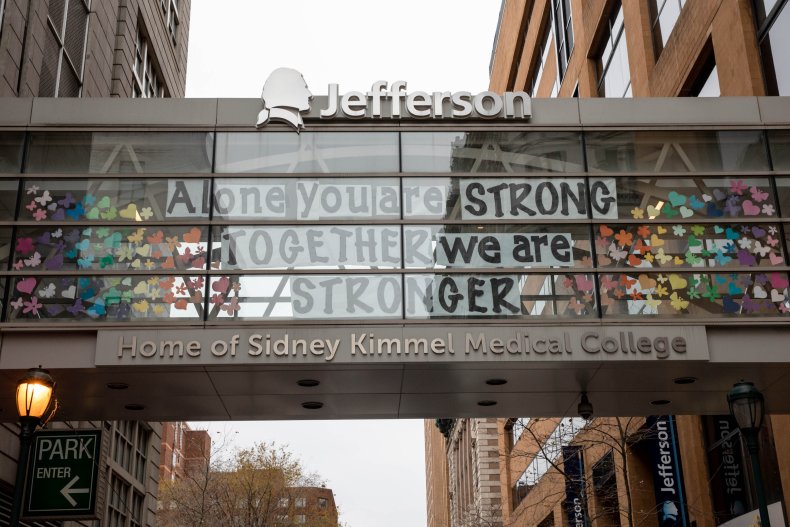 "We do believe that other employee was targeted," she said. "The reasons why, at this point we still don't know."
The shooting comes after another at a north Philadelphia office building on Friday claimed the life of Nassir Day, a 25-year-old security guard.
Police found the suspect, Wayne Dorylis, on the third floor armed with a large knife and took him into custody without incident.
"What can I say about this happening in such a short proximity of time?" Outlaw said. The good news is that we have both suspects in custody."
The Philadelphia Police Department has been contacted for additional comment.
Update 10/4, 6.35 a.m. ET: This article and its headline have been updated with additional information.