Guns Allowed in New Tennessee Legislative Building, but 'Hand-carried Signs' Are a 'Serious Safety Hazard'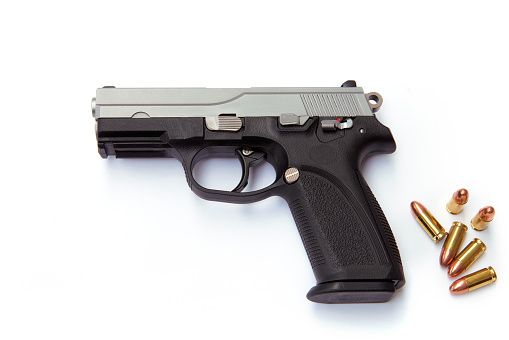 Tennessee's new legislative building in Nashville is gun friendly. Tennesseans can now bring their guns into the building where laws are passed, but are not allowed to carry hand-held signs, the Tennessean reported last week.
Protesters were allowed to bring signs to the former state government building in Legislative Plaza, but since the offices moved to the newly renovated Cordell Hull building, the policy for carrying signs changed. The new policy was approved by Lt. Governor Randy McNally and House Speaker Beth Harrowell on December 14 and bans "hand-carried signs and signs on hand sticks" because they "represent a serious safety hazard."
Connie Ridley, director of legislative administration, told the Tennessean on Wednesday that hand-held signs were also prohibited inside Legislative Plaza. "The protocol has always prohibited signs. It will be enforced in the Cordell Hull building," Ridley told the Tennessean.
Dozens of people silently protested and held signs that read "Welcome refugees" while a Senate committee discussed a resolution for the state to sue the federal government over refugee resettlement in 2016. Frustrated protestors also held signs when lawmakers' decided not to expand Medicaid under the Affordable Care Act that same year.
"Any rational person would have to suspect that this is an attempt in part to limit dissent and to avoid embarrassment to lawmakers," Ken Paulson, president of the Middle Tennessee State University's First Amendment Center and dean of the school's College of Media and Entertainment, told the Tennessean.
The new change is not a surprise. McNally and Harwell said earlier this year they would allow any Tennessean with a valid gun permit to bring weapons into the building. Before moving to the new building, guns were not allowed into Legislative Plaza.
Other state office buildings in Arizona, Georgia, Florida, Iowa, Kansas and Michigan have the same policy set into place.
The new policy comes at a time where the nation is divided over gun control laws. In September, a man opened fire in a church in Nashville, killing one person and leaving six others injured.
The new policy also does not allow animals into the building unless they are service animals. McNally and Senator Jon Lundberg have both brought their dogs to the Legislature, but the policy is not clear on whether lawmakers can continue to bring in their pets.