'Guns, Crime and Freedom': The NRA Book That Turned a Young Stephen Miller Into a Conservative
White House Senior Adviser Stephen Miller has faced widespread backlash over his hardline views on immigration, but on Monday a member of his own family emerged as one of his strongest critics.
In a scathing editorial published by Politico, Miller's uncle, David Glosser, said he was horrified by his "immigration hypocrite" nephew, asserting that if his nephew's "ideas on immigration had been in force a century ago," his own "family would have been wiped out."
Despite Miller's ancestors coming to the U.S. in search of safety after fleeing "violent anti-Jewish pogroms" in what is now known as Belarus, the senior adviser has led a seemingly merciless campaign to push for policies restricting immigration to the country.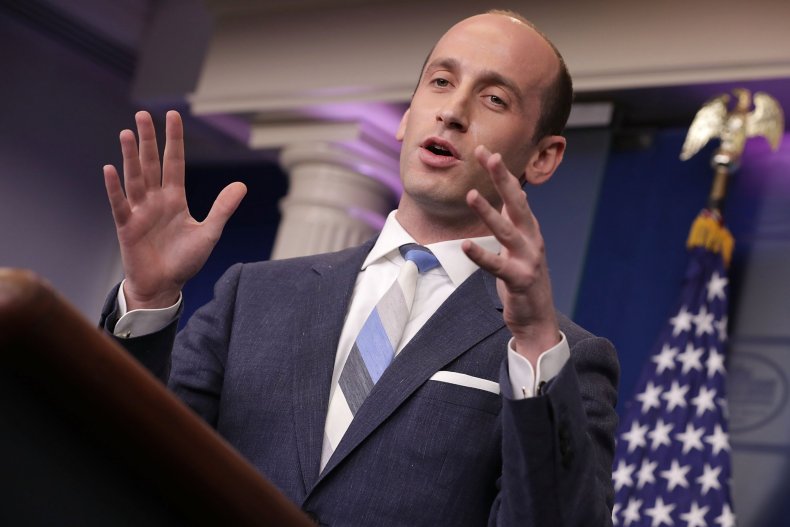 But that is not the only way the politician's hardline views belie his family's roots, with the conservative senior adviser born into a liberal family of Democrats in Santa Monica, California.
According to Politico, Miller veered from the path of his Democrat parents at an early age after a copy of National Rifle Association CEO Wayne LaPierre's 1994 book, Guns, Crime and Freedom, fell into his hands.
'Guns, Crime and Freedom'
The 263-page book is mainly focused on dismantling arguments in support of gun control, including those in favor of assault weapon bans.
However, it also attacks a broad range of other progressive ideas, including welfare and criminal justice reform.
"Guns, Crime, and Freedom has all the facts," the book's jacket states. "It explores the issues of gun control, crime, and the Second Amendment, and provides documented evidence and telling statements about the agenda of those who want to ban guns."
Later in the book, LaPierre wrote: "This is about freedom. Not crime, not hunting, not recreation. Freedom. And people don't want to lose it," adding that people were "totally fed up" with "misreporting" on the gun control debate in the national media.
A 1994 article on the tome, written by David Steitfeld for The Washington Post, suggests that "once you know the book was written by Wayne LaPierre, the head of the National Rifle Association, you can easily guess its message."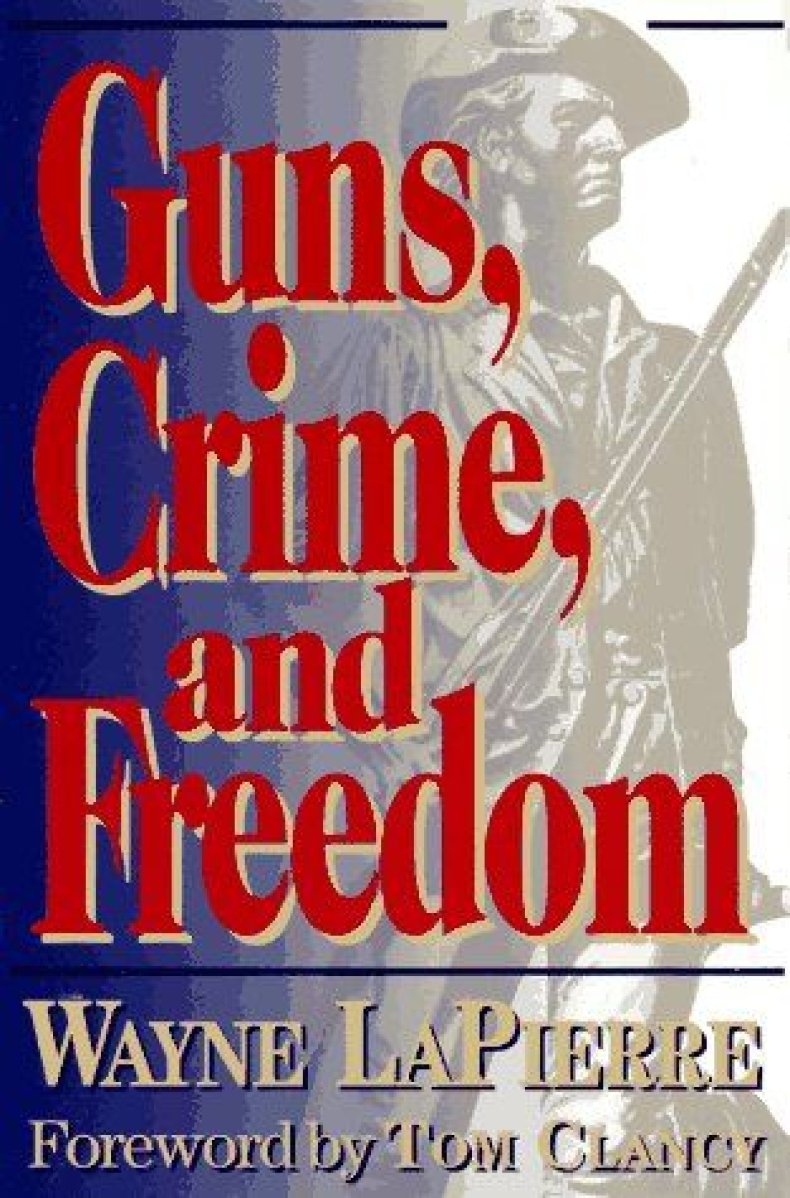 However, Steitfeld noted that what one couldn't have guessed was how popular the message would become, with Guns, Crime and Freedom becoming D.C.-based Regnery Publishing's "biggest success in the publisher's 47-year history," with HarperCollins buying paperback rights for a "six-figure sum."
Among those propelling the book to a coveted spot on The New York Times' bestseller list was a young Stephen Miller.
The ideas espoused in the tome reportedly provided the framework for a belief system on immigration that appeared to be in the early stages of formation in a column Miller wrote for a Christian publication shortly after graduating from Santa Monica High School.
In the March 2006 column, titled, "My Dream for the End of Racism," a teenage Miller called for universal equality for "all men, all women, all races [and] all creeds."
Miller wrote of how "overjoyed" he felt to be living "in a country where anyone who wishes to succeed may do so, given sufficient drive, devotion and commitment."
However, the then-17-year-old appeared to later suggest in the piece that the best "prescription for the disease of racism" was to bring people in the U.S. together, in an apparent push for cultural homogeneity.
"We should stress the one culture that we all hold in common—the American culture," Miller wrote.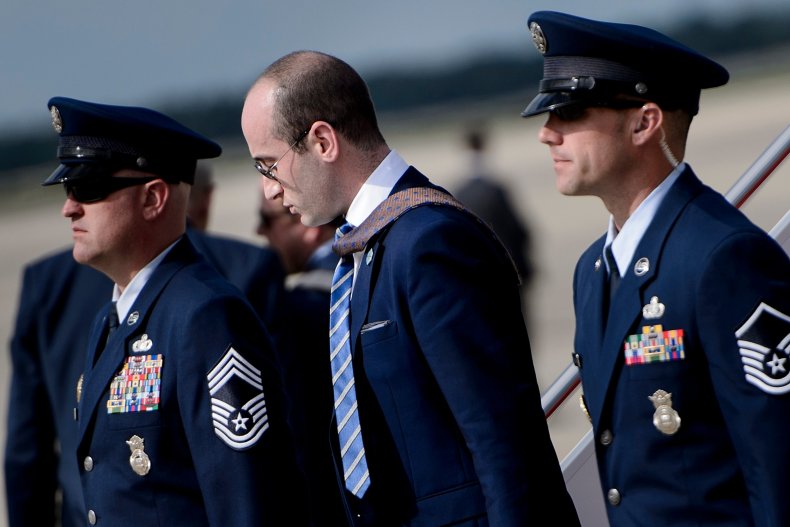 "There is so much to share and to be proud of in our nation's glorious history," he continued. "There must be more American celebrations, more patriotic exercises, more focus on America and why our ancestors came here, more study of this nation's valiant efforts at fighting for freedom around the world, more reminders of what is great about this country," the then-high school graduate said.
A former high school classmate of Miller's told the New York Times that the then-teenager would hit out at Spanish-speaking students for speaking anything other than English in the school halls.
"He tended to make some of the Spanish language stuff very personal," Moises Castillo told the newspaper. "There was a 'if you're not speaking English, perhaps you should go somewhere else," the former classmate said.
The senior adviser's teenage views could provide some insight into his hardline stance today, which has seen Miller push for a policy that would have legal immigrants penalized for using support programs, such as food stamps, by making it more difficult for them to become citizens or obtain green card status.
Read more: Stephen Miller's Uncle Says He's Horrified By His 'Immigration Hypocrite' Nephew
Miller's uncle said he has watched in "dismay and increasing horror" as his nephew, "an educated man" who he said is "well aware of his heritage" has become "the architect of immigration policies that repudiate the very foundation of our family's life in the [U.S.]."
Glosser said he could not help but "shudder" at the thought of what would have happened to his ancestors had the same policies his nephew "espouses—the travel ban, the radical decrease in refugees, the separation of children from their parents and even talk of limiting citizenship for legal immigrants—been in effect when Wolf-Leib made his desperate bid for freedom.
"Acting for so long in the theater of right-wing politics," Glosser said that "Stephen and Trump may have become numb to the resultant human tragedy and blind to the hypocrisy of their policy decisions."
He said that while "immigration reform is a complex issue" any government intent on making "policy that specifically disadvantages people based on their ethnicity, country of origin and religion…must be recognized as a threat to all of us."