GuptaGate: Who are the Family at the Center of South Africa's Political Storm?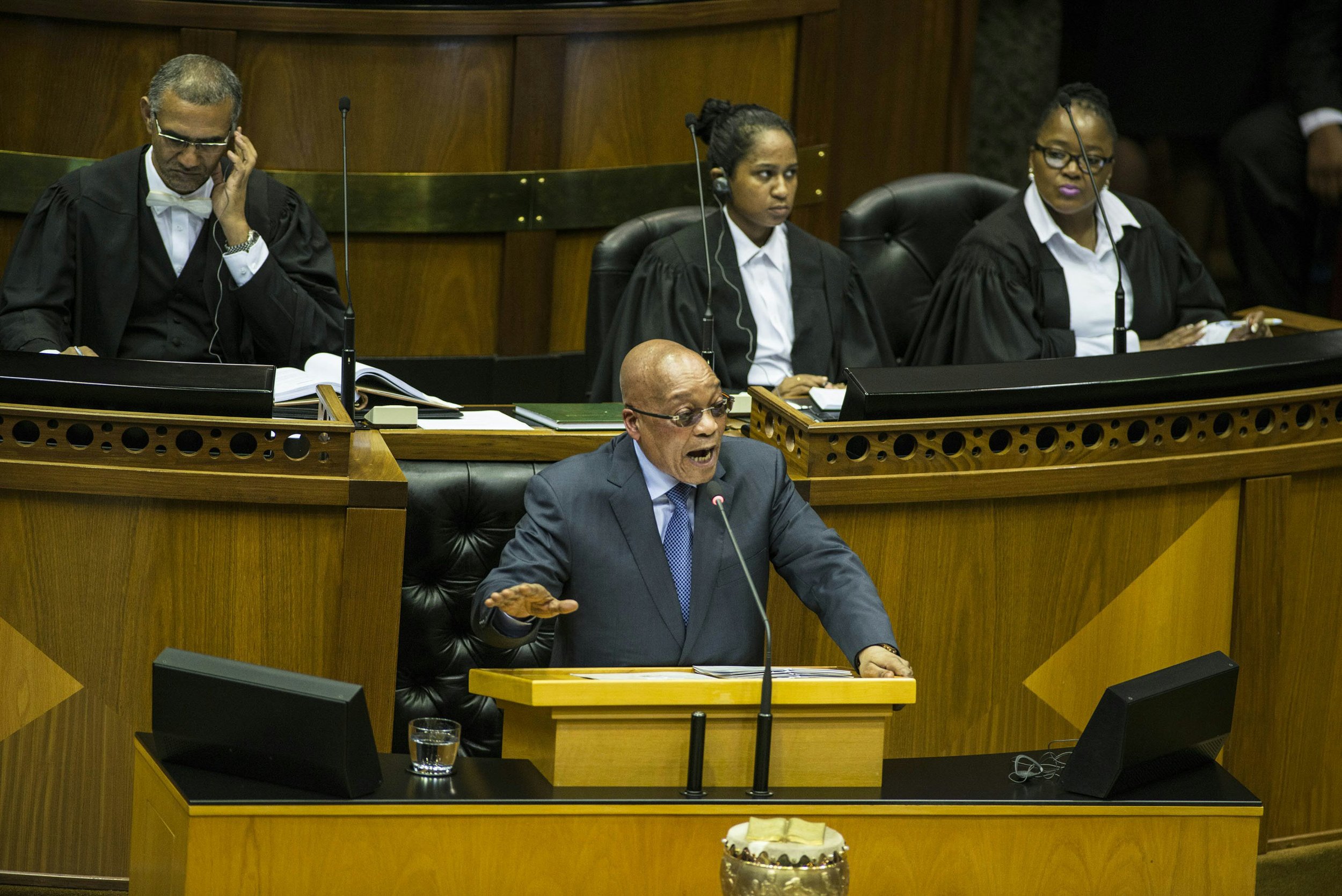 Julius Malema, the firebrand leader of South Africa's leftwing opposition Economic Freedom Fighters (EFF), is not known for his subtlety—upon being kicked out of the African National Congress (ANC) Youth League in 2013, Malema said he had been treated like a used condom . But when leading a loud EFF protest against President Jacob Zuma during the latter's State of the Nation Address in February, Malema's choice of words was subtly incisive: "Zupta must fall!"
The slogan was a reference to the close ties between Zuma and the Guptas , an Indian family of businessman who relocated to South Africa in the early 1990s. Three of Zuma's immediate family have worked for Gupta-owned businesses, and now an extraordinary revelation has suggested that the family's sphere of influence extends deep into South African politics.
Africa's second-biggest economy was stunned in December 2015 when Zuma dismissed then-Finance Minister Nhlanhla Nene and replaced him with the little-experienced David van Rooyen, only to then remove van Rooyen after less than a week in office. The decision saw the South African rand temporarily plummet and prompted grumblings within the ANC that Zuma had failed to consult senior party members before taking the decision.
Deputy Finance Minister Mcebisi Jonas made a public statement on Wednesday, in which he claimed that the Guptas offered him the position of finance minister while Nene was still in post. The claim has been denied by the Guptas, who have challenged Jonas to make the claims in a court of law. Zuma asserted in Parliament on Thursday that he was not involved in the alleged incident and said: "There is no minister who is here who was ever ever appointed by the Guptas or anybody else. Ministers who are here were appointed by me."
Yet the scandal is unlikely to die down anytime soon and draws further questions about Zuma's relationship with the wealthy family, which runs a multibillion rand collection of computing, media, manufacturing and mining businesses in South Africa.
The Gupta brothers—Ajay, Atul and Rajesh—moved to South Africa in 1993, just prior to the end of the apartheid era . The brothers' father, Shiv Kumar Gupta, reportedly saw Africa as becoming "the America of the world," a land of new prosperity and opportunity. The brothers have since established their business empire and developed ties with the family of Zuma, who came to power in 2009 but had previously served as South Africa's deputy president between 1999 and 2005 under Thabo Mbeki.
The family has strenuously denied any political involvement or influence. "We are business people and we have nothing to do with politics," Ajay Gupta told the Financial Times . He also rejected claims that the Guptas are favorably treated by the South African government, claiming that just one percent of the approximately 5 billion rand ($326 million) generated annually in revenue by their businesses comes from government contracts.
The Guptas follow a long line of business dynasties in South Africa, such as the diamond-mining Oppenheimers or luxury goods magnates the Ruperts, according to Ebrahim Fakir, an independent South African political analyst. "The Guptas are no different from any other kind of business family which attempts to capture the state or influence individuals, appointments, policies and regulations to their advantage," says Fakir. "The problem is in the people who've allowed them and have facilitated their ability to do this."
Jonas' allegation has prompted more calls from opposition Democratic Alliance leader Mmusi Maimane for Zuma to resign and have also generated stinging criticisms from within the ANC, with the party's secretary general Gwede Mantashe warning that South Africa is in danger of turning into a "mafia state" if the status quo remains.
But according to Fakir, the Guptas' alleged political influence is just one factor among a host of reasons why Zuma should resign or be recalled by the ANC. Other factors, including the failure to admit wrongdoing over state-funded improvements to his Nkandla homestead and economic policies that have brought South Africa teetering towards junk status, provide more than enough merit for the president to step down, he says. "Zuma must go, but for entirely different reasons. The Guptas are just one small part of it," says Fakir.