Gut Microbes Could Predict How Seriously Ill a COVID-19 Patient Might Get, Preliminary Study Suggests
The microbes that live in the human gut could affect a healthy person's chances of developing a severe case of COVID-19, according to a preliminary study.
The research was published on the pre-print website medRxiv, meaning it hasn't been through the rigorous peer review process required to publish in scientific journals. Releasing studies this way enables scientists to prompt debate on a topic and are particularly useful during a fast-moving situation like a pandemic.
The team explained the coronavirus enters the body by binding to the ACE2 enzyme, which plays an important role in the regulation of intestinal inflammation. ACE2 also has a "major impact" on the make-up of the microbes in the gut and therefore affects diseases of the heart and lungs, they said.
What's more, over 60 percent of COVID-19 patients have gastrointestinal symptoms, like diarrhea, nausea and vomiting, and this group also tend to have a more serious or critical form of the disease, the authors highlighted.
They wrote: "Taken together, the available evidence suggests a potential role of gut microbiota in the susceptibility of COVID-19 progression and severity."
The team set out to see if they could use blood biomarkers previously identified in COVID-19 patients to understand why some otherwise healthy people are more at risk of a severe form of the disease, and to shed light on the potential role of gut microbes.
To do so, they looked at blood protein data from 31 COVID-19 patients and what is known as multi-omic data (that which can include parts of our biology such as the genome and microbiome) of 2,413 people in China who didn't have COVID-19. They used this information to devise a score to predict whether a COVID-19 patient would get a severe form of the disease. They called this the blood proteomic risk score (PRS).
To verify the score, they used data on proteins and blood inflammatory biomarkers from 990 of the healthy people. Next, the team used a machine-learning model to identify gut microbes linked to blood protein biomarkers of COVID-19. The researchers also studied participants' feces to find potential clues for whether the gut microbes were linked to disease severity.
The researchers used 20 blood protein biomarkers they previously identified in COVID-19 patients that indicated whether they would fall seriously ill, and created a blood PRS for the 31 patients in their latest study. With an increase in a score of 10 percent, the risk of severe disease spiked by 57 percent, they found. This was most profound in older people aged 58 and above.
Another part of the study saw the researchers comparing the make-up of gut microbes and blood proteins of 301 people. Once again using machine learning, they found a link between gut microbes and the PRS predicting severe COVID-19, and again more so in older people.
By looking at demographic data on the participants to see if this affected gut microbes, the researchers found lifestyle and medical factors, like sex, exercise levels, blood pressure and sugar levels, and drugs for type 2 diabetes, appeared to explain 2.4 percent of the variation.
The scientists concluded: "In summary, our study provides novel insight that gut microbiota may underlie the susceptibility of the healthy individuals to the COVID-19."
They said their findings might help with uncovering ways of preventing and treating coronavirus infection, particularly in those most vulnerable to COVID-19.
Professor William Cookson, of the Genomic Medicine at the National Heart and Lung Institute at Imperial College London, U.K., who did not work on the study, told Newsweek the study implies that diet changes could prevent severe COVID-19 disease.
Highlighting the limitations of the work, Cookson said "there is a lot going on in patients who come to medical care with COVID infections, and alterations found in the bowel microbiome are not necessarily causal.
"Patients are almost certainly eating differently depending on how sick they are, and sicker patients are more likely to have been given antibiotics than those who are less unwell." Antibiotics are known to alter gut microbiota. "Obesity is a major risk factor for severe COVID disease around the world, and of course there is a strong relationship between diet, obesity and the bowel microbiome. I can't see that these factors have been adequately controlled for in the study (although this might be more apparent after peer review)."
Cookson went on: "Another question is why look at the bowel microbiome for a respiratory infection? The airways and the lungs have their own resident bacteria which can have profound effects on resistance to infections. In the Spanish Flu epidemic it was recognised (years later) that many of the deaths were due to bacterial pneumonia, which can be very difficult to diagnose even in the best centres."
Glenn Gibson, professor of food microbiology at the University of Reading, U.K. who also didn't work on the study, told Newsweek that the team "could have made more on what people can actually do to help mitigate [the risk]."
Gibson also said the study size was unusual "but that implies wanting to see more people in the trials and therefore having the virus, so I would not want to suggest that."
He went on: "The gut microbiome is critical to health and well-being, impacting upon a variety of important disorders. I am not surprised to see the anti-inflammatory links with COVID-19 set out here but it is very good indeed to see this evidence and use of modern techniques to do so.
"Other studies have detected the virus in stools and faeces, further suggesting a gastrointestinal link."
Gibson said he has been advising people to take pro and pre-biotics that boost gut microbial health "for weeks."
However he stressed: "The products should be proven pro/prebiotics with scientific underpinning and not just labelled as such (and not over-priced). At the time, this was based upon little evidence but was a 'no brainer' for me in terms of potential benefits to risk."
Since the COVID-19 pandemic started five months ago, the number of confirmed cases has now reached over 3 million, according to Johns Hopkins University. A total of 211,170 people have died, and 894,337 have recovered. The U.S. is the country with the most diagnosed cases, as shown in the graph by Statista below.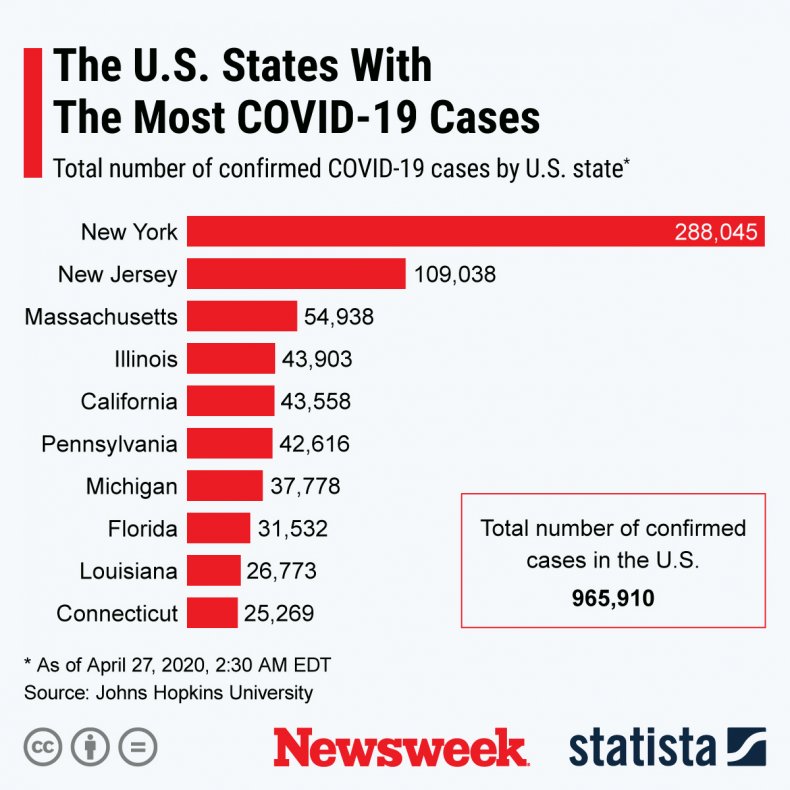 Centers for Disease Control and Prevention Advice on Using Face Coverings to Slow Spread of COVID-19
CDC recommends wearing a cloth face covering in public where social distancing measures are difficult to maintain.
A simple cloth face covering can help slow the spread of the virus by those infected and by those who do not exhibit symptoms.
Cloth face coverings can be fashioned from household items. Guides are offered by the CDC. (https://www.cdc.gov/coronavirus/2019-ncov/prevent-getting-sick/diy-cloth-face-coverings.html)
Cloth face coverings should be washed regularly. A washing machine will suffice.
Practice safe removal of face coverings by not touching eyes, nose, and mouth, and wash hands immediately after removing the covering.
World Health Organization advice for avoiding spread of coronavirus disease (COVID-19)
Hygiene advice
Clean hands frequently with soap and water, or alcohol-based hand rub.
Wash hands after coughing or sneezing; when caring for the sick; before, during and after food preparation; before eating; after using the toilet; when hands are visibly dirty; and after handling animals or waste.
Maintain at least 1 meter (3 feet) distance from anyone who is coughing or sneezing.
Avoid touching your hands, nose and mouth. Do not spit in public.
Cover your mouth and nose with a tissue or bent elbow when coughing or sneezing. Discard the tissue immediately and clean your hands.
Medical advice
Avoid close contact with others if you have any symptoms.
Stay at home if you feel unwell, even with mild symptoms such as headache and runny nose, to avoid potential spread of the disease to medical facilities and other people.
If you develop serious symptoms (fever, cough, difficulty breathing) seek medical care early and contact local health authorities in advance.
Note any recent contact with others and travel details to provide to authorities who can trace and prevent spread of the disease.
Stay up to date on COVID-19 developments issued by health authorities and follow their guidance.
Mask and glove usage
Healthy individuals only need to wear a mask if taking care of a sick person.
Wear a mask if you are coughing or sneezing.
Masks are effective when used in combination with frequent hand cleaning.
Do not touch the mask while wearing it. Clean hands if you touch the mask.
Learn how to properly put on, remove and dispose of masks. Clean hands after disposing of the mask.
Do not reuse single-use masks.
Regularly washing bare hands is more effective against catching COVID-19 than wearing rubber gloves.
The COVID-19 virus can still be picked up on rubber gloves and transmitted by touching your face.