The gutted carcass of an endangered freshwater dolphin has been found in a river sanctuary in Bangladesh, leading wildlife officials to express fears of a a spike in poaching during the country's coronavirus lockdown.
Residents in the town of Raojan spotted the body of the Ganges river dolphin on the banks of the Halda River on Sunday, AFP reported. It contained a deep incision from the neck to the tail.
It appears that the poachers had gutted the 62-inch-long animal, removing layers of body fat—a product that is used in local traditional medicine—Abdullah al Mamun, an official from the Bangladeshi fishery department, told AFP.
In Bangladesh, it is illegal to kill Ganges dolphins, which are classified as endangered on the International Union for Conservation of Nature's (IUCN) Red List of Threatened Species.
This is the second killing of a Ganges river dolphin in the same river sanctuary since the country's lockdown was implemented on March 26. Among the measures introduced to curb the spread of COVID-19 were a nationwide curfew effective from 6 p.m. to 6 a.m. local time, the suspension of travel via sea, rail and air, and the closure of educational institutions.
According to officials, local fisherman have been trawling illegally on the river, with police forces distracted as they enforce the lockdown. The nets they use can trap the dolphins, whose body parts can then be sold.
"They are trying to make a living by catching fish illegally," Yasin Nawaz, head of the local forestry department, told AFP.
Another official, Manzoorul Kibria, coordinator of the Halda River Research Laboratory (HRRL,) told AFP that many locals believe dolphin fat can cure diseases, and as such, the product a valuable commodity. "It fetches a good price," he said.
According to the World Wildlife Fund, there are thought to be between just 1,200 and 1,800 Ganges river dolphins left living in the wild in Nepal, Bangladesh and India. Around 170 of these live in the Halda river, located in southeastern Bangladesh, HRRL said.
Kibria said the latest killing of a Ganges river dolphin could be the start of a "killing spree" as poachers take advantage of the situation.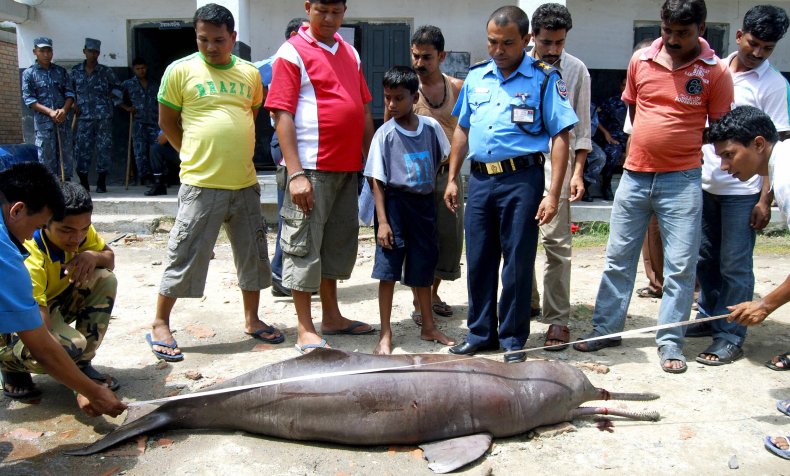 Concerns over poaching during coronavirus lockdowns have been raised by wildlife officials in countries around the world.
The conservation non-profit Panthera reported an increase in the poaching of wild cats, such as jaguars and pumas, in Colombia. "While we are all social distancing and are delighted to see wildlife return to urban centers, at Panthera we're registering a spike in cat killings," Esteban Payán, the Northern South America Regional Director for Panthera's Jaguar Program, previously told Newsweek.
"Poachers are at large and, unfortunately, they've been killing jaguars, pumas and ocelots. They're feeling our absence, especially in unprotected areas where we continue to work."
According to Payán, the loss of income for many people during this time, the fact that animals are venturing into previously busy areas, and the perception—justified or not—that law enforcement are distracted with other tasks, could all be contributing factors towards the spike in poaching, in Colombia at least.
"The pandemic will leave devastating economic consequences. Thousands will be left with no option but turning to exploit natural resources for the short term for selfish gain: hunting, poaching, and logging," Payán said.
"Retaliatory or preventive killings of jaguars and pumas could also increase, as already stretched ranchers start to feel that even low losses from big cats are unacceptable because of the economic situation, sort of like the last drop in the bucket, and they may then turn to hunting big cats."
Poaching attempts have also increased in Kaziranga National Park in India, which is home to the word's biggest population of one-horned rhinos, during the country's lockdown, AFP reported.
There has also been a spike in the killing of other animals in India, with poachers targeting the endangered Indian gazelle, peacocks, and other species, The Hindu reported.
Meanwhile in Kenya, conservationists have warned about the potential negative effects of the lockdown on wildlife. "You have people who have lost their livelihood and don't know when they will get out of that [and] you have in some places massively reduced numbers of [conservation] enforcement because of COVID," Michael O'Brien-Onyeka, from Conservation International's local field division, told ABC News.
In a statement, the non-profit said that there had been "alarming increases" in bushmeat and ivory poaching in Kenya and Cambodia over the past two months. "Although some of this stems from food needs in rural areas, it appears that the commercial trade of illegal wildlife products has also expanded," the statement read.