A courtside Guy Fieri delighted basketball fans at the Nuggets-Suns game on Monday.
The Denver Nuggets and the Phoenix Suns clashed in Game 1 of the conference semifinal playoff.
The first quarter of the game saw the Suns' Deandre Ayton achieve an impressive slam dunk over Michael Porter Jr., closing the Nuggets' lead to five points. The move sent the crowd—including everyone's favorite trash can nachos advocate—wild.
The Diners, Drive-Ins and Dives host was rewarded with an eventual Suns victory, 122-105.
The game and Fieri's excited reaction has united food and sports fans alike. The TV personality and cook began trending on Twitter Tuesday morning after being spotted at the game.
"Guy Fieri courtside only solidfies our decision to become Suns fans. Much like the flavor of donkey sauce he is literaly out of bounds," tweeted PFT Commenter, the character portrayed by podcaster Eric Sollenberger.
Listing the Suns' famous fans, Gerald Bourguet, FanSided's NBA editor and Phoenix Suns reporter, tweeted: "Add Michael Phelps to a list that now includes Jonah Hill, Shakira, J. Cole, Justin Bieber, Kendall Jenner, Emma Stone AND Guy Fieri?"
While Barstool's Dan Katz, aka Big Cat, added: "This Ayton dunk had it all. Poster, Mic on the rim extra loud, Fans going nuts, Guy Fieri."
A gif of Fieri celebrating in his black leather shirt is also amassing thousands of likes, as one spectator pointed out: "Is that a Guy Fieri leather button up shirt? This series rules already."
Meanwhile, activist Charlotte Clymer observed: "Guy Fieri's whole trajectory in the public eye has been very wholesome and lovely."
And it's true, Fieri's wholesome public persona has only seen him become more popular of late with the 53-year-old consistently making headlines for good news stories.
In December, it was reported that the Food Network host worked to raise more than $21.5 million in seven weeks to help unemployed restaurant workers during the COVID-19 pandemic.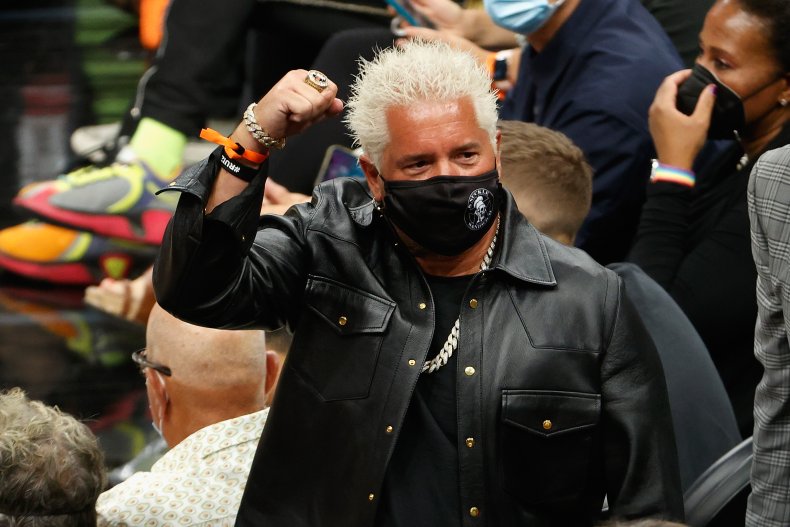 Fieri and a relief fund made personal pleas with large corporate sponsors and were able to raise $21.5 million between March and August last year, providing help to more than 43,000 restaurant workers.
Speaking to Variety about his efforts, Fieri said "mom and pop joints" are more than just businesses.
"These mom and pop joints, they're the fabric of your community," he said. "It's not just a place to go to eat, it's a place to meet, it's a place your kids get jobs... the place we go for our donations, our celebrations, we go there for everything."