Guy Fieri Feeds Firefighters Battling California Wildfires
Guy Fieri is providing thousands of meals for those battling the Dixie wildfires in Northern California.
The food show host is on the front lines handing out hot meals to first responders as firefighters say they're making progress on the blaze.
Fieri, along with KTVU's Sal Castaneda, are part of a team of volunteers at the Lassen County Fairgrounds. The team is preparing and cooking meals at the base camp for crews, who have spent more than 40 days battling the fires.
"There's a lot of first responders who can't make it to the base camp. So we sent it to the fire lines. We sent it to a lot of the sheriff's department and CHP [California Highway Patrol] that were out blocking roads," Fieri told local outlet KTVU.
The outlet reported that on Tuesday alone this week, the Diners, Drive-Ins and Dives star served 2,200 people.
Pulled pork, mac and cheese, and coleslaw made from scratch are on the menu, with Fieri revealing he and his team cooked 1,200 pounds of pulled pork.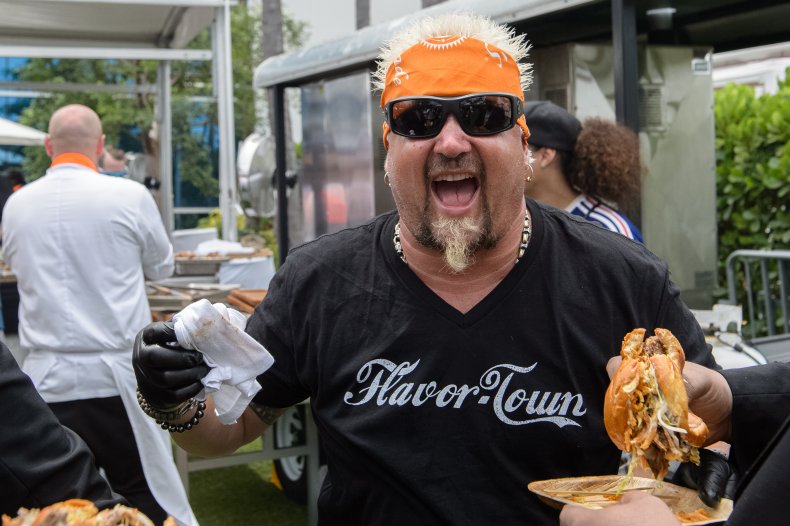 "We've got a great group of people, Fieri said. "We have folks from all different walks of life, you name it. From construction to law to medicine to truck driving to security system systems... we got a pilot, you name it."
The Lassen County Sheriff's Office thanked Fieri for his efforts and shared some photos from the base camp.
"A big thank you to Guy Fieri and his foundation for coming up to support our community. Guy and his partners are feeding all of the fire personnel and other public safety personnel assigned to the Dixie Fire," they said in a statement on Facebook.
"We would also like to thank Deputy Shane Parker for reaching out to Guy and making this happen."
Meanwhile, Fieri gave a shoutout to the fire department on his Twitter account.
"Shoutout to Humboldt and Mendocino Firefighters working the Dixie fire! Thanks for all you do!" he tweeted.
The blaze started July 13 and spread to become one of the largest wildfires in the state's history.
Estimates this week show that the Dixie Fire has destroyed 1,259 buildings, The Associated Press reported.
Last year, the Food Network host was praised for raising more than $21.5 million in seven weeks to help unemployed restaurant workers who had been affected by the pandemic.
Fieri and the relief fund were able to raise $21.5 million between March and August, a representative with The National Restaurant Association Educational Foundation told Newsweek in December.
The graphic below, produced by Statista, shows the growing danger of Californian wildfires.