Sean Hannity Says Gwen Barry Showed 'Hatred' for U.S. In Turning Back on Flag
Fox News anchor Sean Hannity has weighed in on the furor surrounding Gwen Berry, the hammer thrower who turned away from the U.S. flag on the podium during the Olympic track and field trials.
After Berry had received the bronze medal on Saturday to mark her top-three finish which entitles her to compete at the Tokyo Olympics, she turned her back on the Stars and Stripes as it played.
She then draped over her head a T-shirt that had the words "activist athlete," in actions that sparked criticism in conservative quarters.
Among them was Hannity, who started a segment on his show on Monday criticizing the White House for its support of Berry for actions that he said intended "to apparently express her hatred for the country she wants to represent."
"If you are not proud of the country, if you don't want to represent the country, why are you trying to play in the Olympics for the country?" the Hannity anchor said.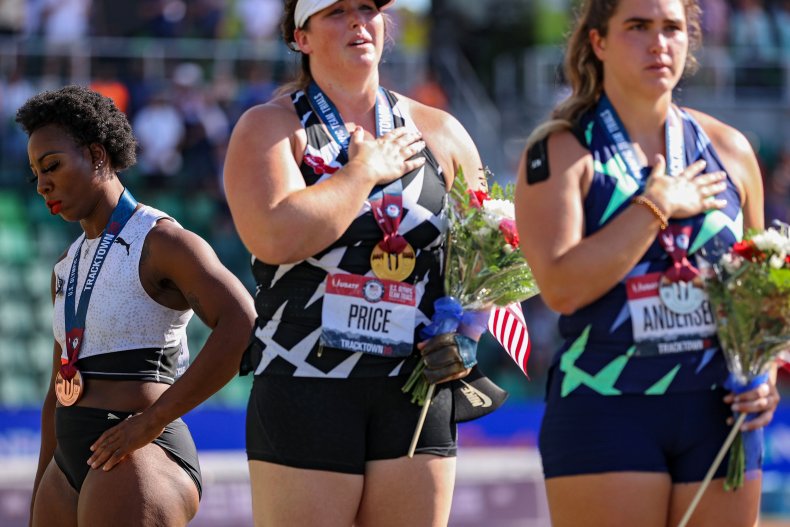 "Our patriotism, our national pride, the anthem? I would think that would be unifying, but so often today, sadly, it's become the opposite," he added, before throwing to civil rights attorney Leo Terrell and Fox & Friends Weekend co-host Pete Hegseth to discuss the issue.
Berry said that she felt blindsided by the anthem, which she thought was going to be played before she took to the podium in Eugene, Oregon, with the first and second-place finishers, DeAnna Price and Brooke Andersen.
"I feel like it was a set-up, and they did it on purpose," Berry said according to The Associated Press, adding that meet organizers had the opportunity to play the tune beforehand.
"The anthem doesn't speak for me. It never has," she added. Berry, an Olympian in 2016 who raised her fist after winning the hammer throw at the 2019 Pan-American Games in Peru, later said her mission is to raise awareness for social justice issues.
"My purpose and my mission is bigger than sports," Berry said, according to the AP. "I'm here to represent those ... who died due to systemic racism."
Representative Dan Crenshaw (R-TX) called for her to be removed from Team USA, while Senator Ted Cruz (R-FL) expressed his condemnation of her actions, tweeting, "why does the Left hate America?"
Senator Tom Cotton (R-AR) told Fox News that if "Ms. Berry is so embarrassed by America, then there's no reason she needs to compete for our country."
However, when asked about Berry, White House press secretary Jen Psaki defended "the right of people, granted to them in the Constitution, to peacefully protest."
Meanwhile, on Twitter, Berry defended her actions in a number of tweets, one of which said: "I never said I hated this country! People try to put words in my mouth but they can't. That's why I speak out. I LOVE MY PEOPLE."
She also got the backing of Michael Johnson, the former Olympic champion and world record holder for the 200 and 400 meters. He tweeted that "regardless if you agree" with Berry, "you can't deny her courage standing up for her beliefs knowing the backlash."
Newsweek has contacted Team USA for comment.