Former Olympic and professional boxing champion George Foreman used Independence Day to share his love for America to trump weeklong coverage of Gwen Berry, who qualified for the U.S. Olympic team but has bashed things like the national anthem.
Foreman, who went from a gold medalist at the 1968 Mexico Summer Olympics to a professional heavyweight champion and eventual entrepreneur, tweeted Sunday that he loves America, and that's he's not ashamed of it.
"For about 54 years, people have ask me not to keep saying "I love America" Well I do and I'm not ashamed. Don't leave it; Love it. Happy 4th of July," Foreman wrote.
Foreman won the 1968 heavyweight gold medal as an amatuer before becoming a professional the next year. Berry finished third in the women's hammer throw at last month's Olympic Team Trials. While standing on the podium for her third-place finish, the "Star-Spangled Banner" began playing, in which Berry turned and would not face the American flag.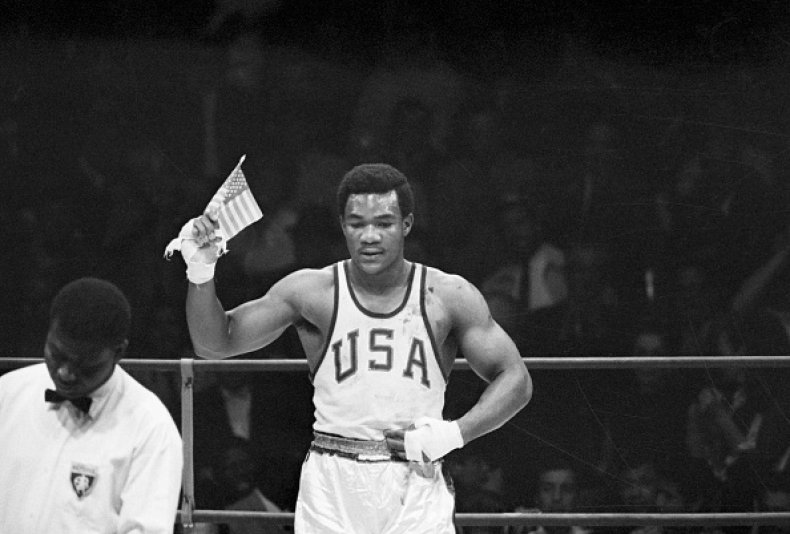 While winner DeAnna Price and second-place finisher Brooke Andersen stood upon their pedestals with hands over their hearts and gazing at the flag, Berry stomped around behind them and eventually pulled a shirt over her head that read "activist athlete."
The attention last week wasn't about Price nor Andersen, as Berry won the headlines.
Politicians made their feelings known. On Sunday, so did Foreman. This comes from a Black athlete who competed at the same Olympics that two Black Americans stood on the medal podium, each with a fist raised in the air to protest. Tommie Smith had just won gold in the 200-meter race while fellow American John Carlos won the bronze medal. While on the medal podium, neither American athlete wore shoes, but simply black socks to portray Black poverty.
Foreman took up boxing during a troubled childhood in a poor part of Houston, and he takes pride in his Mexico City experience.
He went on to become boxing's heavyweight champion when he knocked out previously-undefeated Joe Frazier in 1973, and then lost to Muhammed Ali during 1974 in the famous Rumble in the Jungle bout in Zaire. Foreman retired in 1977, and though his comebacks weren't stellar, he made a good living by selling his George Foreman grills.
Berry was put on a one-year suspension after raising her fist in protest after winning a 2019 gold medal at the Pan American Games in Lima, Peru. Not even a year later, the United States Olympic and Paralympic Committee (USOPC) relaxed some of their protest rules during the 2020 summer of racial equality reform.
Berry wanted an apology for her actions.
Then, last month when Berry took third at the Olympic Trials, she said she was caught off guard by the playing of the national anthem.
"I feel like it was set up," Berry said in The Washington Post. "I feel like they did that on purpose, and I was pissed, to be honest. I was thinking about what should I do.
"Eventually, I just stayed there and just swayed. I put my shirt over my head. It was real disrespectful. I know they did that on purpose, but it'll be all right. I see what's up."