Gwen Berry, Olympic Record, Family, Details for Hammer Thrower
Gwen Berry, an African American hammer thrower, is one of the United States' medal hopes in track and field at the Tokyo Olympics this month. She is also known for her activism, having made headlines on June 26 when she turned her back on the flag while the anthem played at the Olympic trials.
Here's everything you need to know about the U.S. athlete.
Gwen Berry's Age
Gwendolyn Denise Berry was born in Centerville, Illinois, and grew up in St. Louis, Missouri. She attended McCluer High School in Florissant and played basketball as well as track. The 32-year-old was born on June 29, 1989.
Gwen Berry's Family
Berry was born to Michael Berry, a football player and Iraq War veteran, and Laura Hayes. After her parents separated, Hayes thought it was better for Berry to live with her father. Berry has two brothers, Davon and Michale, and a sister Quincy.
Berry has one son called Derrick, who was born three days after her 15th birthday and inspired her to "thrive a little harder," ESPN reported in 2019. When she was growing up, Berry's father spent hours each week educating her about Black history and civil rights.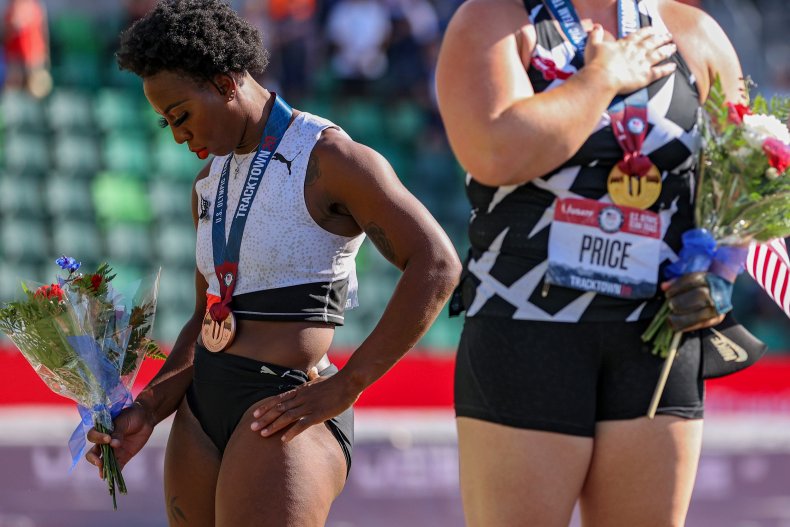 Gwen Berry's Record
Berry holds the world record in weight throw—an indoor track and field event similar to the hammer throw. Her mark was 25.60 meters, set in March 2017 in Albuquerque, New Mexico.
She is also a three-time national champion in weight throw at the USA Indoor Track and Field Championships. Berry was the gold medalist in the hammer at the 2014 Pan American Sports Festival, her first major international event.
Berry represented Team USA in the hammer at the Rio de Janeiro Olympics of 2016. In 2017, she won the national title for the hammer throw.
A year later she set a new personal best in the hammer with a distance of 77.78 meters—the sixth-best throw in history. She won the gold medal at the Pan American Games in Lima, Peru, in 2019.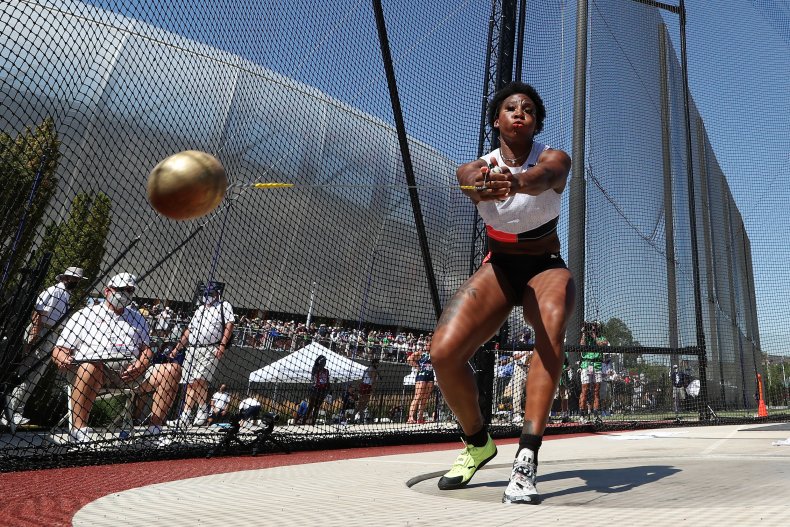 Gwen Berry's Activism
Berry does not shy away from politics. In 2019, she raised her fist on the podium at the Pan American Games in Lima, while the national anthem was playing. She was suspended for 12 months by the U.S. Olympic and Paralympic Committee for protesting.
On June 26 this year, she famously turned her back on the Stars and Stripes when the U.S. national anthem began to play after her Olympic qualifier.
Towards the end of "The Star-Spangled Banner," Berry picked up a black T-shirt with the words "Activist Athlete" on the front and put it over her head.
Berry said she felt the timing of the anthem was not a coincidence.
"I feel like it was a set-up, and they did it on purpose," she told the AP. "I was pissed, to be honest," she added.
She later said the anthem did not represent her, but she loved the United States.
"I never said I hated this country! People try to put words in my mouth but they can't. That's why I speak out. I LOVE MY PEOPLE," she wrote on Twitter.
'These comments really show that: 1.) people in American rally patriotism over basic morality. 2.) Even after the murder of George Floyd and so many others; the commercials, statements, and phony sentiments regarding black lives were just a hoax.'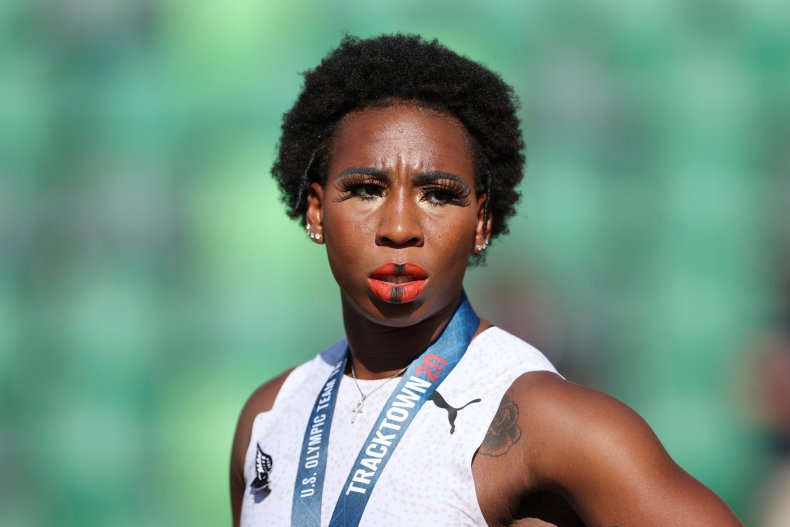 On July 12 this year, the day after England lost the Euro 2020 soccer final to Italy, Berry tweeted her support for three Black players who became the target of racist abuse after they missed penalties.
"Heartbreaking situation! Why am I not surprised! This hate is the reason why athletes cannot 'just be athletes,'" she wrote.
"We must stand against these social issues until they no longer affect our lives! Sending my love to Marcus Rashford, Jadon Sancho, and Bukayo Saka and their families."
She added: "They only love us when it benefits them."