Gwen Stefani and Blake Shelton's Relationship Timeline as They Release Duet
Gwen Stefani and Blake Shelton are melting the hearts of fans and proving their relationships is something to emulate as the pair released a romantic duet this week.
The couple of five years made a huge declaration of love by teaming up for a new track, "Happy Anywhere," which dropped on Thursday night in what is shaping up to be a big week for music lovers.
"Even though Gwen and I just had a single out we decided that, under the circumstances, this year... man, there's never been a better time for 'Happy Anywhere,'" Shelton, 44, said in a statement. "We've all been in quarantine and lockdown, and hopefully we've been doing that with somebody that we really love and enjoy being around. That's what happened with Gwen and me this summer—and this entire year."
Later, in a livestream to promote the song, the country star opened up about collaborating with his wife, who is not known for her performing the genre, saying: "It's hilarious that listening to the radio the last couple of years that Gwen Stefani is going to be singing the 'countriest' song to come out of Nashville... It's ironic. It's funny."
Gwen Stefani and Blake Shelton Relationship History
2014
Stefani and Shelton met for the first time in April 2014 when they both landed jobs as coaches on The Voice alongside Adam Levine and Pharrell Williams.
The pair appeared to be growing close, with many some romance on the cards when in November, Stefani posted a selfie with Shelton on Instagram, with a sweet caption that read: "[heart] him."
Summer 2015
Fast forward to next summer and Shelton and his wife of four years, fellow country singer, Miranda Lambert, file for divorce.
"This is not the future we envisioned and it is with heavy hearts that we move forward separately," Blake and Miranda said in a statement at the time. "We are real people, with real lives, with real families, friends and colleagues. Therefore, we kindly ask for privacy and compassion concerning this very personal matter."
Then as fate would have it, one month later, Stefani split from her husband of 13 years, Gavin Rossdale.
The couple, who married in 2002, and share three kids, filed for divorce in 2015 citing irreconcilable differences.
In a statement to People at the time, the exes said: "While the two of us have come to the mutual decision that we will no longer be partners in marriage, we remain partners in parenthood and are committed to jointly raising our three sons in a happy and healthy environment."
Fall 2015
In September, Stefani and Shelton seemed to continue to enjoy working together on The Voice as the "Hollaback Girl" singer shared another smiling selfie.
The following month, they both appeared together on The Tonight Show Starring Jimmy Fallon where they performed a chemistry-filled duet of Drake's "Hotline Bling."
Then a source told E! News that they were spotted holding hands at a party.
Jumping forward to November and Shelton and Stefani make it official. A representative for the couple said at the time: "Gwen and Blake are longtime friends who have very recently started dating."
And then Stefani herself spoke to Ryan Seacrest about both of their divorces, saying: "To be super honest, it is kind of crazy we both went through the same thing at the same time."
2016
Ever the cowboy, Shelton gifts his new girlfriend a horse for her birthday and Stefani gushes about it on Instagram.
Shelton told ET: "I got her a horse and I got myself a horse at the same time. Gwen, she loves riding and she loves horses. It's actually so funny that people are so shocked by that, but if you can name me one girl on the planet that doesn't love horses or just thinks that they are beautiful."
In February, the couple attended their first red carpet together at the Vanity Fair 2016 Oscars afterparty.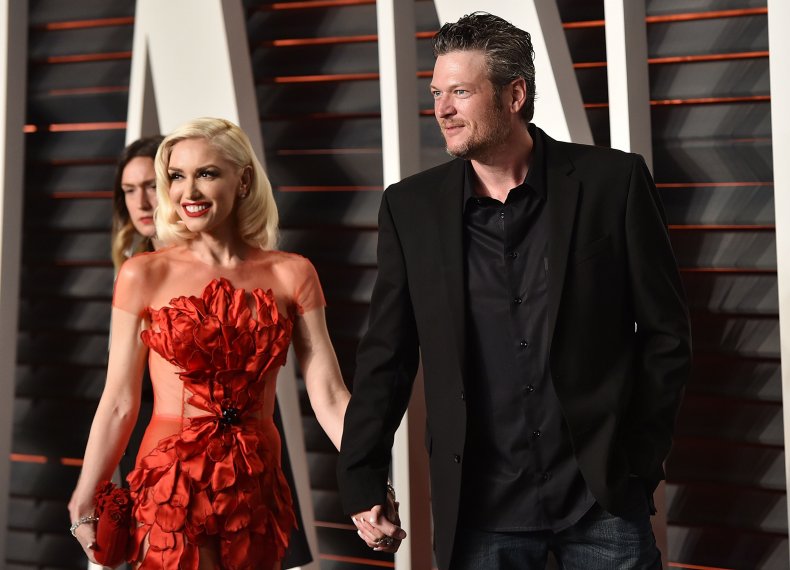 They perform another duet together in May at the BBMAs of "Go Ahead and Break My Heart" in May and in June, Shelton told Billboard that Stefani "saved [his] life."
"Who else on earth could understand going through a high-profile divorce from another musician?" he said. "You can't even imagine the similarities in our divorces."
In September, Elle quizzes Stefani about wedding plans and she teases: "I'll let you know."
2017
Stefani has a February appearance on The Tonight Show Starring Jimmy Fallon, where she gushes about he new relationship. Things die down for a while, but the couple's colleague from The Voice Levine shares his thoughts in November, telling Howard Stern they're "so in love it's disgusting."
He elaborated: "It's so funny. They found each other at really interesting times in their lives. It's really beautiful. Because it's in the public eye, a lot of people want to have their own bullshit opinions about it, but I'm, like, there. I see it every day. I have a pretty unique perspective on it, and it's real, man."
Shelton is catapulted to higher levels of fame in February after he's named Sexiest Man Alive.
Stefani jokes about her man's new accolade to Ellen DeGeneres, saying: "He doesn't even like to do a photoshoot. You can never convince him to do it. So he just called me like, 'They want me to do this.' And I was like, 'You should totally do it! You're so sexy!'"
They then perform another loved duet of "You Make It Feel Like Christmas."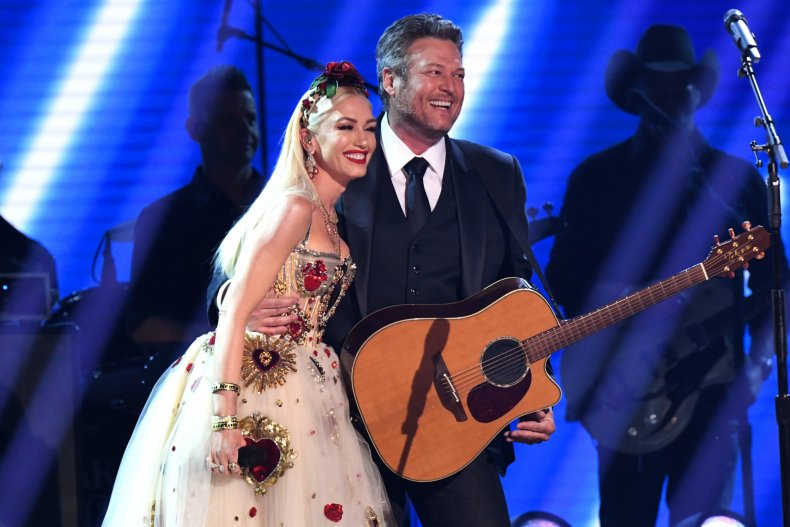 2018
Stefani kicks off her Las Vegas residency by sharing a sweet photo of her children with her new boyfriend.
Shelton also tweeted: "Setting here watching @gwenstefani rehearsals it continues to shock me the amount of GIANT hits this girl has written ... I highly recommend ya'll catch her Vegas show if you can get tickets!!!"
Later that day, Stefani responded: "OMG just seeing this now!! I love you! #Bestboyfriendever #favoriteperson."
In July, Stefani admits she is "super in love" when telling In Style about her style becoming more feminine. She said: "It's probably because I'm super in love and have a really manly man [Blake Shelton]. I enjoy letting that part of me come out.
They round off the year with Stefani releasing a new music video featuring Shelton.
2019
In April, Shelton, Stefani, and Stefani's three children (Kingston, Zuma, and Apollo) are photographed attending a movie premiere together.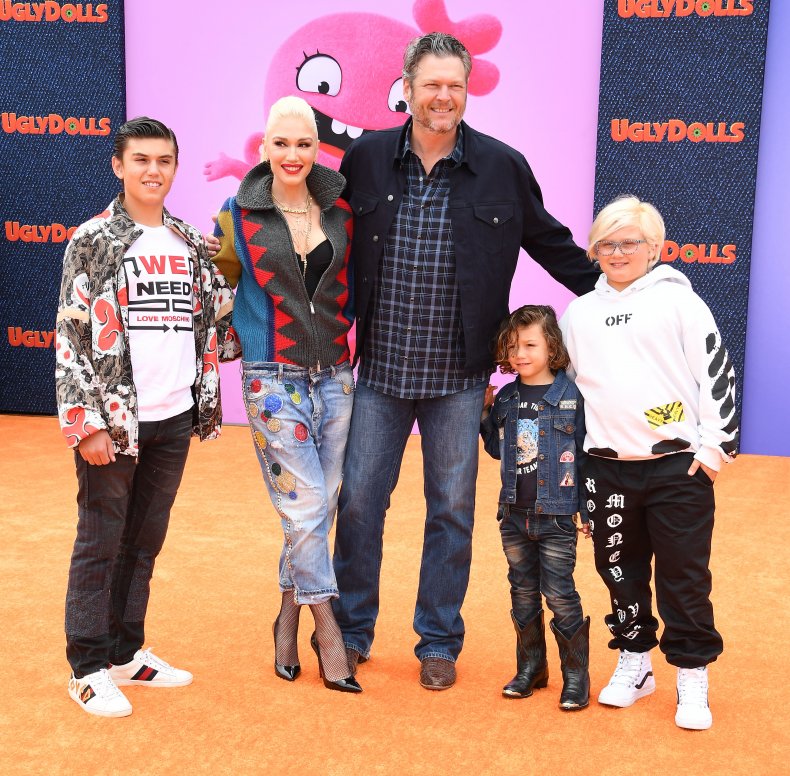 The couple celebrated four years together in June this year.
"It's actually shocking that it has already been that long," Shelton told People magazine. "It's kind of a blur. It still feels like it's pretty new to me. I guess it is, relatively. Four years isn't forever, but man, it seems like it just happened in no time."
2020
In June 2020, US Weekly reported that Gwen wants to marry Blake when the coronavirus pandemic is over.
Shelton also told ET that he "loves" the wedding rumors.
"Those rumors are great," he said. "Anybody that thinks that I'm married to Gwen already, I love it. My God. Who wouldn't want to be married to Gwen Stefani?"