'Gwent' For Android Release Date Announced, How To Pre-Register For an Imperial Golem
A new version of Gwent: The Witcher Card Game will be released for Android devices on March 24.
The Android version of Gwent has been overhauled for touchscreen platforms, with cross-play available between Android, PC and iOS players of the competitive card game.
CD Projekt Red calls the Android version of Gwent "The Witcher card game in its best form."
In Gwent, players build a deck of cards belonging to a specific faction—with each faction offering different play styles. Factions available include Nilfgaard, Skellige, Northern Realms, Scoia-Tael, the Syndicate and Monsters. Each offer different strengths, such as the subterfuge tactics native to Nilfgaard or the more straightforward warriors of Skellige.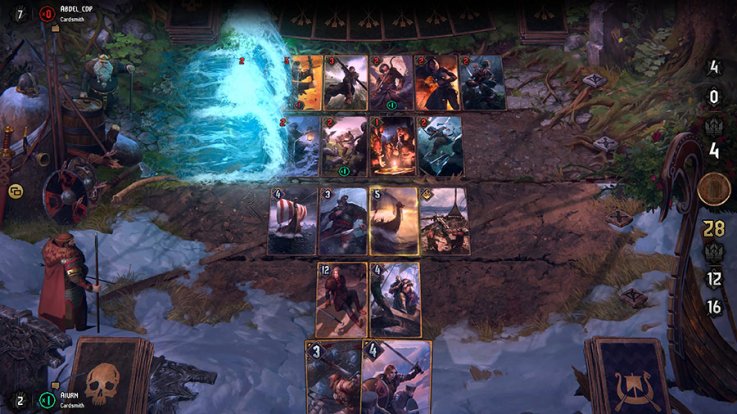 With your deck, you face off against another player by placing your cards in one of two rows—melee or ranged—simulating your arrayed troops in a battle. Placing cards accrues power points, generates magical attacks, bolsters other cards or has other effects on the game space. The final goal is to have more total power on the board by the round's end. Win two rounds, of a possible three, and you are victorious.
Originally introduced in The Witcher 3: Wild Hunt as a card game Geralt uses to pass the time with peasants and nobles alike, the standalone version of Gwent is substantially different from what players of that open-world RPG will remember. The rules are significantly altered, especially with the loss of the third "Siege" row. Still, the basic idea should be familiar enough to players of The Witcher 3 to pick up quickly.
Free to play, Gwent: The Witcher Card Game includes optional in-game purchases. Multiple new card sets have been released since the game first game out in 2018. The latest version of the game includes revamped animations, hand-drawn art and expansive effects, which make combat feel more like a turn-based RPG than a card game.
Pre-registering for the Android version of Gwent will not only notify you when the game is available on Google Play, but also comes with a pre-order bonus: the Imperial Golem. A unique avatar that can serve as your face in online rounds of Gwent, the Imperial Golem joins more famous Witcher character avatars like Geralt, Triss Merigold, the bard Dandelion, Yennefer, Ciri, Radovide, Vernon Roche, Zoltan and Imlerlith, of the Wild Hunt. The Imperial Golem will appear automatically in the collection of players who pre-registered in Google Play.
You can go to the Gwent: The Witcher Card Game Google Play page to pre-register now.
Gwent: The Witcher Card Game will be available to download for free to Android devices on March 24.
'Gwent' For Android Release Date Announced, How To Pre-Register For an Imperial Golem | Newsgeek