Gyllenhall and Ashford Shine in Revival 'Sunday in the Park With George'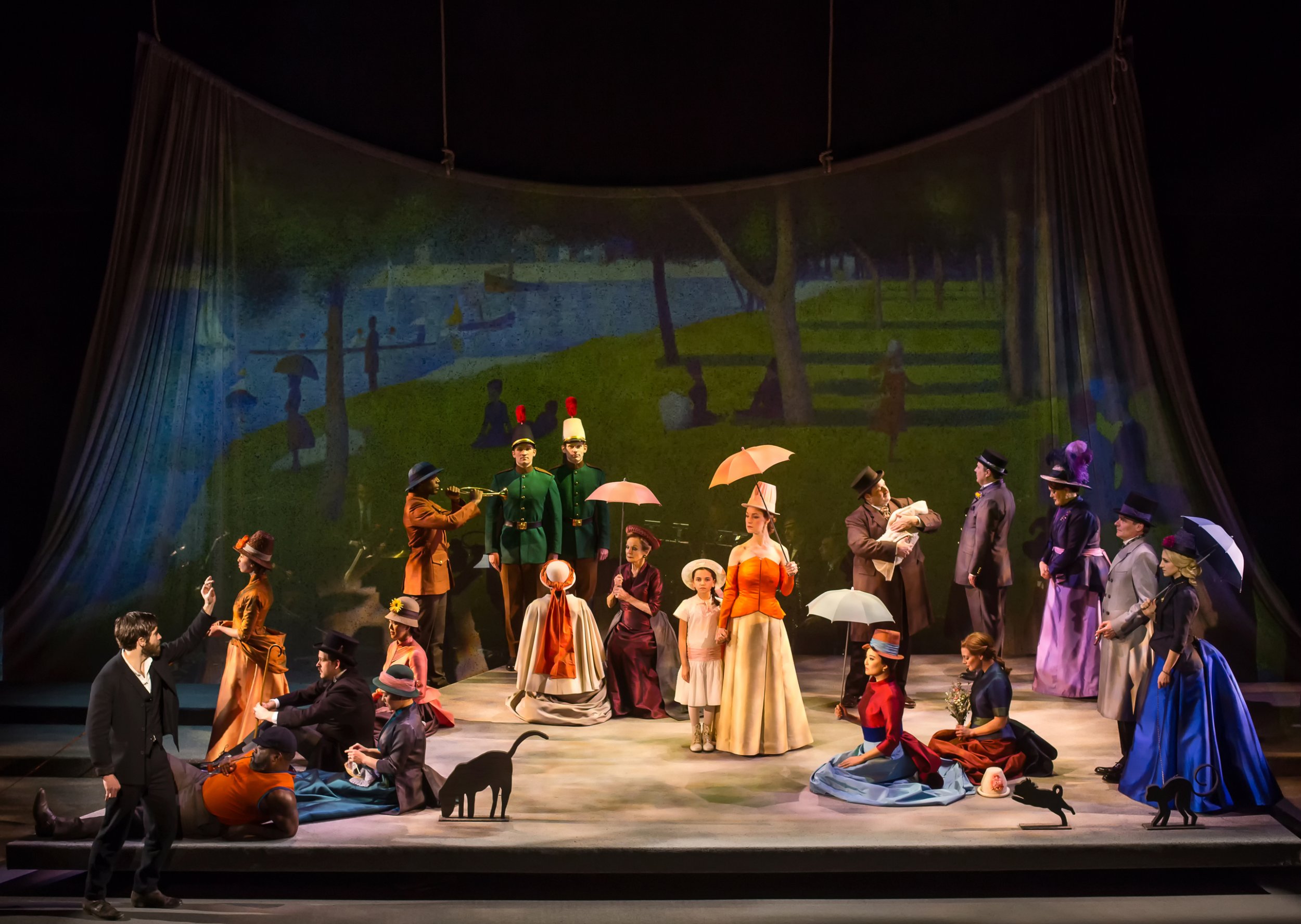 After Stephen Sondheim's rocky experience with Merrily We Roll Along, he decided to take a break from Broadway. His next musical, Sunday in the Park With George, began as an Off-Broadway workshop at Playwrights Horizons, which moved to Broadway in an expanded version in 1984.
The decision to work Off-Broadway allowed Sondheim and author James Lapine room to experiment without the pressure of Broadway, and the results were special. Last year, Sunday was revived in a concert version at New York City Center, starring Jake Gyllenhall and Annaleigh Ashford, and the duo are now in a fully staged production on Broadway, which opened at the Hudson Theatre on Thursday.
In the first act, the musical tells the story of the neo-impressionist artist Georges Seurat (Gyllenhall) as he labors over his painting, A Sunday on La Grande Jatte. His passion for art, obsession with detail and concentration on the work is destroying his relationship with Dot (Ashford), his mistress and model. We see Georges's sketching, false starts and all, projected on a blank scrim as he tortures over what will become his best-known painting. Meanwhile, Dot feels ignored, hot and uncomfortable.
Related: Stephen Sondheim's greatest flop, and what came after 'Merrily We Roll Along'
In the second act, which takes place 100 years later, Seurat's great-grandson George struggles with the same problems as he works on Chromolume No. 7, an elaborate light show that echoes the pointillistic works of Georges.
Gyllenhall's singing is a wonderful surprise. I had neither seen him in the concert version nor as Seymour in Little Shop of Horrors, which I believe are his only other musical-theater roles. But he not only sings well, he also handles the verbal acrobatics of Sondheim's lyrics with ease. At the same time, his acting is strong and believable—though that is not surprising at all.
Ashford is charming as Dot. While she is—or should be—immobile as she poses for Georges, she conveys a lot with the tilt of her head, the blink of an eye or the drop of her shoulder. And she can get laughs at any time.
The supporting roles are played by some of Broadway's most well-known actors, most notably Robert Sean Leonard as Jules and Bob and Penny Fuller as an old lady and Blair. But no character or actor is minor in this musical—each has an important place in the larger canvas.
But as with almost any Sondheim show, the star is his music. One of Sondheim's talents is distilling a complex subject or concept—in this case the tortures and joys of creating a work of art—and making it accessible and entertaining in musical terms to a theater audience. Here, the music moves from seeming chaos to order. Sondheim believes a song in a show should be like a short play, and he is never better at telling a story musically than he is here.
In particular, three songs are skillfully integrated into the story and stand out on their own: "Finishing the Hat" is an ode to obsession; "Putting It Together" describes the creative process and the business of art; and "Sunday" is a hymn to art and why artists create.
When I first saw Sunday in the Park With George in 1984, I thought the first act was far better than the second. But in this production, there is more of a balance between the two acts, whose differences now seem complement each other.
If there is any problem with this revival, it's that it closes in less than two months.
Sunday in the Park With George plays at the Hudson Theatre in New York City through April 23. For more information visit TheHudsonBroadway.com.