Is the Gym Open on Memorial Day 2020? Hours at Planet Fitness, Equinox, LA Fitness and More
Memorial Day is observed every year on the last Monday of May. The federal holiday honors all those who have lost their lives while serving in the U.S. Armed Forces.
This year, Memorial Day comes amid the novel coronavirus outbreak, which has seen the temporary closure of many businesses, including gyms, following lockdown orders across the country.
As different states begin lifting restrictions, some gyms are starting to resume services with several precautionary measures in place. Here we look at the opening hours and latest updates for different gyms on Memorial Day 2020.
Crunch
Some branches of Crunch are starting to reopen but "all Crunch Gyms prior to reopening are practicing social distancing and club safety including contactless entry," the company notes on its website.
Customers can check the Crunch website for full guidelines and to see if their local branch has reopened. Opening hours may vary for Memorial Day.
If your local venue is not listed on the website, "that's probably because the state/local government has not released an opening date. Please check back here or on your club's location page or Facebook page for up to date information," the company advises.
All staff will be wearing masks and gloves, while gym members will be required to wipe down equipment before and after their workouts.
"Locker rooms will be monitored multiple times a day to certain machines and areas of the gym may be marked as closed and group fitness class sizes may be reduced to allow for appropriate social distancing," the company said.
"Towels and wipes will never be reused and will be washed or discarded after each use," and "multiple new sanitation stations can be found throughout the gym for member use."
Equinox
Equinox gyms have been closed since the outbreak. Reopening dates will vary depending on the location. When its branches reopen, capacity will be limited and members will be required to book a time to visit the club, the company said on its website.
"Along with our medical-grade disinfection standards, we've implemented rigorous safety protocols for our members and staff. All Equinox members will be asked to acknowledge and sign our updated House Rules detailing the changes in-club," according to the Equinox website.
All members will be required to wear face coverings at all times in the club. Face coverings can be temporarily removed during periods of intense exercise and stored in a sealed plastic bag provided by Equinox until the exercise is completed.
"Upon entering the club, members and employees will have their body temperatures measured and assessed by club staff, who are trained in federal health privacy laws. Individuals with body temperatures greater than 100.4 degrees will be asked to return home," the company said.
"Members and employees will be required to complete a Health Declaration prior to visiting the club, declaring that they are not experiencing symptoms of COVID-19, nor have they come into contact with someone who is experiencing symptoms of COVID-19."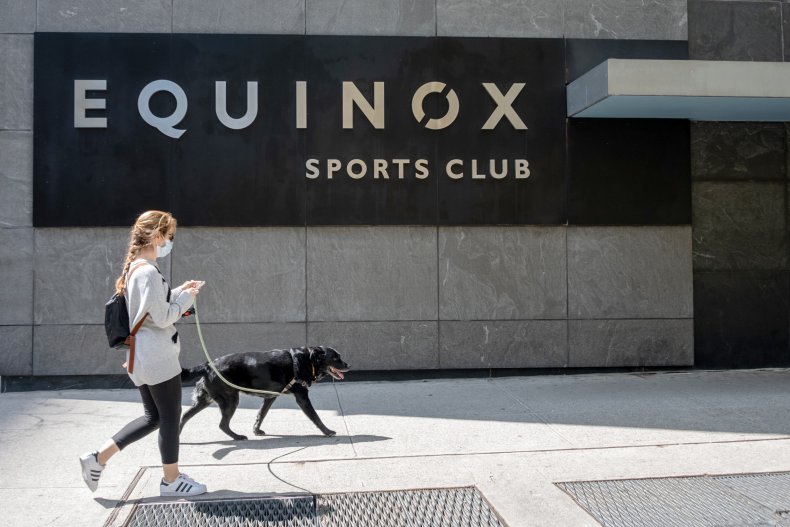 24 Hour Fitness
Currently the only branches of 24 Hour Fitness that have been reopened (or are scheduled to reopen) are in Texas. The five locations now open include the gyms in Castle Hills, Arlington, Fort Worth Horne, Mansfield and McKinney. A selection of other gyms will be reopened on June 1 including in Houston, Dallas and Richmond.
"We continue to follow the requirements and recommendations from government and public health agencies on when and how we can responsibly reopen our gyms," according to the company's website.
Each 24 Hour Fitness gym is implementing several modifications during the ongoing outbreak, such as requiring advanced reservations for your workout, stringent cleaning protocols and social distancing practices.
"Group fitness schedules and access to some amenities may be limited for the time being. See each gym page [on the website] for details on that location.
"We're offering a modified selection of fitness classes in our clubs, in order to be extra cautious as we reopen. Expect a few classes each day with limited sizes, placed in carefully chosen locations to allow for social distancing, as well as enhanced cleaning measures," the company said on its website.
All branches will also be doing "30-minute cleanings before and after each workout reservation, and we are closing overnight to allow plenty of time for thorough cleaning and disinfecting of club surfaces and equipment," the company said, with opening hours now set from 5 a.m. to 9 p.m. local time daily to allow for overnight cleaning.
Gold's Gym
Many Gold's Gym branches have been temporarily closed, while around 30 have been permanently closed following the novel coronavirus outbreak. Contact your local branch to check the status of your local venue. Memorial Day opening hours may vary.
"Our gyms are following local and state guidelines for operations as well as all direction from public health officials. We will reopen as soon as it is deemed safe for our members, team members and communities. Please look for communication regarding reopening dates to be sent by your individual gym once those updates are available," the company said on its website.
"The unprecedented COVID-19-related closures have caused us to reassess the viability of some company-owned locations and make the difficult decision to permanently close about 30 gyms. This decision affects only company-owned gyms, mainly in our St. Louis, Alabama and Colorado Springs markets, and does not have an impact on any of our franchise-owned gyms.
"We will be emailing members whose home gyms are impacted with updates on what this means for your membership, pre-paid dues and services soon. This includes seamlessly transferring your membership to another nearby Gold's Gym location where possible, or working to find ways to help you continue your fitness journey in situations where a physical Gold's Gym location will no longer be available in your market," the company website said.
Anytime Fitness
Many of Anytime Fitness franchises across the U.S. have been temporarily shut following the outbreak. Some have reopened while others have remained closed. Contact your local venue to confirm opening dates. Hours may vary on Memorial Day.
"Local clubs will contact members when it is ready to re-open and membership billing will recommence," the company said on its website.
All of the gyms have introduced new precautionary measures including maintaining a six feet distance during all gym activities and limiting the gym capacity to a certain number of people, such as five people per 1,000 square feet if required by local mandates.
The gym facilities will be cleaned with medical-grade cleaning products at a minimum of every two hours, while bathrooms will be cleaned every hour. No equipment sharing or contact training will be allowed. Disinfectant stations and hand sanitizers will be available throughout the gym facilities.
LA Fitness
LA Fitness gyms were
shut in March due to the outbreak and have remained closed
. Customers can find the latest information on club openings in their area via the LA Fitness mobile app, the company notes on its
official Twitter account
.
The graphic below, provided by Statista, illustrates the U.S. states with the most confirmed COVID-19 cases.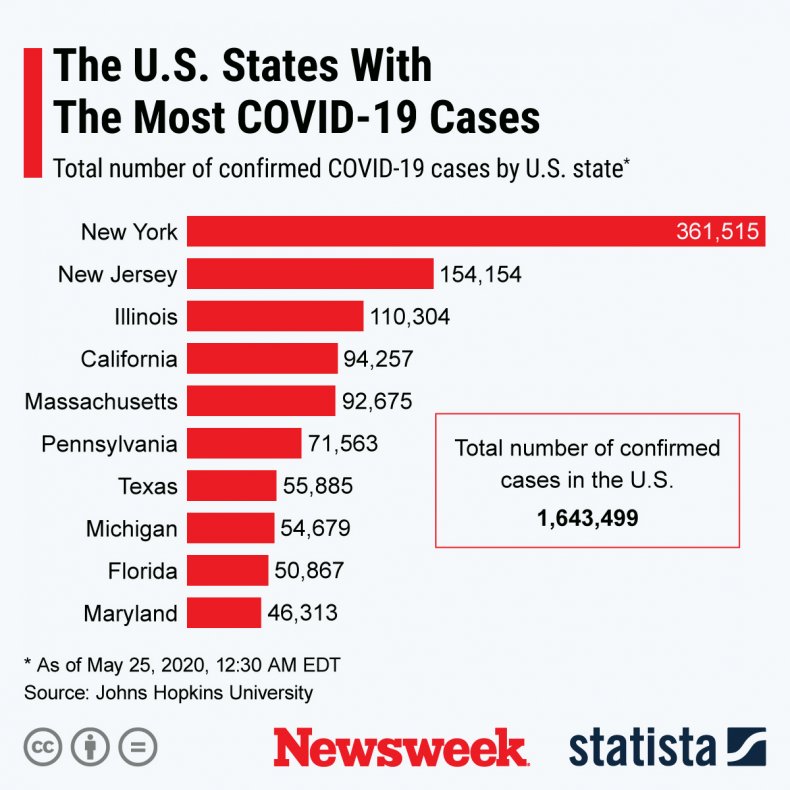 The graphic below, provided by Statista, illustrates the spread of the COVID-19 virus across the U.S.