Social Media Users Rip Gym Owner for Offering Free Memberships to People Who Refuse Vaccine
New Jersey gym owner Ian Smith has spent a lot of the past year battling again COVID-19 restrictions, but now he's gone a step farther by announcing that his Atilis Gym will give free memberships to anyone who doesn't get vaccinated. Smith made the announcement on Twitter in a post alluding to Krispy Kreme's recent promotion of giving free doughnuts to customers who show proof of being vaccinated.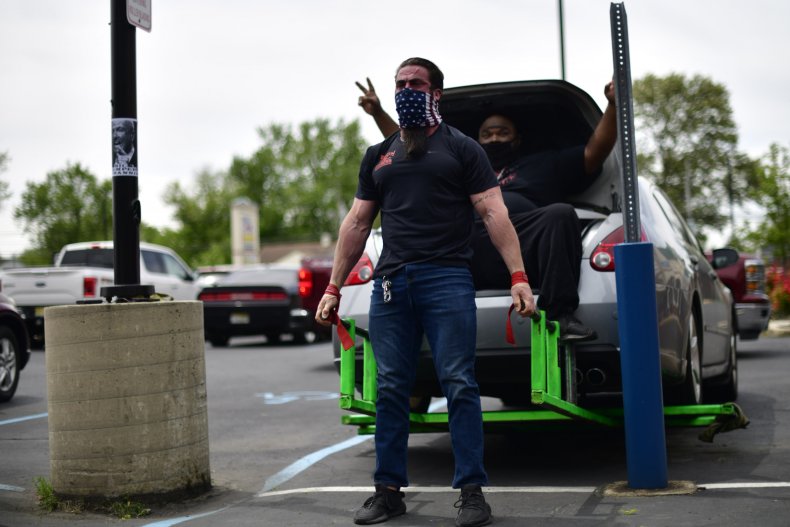 In his tweet, posted on Tuesday, Smith wrote, "we are giving out free memberships to all who don't get vaccinated. We believe in health—the real way—exercise, good diet, plenty of Vitamin D, Zinc, and an environment to destress."
Krispy Kreme's recent giveaway was met with mostly lighthearted sarcasm, with many comments referencing how eating deep-fried dough with a sugary glaze could lead to underlying conditions that make people more at risk for the worst effects of the coronavirus. Smith's message about Atilis Gym, though, was mostly condemned outright, with one direct response to his tweet reading: "Believe in science. You use a cell phones for Gods sake."
One person shot down Smith's argument for exercise in place of vaccines by noting that Dwayne "The Rock" Johnson contracted the virus, despite being very recognizably fit.
Others were more inflammatory with their responses.
This Twitter user noted how how she'd feel safer getting vaccinated and working out at home.
Smith first gained infamy when he reopened his Bellmawr workout facility in Camden County several times during the state's mandated business closures. At one point last summer, he and Atilis co-owner Frank Trumbetti even kicked down plywood boards that law officers had placed over the gym's doors and allowed customers to enter. He's also voiced criticism about lockdowns and New Jersey Governor Phil Murphy during appearances on Fox and Friends and Tucker Carlson Tonight, and he recently received a temporarily ban from American Airlines after flying without a mask to the CPAC conference at the end of February.
Andy Isaac, a food and sports Twitter influencer, sarcastically wrote that "working out is definitely how we got rid of Polio."
Another Twitter user, a personal trainer from Texas, said that Smith is a bad representation of those in the fitness industry.
One user shared an idea to hurt Smith's business: print out his tweet promising free memberships and take him up on his offer.
Not everyone tore into Smith, though, and he had some positive reactions to his post. One supporter wrote, "God bless you. Good health comes from NATURE, not from science experiments."
Today, Smith seemingly acknowledged the backlash he received on social media with a short message. He tweeted: "Got a lot of hate mail today. Did I say something wrong?"