The Gym Is Reopening! 6 Experts on How to Stay Safe and Still Feel the Burn
Governor Andrew Cuomo announced that gyms and fitness centers in the state of New York will open (in a limited capacity) next Monday. Six health experts have spoken to Newsweek about what gym-goers should do in order to stay safe from COVID-19 and still feel the burn.
Gyms will be allowed to open at approximately 33 percent capacity. The state will also require masks to be worn by individuals, air filters to prevent airborne transmission, and sign-in forms for contact-tracing.
"While it's encouraging that we've reached the point where it's acceptable for them to begin reopening in our communities, this is not the time to forget that the pandemic is ongoing," stated Governor Cuomo in Tuesday's press release.
"New Yorkers must closely adhere to the guidelines and local health departments are required to strictly enforce them to help ensure gyms and fitness centers reopen safely and protect the public health," he said.
It's up to Mayor Bill de Blasio to determine whether or not to postpone the reopening of New York City gyms. For those in the five boroughs, the reopening will likely be delayed to at least September 2nd. That's because the city will not allow any gym to resume until they have passed their inspections. Schools and childcare centers will be inspected before gyms.
"While indoor fitness classes and indoor pools will not be opening at this time, we'll be developing a fair and rigorous inspection system for other gym setups in the coming weeks," said Mitch Schwartz, a spokesperson for the mayor.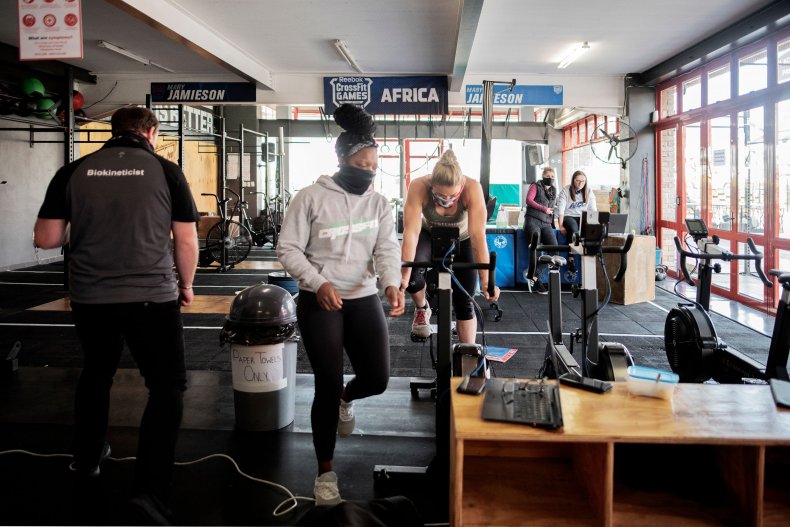 Remember to Maintain Social Distance
Dr. Farshad Fani Marvasti, MD, Associate Professor at the University of Arizona College of Medicine Phoenix, has provided Newsweek of a list of recommendations for gym-goers to follow. Dr. Marvasti also mentioned who should think about opting out of returning to the gym.
"My recommendations would be for gym-goers to follow all the guidelines which include wearing a mask at all times if possible, obviously this is not possible if they are in the pool at the gym. Gym-goers should also keep their distance at least six feet and make sure to verify sanitation of gym equipment between uses and be careful not to touch their face our mouth until they have washed their hands during their workouts. People with chronic health conditions or the elderly both of whom are higher risk should think twice about going to the gym and instead opt for safe outdoor activities or indoor exercise programs using online resources that are thankfully widely available," Marvasti said to Newsweek,
"The good thing about New York is that they are opening these centers after sustained decrease in cases and positivity rates at suppression levels so folks can feel much safer about that. In places where the strict attention to positivity rates below 3 percent or less and case numbers less than 10 per 100,000 are not observed, I would not feel safe going to gym so in those settings just because it is open doesn't mean it is safe for you to go, this is particularly true for hotspots and anywhere that the numbers are indicative of extensive community spread," Marvasti added.
Bring Wipes
Dr. Ranit Mishori, MD, Professor of Family Medicine at the Georgetown University School of Medicine, also weighed in.
Dr. Mishori told Newsweek, "Bring your own sanitizing wipes and use them on any surfaces you intend to use that are frequently touched by others: door knobs, free weights, exercise equipment, cardio machines, etc."
"Avoid the locker room. Save the shower for home. Bring your own water bottle. And lastly, be a good citizen: if you have symptoms, any symptoms, stay home," said Mishori.
Wear a Mask
Recognized as an expert in infection prevention, Dr. Saskia Popescu, PhD, is an infectious disease epidemiologist. Popescu has provided a list of recommendations for fitness aficionados who wish to possibly return.
Dr. Popescu told Newsweek, "I would suggest people really evaluate the level of community transmission (look at local public health data), and avoid indoor workouts in smaller spaces (yoga, spin, etc.). Gyms are higher risk due to various reasons and anything that can be done outdoor is ideal."
"Being cognizant of mental and physical wellness, I also encourage people to wear a mask as much as possible when in the gym, ensure ample distance people people, and try to go at off hours. Ultimately a lot rests on how the gym operates right now and and with so much community transmission, I would encourage outdoor or non-class based workouts," added Popescu.
There's No Zero Risk Scenario
A recognized expert on infections and vaccination, Dr. Anne W. Rimoin, PhD, is a Professor of Epidemiology at the UCLA Fielding School of Public Health and Infectious Disease Division of the Geffen School of Medicine. Dr. Rimoin also shared her advice on what gym-goers should look out for during reopening.
Rimoin told Newsweek, "When it comes to preventing community transmission, gyms are particularly challenging due to shared space and equipment. Before going to the gym, people should investigate the policies that have been [initiated] - including limited numbers of people, social distancing protocols, universal masking, cleaning protocols and how they are screening their clientele before coming to the gym. Ventilation systems should also be considered if the gym is primarily indoors."
"Even with all of these policies in place, there is no zero risk scenario when it comes to going to a gym or any shared space. If you are in a high risk category or live with someone who is, it might not be the best time to resume your gym membership. Anyone considering going back to the gym will need to make a risk calculation based on personal health and local transmission rates to make the safest choice," added Rimoin.
Air Quality
Dr. Philip M. Tierno, Jr., PhD, a professor of Microbiology and Pathology at NYU School of Medicine of the NYU Langone Medical Center, advised gym-goers to be careful what they touch and what they breathe.
Tierno told Newsweek, "Besides continuously disinfecting frequently touched contact surfaces as well as other safety measures, the HVAC [Heating, Ventilation, and Air Conditioning] system implemented is very important to better assure air quality. For example are newer technologies like Bipolar ionization, or UVC [Ultraviolet C], or even whether HEPA [High Efficiency Particulate Air] filters are used in their system. Such is of cardinal importance in the reopening campaign."
Time Management
Dr. John Whyte, MD, the Chief Medical Officer at WebMD, recommended gym-goers to manage their time. Do not spend any more time at the gym than you have to.
"Do what you need to do at the gym, but don't linger. I would not recommend spending time talking. Just get in, and get out. To limit your time, and make the best use of the gym while you are there, consider doing cardio outside, either walking or running, for example, and focus your time at the gym working with weights. You can do cardio elsewhere," said Dr. Whyte to Newsweek.
"Be sure to wipe equipment down before and after, bring your own water rather than using the fountains, and shower at home afterwards if you can," mentioned Whyte.