H-1B Visa Premium Processing Fast-Track Program on Hold Until 2019
U.S. Citizenship and Immigration Services (USCIS) has announced that it will be extending—and expanding—its temporary suspension of premium processing for H-1B visa applicants, causing delays until around February 2019.
In a statement announcing the decision, the agency said it was made as part of its efforts to clear a "backlog" in its application system for H-1B visas. These visas are meant to allow U.S. companies to hire highly skilled foreign professionals—by issuing short-term visas—in industries where there are shortages of qualified American workers.
The decision affects would-be beneficiaries, many of which are from India, with 64 percent of employers submitting applications on behalf of Indian-born beneficiaries in fiscal year 2012 and that number rising to 70 percent in fiscal year 2014, according to USCIS.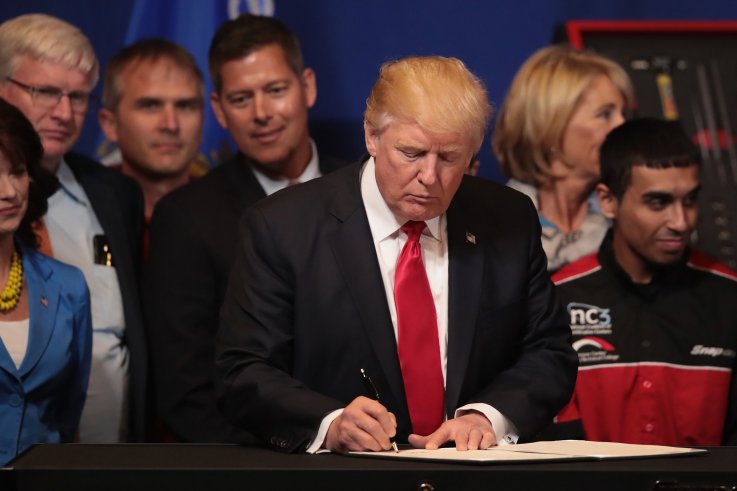 A significant proportion of H-1B visa beneficiaries are from India, with 64 percent of employers submitting applications on behalf of Indian-born beneficiaries.
USCIS's premium processing program shortens the usual processing time of H-1B visa petitions from an average of six months to 15 days for a $1,225 fee.
The agency had previously announced that suspension for fiscal year 2019 cap-subject H-1B petitions had originally been expected to last until September 10, 2018. However, USCIS said it expects its extension was expected to last until at least February 19, 2019.
USCIS said its temporary suspension would help it to "reduce overall H-1B processing times," as the delay will allow USCIS to process "long-pending petitions, which we have been unable to process due to the high volume of incoming petitions and premium processing requests over the past few months."
It said the extension would also give staff time to prioritize cases nearing the 240-day mark for the agency to make a decision.
USCIS said there are a number of exemptions to its suspension, including for petitions filed "exclusively" at the California Service Center "because the employer is cap exempt, or is not subject to limits on how many H-1B visa applications the U.S. can accept, or for those filed at the Nebraska Service Center by employers requesting a "continuation of previously approved employment without change with the same employer."
When companies are not able to pay for premium processing, USCIS has said they may still submit a request to expedite an H-1B petition if they meet the agency's criteria, which include severe financial loss to a company or person, an emergency situation, humanitarian reasons, a USCIS error and various other issues.