Trump H-1B Visa Restrictions Are Illegal, Tech Companies Allege in Lawsuit Against USCIS
Several technology companies have sued U.S. Citizenship and Immigration Services (USCIS) over a policy memo it recently issued that placed greater restrictions on companies that contract out workers with H-1B visas, in line with the Trump administration's push to limit the program.
Related: H-1B Visa Program and Trump: How High-Skilled Immigrants Are Being Threatened by President's Administration
"Congress has consistently shown the public policy is to increase access to IT professionals, and not increase burdens on U.S. companies to retain this resource," read the lawsuit, which was filed Tuesday in federal court in New Jersey.
The lawsuit attacks a policy memo USCIS issued in February stating that applicants must provide "detailed statements of work or work orders" about any duties performed by a worker with an H-1B visa at a third-party site, including itineraries.
The lead attorney for the three companies, and a former USCIS employee, Jonathan Wasden, told Axios Wednesday that a number of outsourcing companies would be unable to comply with the new policy on temporary visas and would be left with a shortage of highly skilled workers.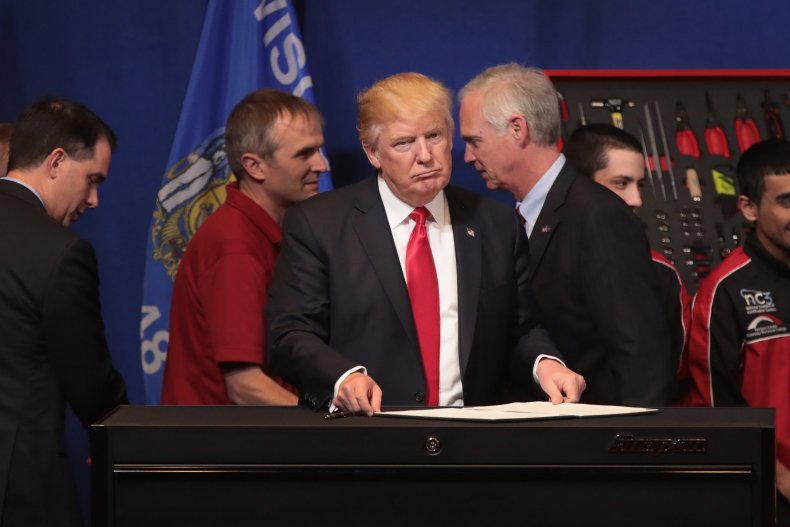 Additionally, the memo states that the visa beneficiary should have "specific and non-speculative qualifying assignments in a specialty occupation for the beneficiary for the entire time requested in the petition," and that "the employer will maintain an employer-employee relationship with the beneficiary for the duration of the requested validity period."
Filed Tuesday by the New Jersey-based trade association Small and Medium Enterprise Consortium and two IT service providers, the suit claims that USCIS overstepped its role overseeing the H-1B visa program because the Department of Labor is responsible for deciding what types of employers qualify for the visas.
"Without sufficient employees to meet their clients' needs, Plaintiffs will suffer irreparable harm to reputation and ability to compete," the lawsuit claimed.
USCIS spokesman Philip Smith told Newsweek the agency does not comment on pending litigation.
The policy update aligned with President Donald Trump's "Buy American, Hire American" initiative he pitched on the campaign trail promising to protect the interests of American workers.
Critics of the H-1B visa program have accused companies of outsourcing jobs and leaving Americans unemployed, but tech giants and large corporations argue the pool of highly skilled American workers is not large enough to meet the demand.