Hacker Leaves Netflix User Clever Note After Using Account: 'Legend'
A friendly hacker has left their victim a thank-you note after spending months using his Netflix account.
Saeed Awawdeh, who lives in Canada, shared a screenshot of his Netflix on Twitter, where it has received over 14 million views and thousands of retweets.
In the screengrabs, Awawdeh revealed the genius way that his hacker had left him the message after using the account.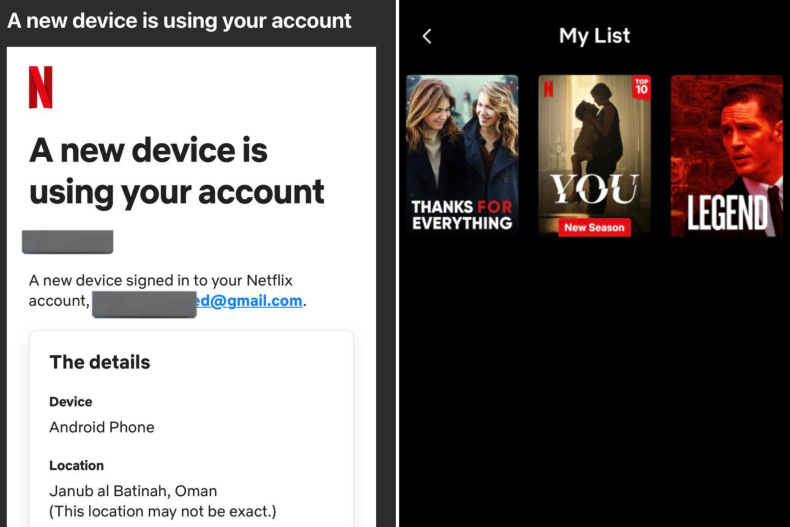 Using the Netflix "My List" feature, the hacker had added three titles to the list: the 2019 comedy Thanks for Everything, Netflix thriller series You and the 2015 crime drama starring Tom Hardy titled Legend. The three together spelled out, "Thanks for everything you legend."
"I've been getting these different emails about someone logging into my Netflix account from Oman [Middle East]," Awawdeh told Newsweek. "I noticed they would watch CoComelon [a 3D animated show for children].
"I came across the note because I was telling my friend about the incident. They mentioned that there is a watchlist feature and it would be funny if it was just CoComelon. But I clicked on it and found the note."
Awawdeh's tweet left the internet in stitches as many praised him for allowing the unknown person to use his Netflix account.
"I respect you," posted one Twitter user, while another wrote: "Damn gotta respect his game though lol."
At the end of 2022, Netflix Co-CEO Ted Sarandos announced that the company would focus on tackling password-sharing in 2023, clamping down on account sharing.
Netflix estimates that, of the 222 million paying homes overall, passwords are getting shared with more than "100 million additional households." The latter number reportedly includes more than 30 million households across the U.S. and Canada.
At the start of 2023, Netflix made clear that password sharing between accounts was "for people who live together in a single household." The company would be forcing those sharing passwords to pay for their own account in the future.
But this CoComelon-loving hacker didn't seem too worried about that. While the location for the initial login was from Oman in the Middle East, Awawdeh thinks it is likely they have also used a VPN [virtual private network] to access more content. A VPN encrypts internet use and can disguise your online identity. It also gives you the option to view content that may not be available in your region.
Awawdeh said: "After going through the emails, I noticed that the hacker logged in from three locations, which were in the U.S., Canada and mostly Oman, which led me to believe they are from Oman."
Awawdeh added that he is still receiving emails of fresh sign-ins on new devices for his Netflix account, but hasn't bothered to change the password.
"I just don't really care all that much about a Netflix account so I just let them be," he said. "It causes me no harm at all, I guess."