'Hacks' Finale: HBO Max Show Setting Itself Up For Season 2
The curtains are coming down on the first season of Hacks today, with HBO airing the double-episode finale.
The comedy-drama is about a legendary diva, Deborah Vance (Jean Smart), who must change her Las Vegas residency act to appeal to a younger audience. She enlists the help of young comedy writer Ava Daniels (Hannah Einbinder) to help freshen up her act.
The critics love the new series which debuted on HBO Max last month. It's Certified Fresh on Rotten Tomatoes with a 100 percent rating based on 34 reviews. It's proving to be a hit with viewers too with an audience rating of 8.3 on IMDB.
Will Hacks Return for Season 2?
For Smart, Einbinder and the cast of Hacks, the show must go on. HBO Max have confirmed that the series will be back for another outing.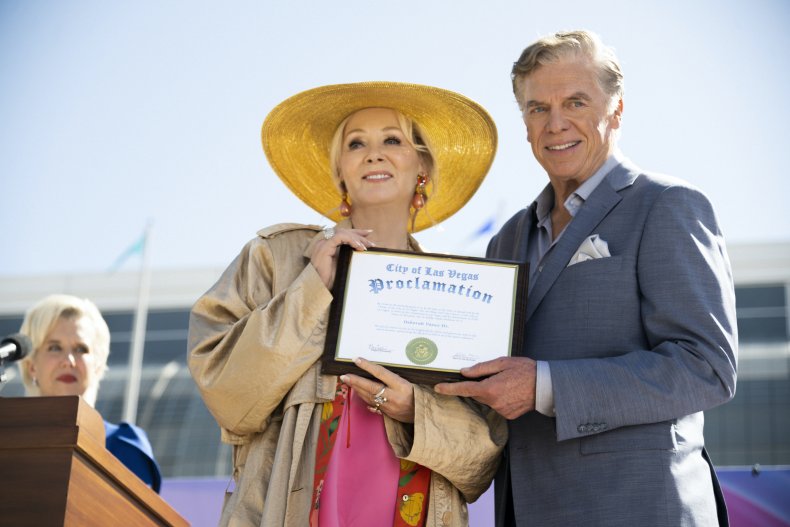 In a press statement sent to Newsweek, Smart said: "I am absolutely thrilled we are picked up for a second season and I told Hannah it's 'No more Miss Nice Guy; from now on it's Bette and Joan! And guess who's Bette?"
Co-creators and showrunners Paul W. Downs, Lucia Aniello and Jen Statsky said: "We have been blown away by the positive reception to Hacks. We owe this renewal to every single person who tuned into the show and then told a friend to watch.
"We're so glad that story resonated with audiences, and we can't wait to get to work on season 2."
The end of Hacks Season 1
There's a new double bill of Hacks available to watch on HBO Max now. All ten episodes from season 1 are available to watch ahead of the second season.
The final two episodes are titled "Interview" and "I Think She Will." In the finale, Deborah and Ava head back to Vegas for their last show at the Palmetto. Ava tries to keep her new TV opportunity a secret from Deborah but someone else knows and leverages the truth against her. Meanwhile, Deborah will be faced with the choice between playing it safe or putting her career on the line with her first radically honest show.
The show's recurring characters include Carl Clemons-Hopkins, Kaitlin Olsen (It's Always Sunny In Philadelphia), Christopher McDonald (Happy Gilmore) and Mark Indelicato (Ugly Betty).
There is no confirmation yet as to when Season 2 will start filming or when it will be available to watch on HBO Max.
All of Season 1 of Hacks is available to watch for HBO Max subscribers now.