Who is Hadi Abuatelah? Teen Repeatedly Punched by Oak Lawn Police in Video
The person who was seen being beaten by police officers in Oak Lawn, Illinois, in a video filmed by a bystander on Wednesday has been identified by his family's lawyer as 17-year-old Hadi Abuatelah.
In the one-minute-long video which was shared on social media, two Oak Lawn officers can be seen restraining Abuatelah, who appears not to be moving while being forced to lay on the ground, and taking turns hitting him repeatedly.
The officers can be seen punching him at least 10 times on his legs and face. About halfway into the recording, two more officers arrived at the scene, but they did not appear to hit the boy.
The bystander filming the video can be heard questioning why the officers are beating "a little kid."
In a statement, the Oak Lawn Police said that Abuatelah was allegedly armed with a semiautomatic handgun, something they noticed while conducting a traffic stop.
During a press conference on July 28, Oak Lawn Police said they stopped a car without a front license plate and officers dais they detected the smell of cannabis inside the vehicle. They said they asked the driver to come out of the car to be patted down and the driver complied, but Abuatelah, who was a passenger in the car, allegedly ran away.
Dashcam footage released by the Oak Lawn Police confirmed this version of the incident, and the bystander filming the video outside of a McDonald's can also be heard saying she saw the boy running before being tackled by the officers.
Police said Abuatelah did not respond to officers ordering him to stop, and when he grabbed his bag and allegedly attempted to open it, police officers tackled him to prevent him from potentially taking hold of a gun.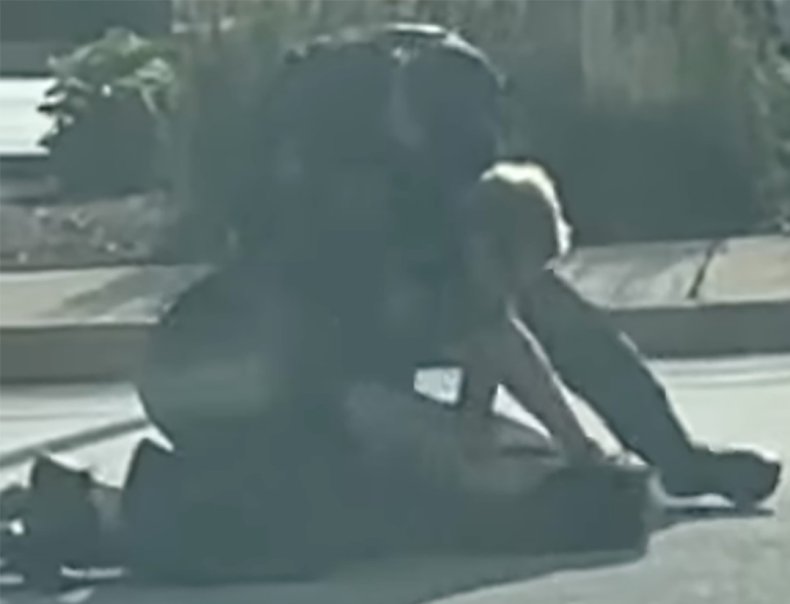 "The subject refused to listen to verbal commands, which resulted in a physical confrontation with two officers," the Oak Lawn Police Department said in a statement.
Police said they later found the semiautomatic gun in the teen's bag.
Newsweek has reached out to the Oak Lawn Police Department for comment.
Who Is Hadi Abuatelah?
According to his lawyer Zaid Abdallah, Abuatelah is a high school senior from Bridgeview, Illinois, who's currently training to become a barber.
The Chicago chapter of the Council on American Islamic Relations (CAIR) said in a statement that the 17-year-old is now in the hospital "in a neck brace and suffers from a broken nose, bruising to his face, right arm, and back, and internal bleeding near his brain and forehead."
Abdallah told the New York Times that Abuatelah is "not doing too well right now."
"He's conscious but he's not lucid," Abdallah said of the teen. "He's emotionally scarred to the point where he only wants his mother and father next to him."
Abdallah said he's trying to establish whether his client did have a gun at the time of the incident, but said that for sure "the firearm was never pointed."
Chicago CAIR asked for body camera footage of the incident to be released, but Oak Lawn Police told reporters there's no body camera footage of Wednesday's events. The organization is also calling for an investigation into the police officers' behavior.
"Regardless of the alleged infraction that led to the arrest, the video clearly shows a restrained teenager in submission, not resisting, being brutally beaten by three officers without justification," CAIR-Chicago Executive Director Ahmed Rehab said.
"As a result, he has sustained internal bleeding to the head, a broken nose, and other bodily injuries, all fully avoidable. The issue here is excessive force and police brutality. Something we are seeing again and again and again."
The Oak Lawn Police Department said that it is conducting an internal investigation into Wednesday's events.